DAWN AFTER DARK New Dawn Rising


By Jason 'JRock' Houston, Contributor
Tuesday, December 14, 2021 @ 10:39 AM


| | | |
| --- | --- | --- |
| | | |
DAWN AFTER DARK
New Dawn Rising
Chapter 22 Records




DAWN AFTER DARK is a Hard Rock band from Birmingham, England and they toured from 1986-1989 all over the United Kingdom before the band finally imploded in 1991. DAWN AFTER DARK would not be heard from again until 2019 when the band returned to the stage for the first time in 30 years and they got such a great response that now in 2021 the band has released their first single/first new song in 30 years and it's a new recording of the band's classic song "Maximum Overdrive" and it should be noted that the original version of the song was produced by AC/DC Guitarist Stevie Young.

It's important to talk about the band's history first before we get into the overall sound of the band on the new dawn rising release to release so that it is understand that this is very much a veteran Hard Rock band that really should have been a lot bigger in their heyday and just maybe the band never would have imploded as it did 30 years ago. Now in regards to the overall sound of DAWN AFTER DARK, I'd say that the band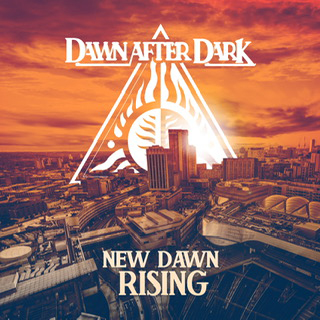 is a combination of Classic 80's Hard Rock with a dash of a modern rock sound sprinkled in with powerhouse drumming, riffy, gritty guitar playing, and a vocalist that just shines throughout the entire 11 track album.
The album gets off to a rocking start with the song "Maximum Overdrive" and that song to my ears has a real AC/DC vibe to it which is kind of interesting when you realize the original version of the song was produced by AC/DC guitarist Stevie Young. As the first song ends I start to think this band has an AC/DC vibe and there's nothing at all wrong with that but as the album ends with the final track which is "Truth And Freedom" I realized that aside from saying that DAWN AFTER DARK is a great Hard Rock band it just became perfectly clear that DAWN AFTER DARK is a band that more people should have the pleasure of discovering because all the songs on New Dawn Rising are well written songs and each and every song really stands out on it's own and I'd say that maybe Hit Factory would make for a better album title because I just love every song on this album and I think every song on New Dawn Rising has the potential to be a hit single! It's been a while since I've heard an album that was loaded with songs that were this good!
Here's a song that will really rock your world! Check out the video for "Maximum Overdrive" on KNAC.COM HERE
5.0 Out Of 5.0

Please log in to view RANTS



HOUSE OF LORDS Saints And Sinners

THE CULT Under The Midnight Sun

STEEL PANTHER, BLACK STONE CHERRY In Ottawa, Canada

SWORD III

FOREIGNER In Tampa, FL With Photos!

U.D.O. The Legacy

TUBEFREEKS Unhinged

WEDNESDAY 13 Horrifier

DEVIN TOWNSEND Lightwork

MOTIONLESS IN WHITE, ICE NINE KILLS, BLACK VEIL BRIDES, ATREYU In Houston, TX With Photos!

JOE SATRIANI In Boston, MA With Photos!

VARIOUS ARTISTS Bound For Hell: On The Sunset Strip

DIAMOND HEAD Lightning To The Nations - The White Album, 2022 Reissue

ANUBIS EP Collection

JOE LYNN TURNER Belly of The Beast

DEAD CROSS II

MONSTER MAGNET Test Patterns Vol. 1

W.A.S.P., MICHAEL SCHENKER GROUP, ARMORED SAINT In Houston, TX With Photos!

RAVEN, RIOT ACT In Ottawa, Canada

INVICTUS Unstoppable

W.A.S.P., ARMORED SAINT In Anaheim, CA With Photos!

IRON MAIDEN, WITHIN TEMPTATION In Tampa, FL With Photos!

HELIOS Touch The Sun

LEE AARON Elevate

THERION Leviathan II

DARKTHRONE Astral Fortress

NESTOR Kids In A Ghost Town

TOBIAS SAMMETíS AVANTASIA A Paranormal Evening With The Moonflower Society

IRON MAIDEN, WITHIN TEMPTATION Live In Ottawa, Canada

AVATARIUM Death, Where Is Your Sting

INCURSION Blinding Force