BLACKLITE DISTRICT 1990


By Jason 'JRock' Houston, Contributor
Thursday, December 16, 2021 @ 1:23 PM


| | | |
| --- | --- | --- |
| | | |
BLACKLITE DISTRICT
1990
Independent Release




1990 really is a very fitting title for the new BLACKLITE DISTRICT CD even though the official release isn't until 12/31/21. The reason 1990 is such a fitting album title is because after one listen to this fantastic album I feel Like I've just gone back in time to 1990 when the music scene at that time sounded very much like the music that you find on this CD. You might listen to this album from start to finish and think this band really doesn't sound like anything all that different and while that may be very true, what BLACKLITE DISTRICT does a great job of doing is to taking their audience back in time to 1990 when the musical landscape and guard had made a major change and all of a sudden Grunge and Alternative bands were king. Hair metal bands/80's Rock was now a passing fad and what you have in regards to BLACKLITE DISTRICT's 1990 is an album loaded with well-written songs where the overall musicianship just really shines, I mean my only complaint with this album is that it only has 10 tracks! I was left wanting more and that's never a bad thing. To my ears BLACKLITE DISTRICT is very much a band on the rise because a band like this who has talent and songs of this caliber can only get better! I feel that BLACKLITE DISTRICT is very much a band to watch and be interested to see what this band is doing 5 years from now.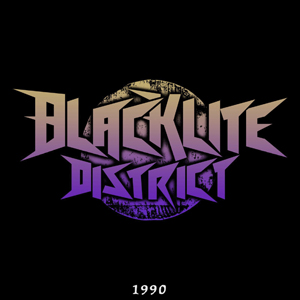 Now in regards to the overall sound of the band they're not exactly what I'd call a Metal band but more of a combination of Hard Rock/Alternative/Modern rock and like I said BLACKLITE DISTRICT may not have re-invented the wheel here with their music but then again their goal may not have been to have an album full of tunes that were going to drastically alter the musical landscape, which happened back in 1990, but rather to deliver an album of well crafted, really well-written songs that sounded like the music of 1990 because that was the music that influenced them. After I listened to every single song on this album I could not deny what an impressive album 1990 is because BLACKLITE DISTRICT really does deliver the goods on this album in regards to having 10 great tracks that are just real gems! This is a band that is not trying to follow any trends or trying to copy any other bands that came before them but rather a band that is very proud of who and what they are!
Sometimes marketing is everything and one thing that I really took notice of is the fact that the album is going to be released on 12/31/21. What a cool way to end the year by releasing an album of such a high caliber that will rock the world of anyone lucky enough to pick up the album. I also love the fact that the final song on the album is "Thank You", and no that's not a cover of LED ZEPPELIN's "Thank You", but an original song, just the band's clever way of ending the album with a great song and at the same time is their way of thanking fans for picking up a copy. I must say I became an instant BLACKLITE DISTRICT fan myself! Not a bad track on the entire album, and in the case of BLACKLITE DISTRICT's 1990 album, it's all killer and NO filler! I Love everything on 1990 but my top three tracks on the album would be "Preach To The Choir", "This Is Where It Ends" and "Thank You".
For an example of the overall sound on 1990, check out the song "Clear Skies" HERE
5.0 Out Of 5.0

Please log in to view RANTS




ALICE COOPER Road

RAT ROD Four On The Floor

GIRLSCHOOL WTFortyFive?

DANKO JONES Electric Sounds

AVATAR, ORBIT CULTURE, THE NATIVE HOWL In Houston, TX With Photos!

THE DEAD DAISIES In Hollywood, CA With Photos!

KILL DEVIL HILL Seas Of Oblivion

THE DEAD DAISIES In Ottawa, Canada

MAMMOTH WVH In Santa Ana, CA

UADA Crepuscule Natura

BARONESS Stone

KAMELOT, BATTLE BEAST, XANDRIA In Houston, TX With Photos!

CRYPTOPSY As Gomorrah Burns

RAY ALDER II

GHOST, AMON AMARTH In Houston, TX With Photos!

U.D.O. Touchdown

DETHKLOK Dethalbum IV

STEVE VAI In Ottawa, Canada

PANTERA, LAMB OF GOD In Houston, TX With Photos!

OVERKILL, EXHORDER, HEATHEN In Los Angeles With Photos!

PUPIL SLICER Blossom