HIGHWAYS Texas Is Coming For You


By George Mihalovich, Pittsburgh Contributor
Saturday, January 8, 2022 @ 8:34 AM


| | | |
| --- | --- | --- |
| | | |
HIGHWAYS
Texas Is Coming For You
Stormspell Records




HIGHWAYS is the brainchild of Joe Coleman (COBRAS - vocals and guitar, ex-GALLOWS MAJESTY), but interestingly he doesn't appear on Texas Is Coming For You. Instead, Joe recruited four musicians from around the globe to perform his compositions and chose to work in the background on production and mixing.

Considering these facts, Texas Is Coming For You is a remarkably cohesive debut, and this speaks to the quality of the material and Bob Sealock's mastering. He was able to create a dark but clear listening experience while retaining a slight retro ambience that suits the music — which seems inspired by the heritage of 80s American heavy/power metal. Think fist-pumping, denim and leather-style songs in the vein of early SAVATAGE, VICIOUS RUMOURS (Soldiers of The Night), OBSESSION and METAL CHURCH.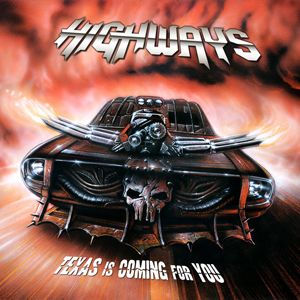 Carlos Molina (DIVINE REIGN - vox, BATTLERAGE - guitars) handled lead vocals and rhythm guitars from Osorno, Chile. His tone, approach and range are highly reminiscent of Mike Vescara (OBSESSION, LOUDNESS, YNGWIE MALMSTEEN, ANIMETAL). Carlos also does an excellent job on the rhythm guitars; they're tight and articulate. Oleh Andrievsky (lead guitars - Kyiv, Ukraine) contributes impressive lead work and harmonies throughout; his playing is technical yet controlled and smooth. The rhythm section of Marvin Masok (bass - Lagos State, Nigeria) and Vinay Ramakrishnan (drums - Chennai, India) is rock solid; they seem to be relative newcomers (at least to metal), but still hit their marks like a seasoned team.
The album is consistent overall, but "Texas Is Coming For You", "From Inside" and "Phase III" all provide an immediate headbanging experience. The songwriting deviates a bit from the expected standards of the genre in terms of arrangements and hooks, but that's a positive and it helps to keep things fresh. At eight tracks, the record doesn't overstay its welcome, but it does feel a little short.
In style, sound and intent, HIGHWAYS' Texas Is Coming For You comes across like a release from the 80s that you never knew about — but wished you had. It's modern enough to appeal to a broad cross-section of current metal fans, but old school enough to feel authentic to the initiated. Texas Is Coming For You is a strong entry in the new wave of traditional heavy metal (NWOTHM) movement that seems to be gaining traction recently.
4.0 Out Of 5.0

Please log in to view RANTS