AQUILUS Bellum I


By Peter Atkinson, Contributor
Friday, February 11, 2022 @ 10:49 AM


| | | |
| --- | --- | --- |
| | | |
AQUILUS
Bellum I
Blood Music




Getting to this a wee bit late, as it was released in early December, but since this second album by the Australian one-man band AQUILUS arrived a full decade after the first, what's another month or two, right? Plus, Bellum I is a rather massive undertaking – so much so that there is apparently a Bellum II still to come – so it can take awhile to wrap your head around.

Like Epigone, the recently released fourth album from Boston's WILDERUN, Bellum I is a near perfectly balanced melding of symphonic grandeur and metallic muscle. With Bellum I there is a more decidedly black metal feel to the heavy end of things, and the classical elements are even more prominent, though both combine to give the album a cinematic, soundtrack-like quality that is really quite breathtaking – as is the case with Epigone. Indeed, it's eerie how closely matched the two albums are in their sonic scope and execution, despite the wildly disparate paths that led to them.

WILDERUN has released all four of its album in the time it took AQUILUS to follow up its debut Griseus from 2011. And WILDERUN dramatically changed its sound along the way to get to this point. Nevertheless, I guess great minds really do think alike, eventually at least.

With AQUILUS it really comes down to one mind, composer/producer/musician/vocalist Horace Rosenqvist, aka Waldorf, not exactly the most sinister nom de guerre for a black metal solo artist, but whatever. He literally did everything on Griseus and darn near does it all again on Bellum I, getting some assistance of a few guest musicians who provide violin, flute and female vocal accompaniment. So I guess we can cut him some slack for the long wait between albums, because Bellum I was a pretty heavy lift all the way around.

The album is a sprawling, shape-shifting work marked by dramatic contrasts where sudden sprints and bludgeoning grooves give way to dramatic, elegant folksy or classically inspired sweeps, often in the body of the same song, like the 13:14 behemoth "Eternal Unrest", the most epic work among a whole pile of epics here. Four other tunes near or crack the nine-minute mark.

Shorter instrumental tracks – the delicate piano and strings of "The Night Winds of Avila", the effects-laden electric guitar squall of "Embered Waters" that recalls the opening to RUSH's "Xanadu" and the elegant grand piano movement "Moon Isabelline" – are relegated to intros and segues, though quite compelling ones at that. And while you could argue about their necessity, given the large swaths and swells of instrumentation that make up the main songs, they do add a certain character and show just what a gifted, creative musician Rosenqvist really is.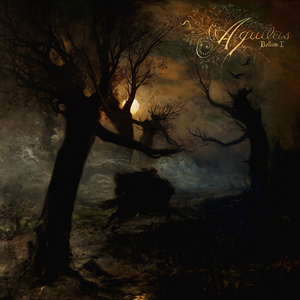 The main body of Bellum I, flavored by prog, doom, death and black metal elements, recalls a mash-up of early OPETH or KATATONIA with In The Nightside Eclipse-era EMPEROR as well some of the later solo work of band leader Ihsahn. The quaking intro to "Into Wooded Hollow" quickly brings the thunder to the fore after the relative serenity of "The Night Winds of Avila", but it is soon joined by opulent keyboards and strings. They provide a counterweight throughout – not only to the musical bombast but Rosenqvist's rather harsh vocals, which alternate between piercing shrieks and ursine growls - often standing by themselves but also racing along during even the most frenzied black metal moments or adding texture to the occasionally massive riffs.
As you can imagine, the material here is quite complex and involved, so despite the sheer volume of work involved there may have been a distinct advantage in Rosenqvist having handled just about everything on his own. Without the distraction of input from others, he is able to capture his singular vision and stitch together an expansive yet coherent work that flows quite naturally and never seems to lose sight of itself - or come off sounding like some vanity project.
Instead, Bellum I makes for a rather captivating hour of music, closing with the orchestral majesty of "Empyreal Nightsky". The often haunting 10-minute piece would seem to make a perfect lead-in for Bellum II, whenever that turns up, slowly fading out after a stirring Spanish guitar interlude as if to be picked up anew next time. I guess we shall see – and hopefully before 2032.
4.5 Out Of 5.0

Please log in to view RANTS