SYREK Story

By George Mihalovich, Pure Rock Patroller
Friday, February 11, 2022 @ 10:51 AM

| | | |
| --- | --- | --- |
| | | |
SYREK
Story
Self-Released/Independent




Terry Syrek is a Berklee-educated guitarist, session musician and recording artist who has previously released two full-length instrumental projects (Obscura - 2001 and Aum - 2005) and a vocal album (Machine Elves – 2012).

Story is Terry's most expansive and ambitious work to date; a stunning hybrid progressive rock/progressive metal instrumental concept record detailing the grand adventure of two "small creatures". Their journey through a parallel world is presented across 13 tracks that cover a range of musical styles, emotions and textures — employing imaginative arrangements, ambitious and complex melodies, and amazing virtuosity — all tied together with narration.

Story is well-orchestrated and impeccably executed, and the pristine production and mixing reveal all of the rich detail of the disc. The end result is more than the sum of the parts, but the individual performances are superb and jaw-dropping. The distinguished cast includes Marco Minnemann (drums - THE ARISTOCRATS, JOE SATRIANI, PAUL GILBERT, GEORGE BELLAS, TONY MACALPINE); Bryan Beller (bass - THE ARISTOCRATS, JOE SATRIANI, STEVE VAI); Mohini Dey (bass - STEVE VAI, TONY MACALPINE); Lalle Larsson (keyboards); and Florian Cristea (violin). Narration is handled by Keith Szarabajka and Terry's son, Luke Syrek. His participation is central to the album, because Story is clearly inspired by Luke and a tribute to the imaginative power of childhood.

There is a lot here for anyone who appreciates guitar-hero level playing fully integrated into mature and adventurous compositions. True to its title, Story is a thematical and musical tale told through a full-blown progressive metal assault. Yes, it has shades of RUSH, DREAM THEATER, ELP, MESSHUGAH and other prog/prog metal touchpoints, but Story is a distinct entity. It's familiar enough to engage fans of heavy progressive music, yet takes plenty of chances and carves out its own niche.

The opener, "Monster" is, well, a monster, and it establishes some of the recurring musical forms and devices applied throughout Story. The mind-blowing soloing recalls the reckless abandon of some of the great Shrapnel Records releases of the 80s and early 90s; the band CACOPHONY (Jason Becker and Marty Friedman) is a reasonable analog. It's also full of unison riffs, healthy doses of seven-string riffing, and a few surprises — including a seamless segue in and out of a 70s-influenced prog section in the middle. "Gnomus Maleficus" is just good vicious fun, and "The Perilous Flight From Castle Abathria" and the ultra-heavy "Strange Machine" all continue in this vein.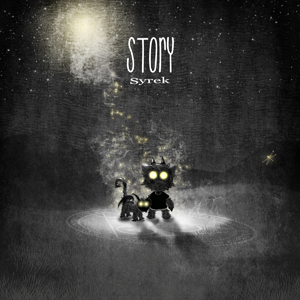 The official video for the ebullient major key track "Balloon Ride Over A Jigsaw Map" combines live performance footage from the key contributors with animation styled after the album artwork. "What The Owl Said" and "Dandelion Sword" are introspective in comparison by virtue of more subdued percussion, extensive clean guitar passages, and Terry's emotive soloing. These elements all work together to provide contrasting moods that fit the arc of the tale — without lowering the levels of intensity and interest.
Terry has definitively established his own voice as a composer and soloist with Story, but there are discernible shades of guitarists such as David Gilmour, Paul Gilbert, Doug Aldrich, Yngwie Malmsteen and Allan Holdsworth in his playing. That said, his musicality is equal to his amazing technique, and these pieces are full of melody and madness. Sections that offer tasteful and focused speed and dexterity are seamlessly juxtaposed against passages that will get the attention of any Gilmour or Satriani fan — coupled with some deft Holdsworth-influenced vibrato work.
Story represents a very pure form of expression; something done solely to realize a vision with no compromises or outside considerations. The end result is a deep, complex and brilliant piece of musical art that tells its own Story.
Story is available in physical and digital formats. Visit www.terrysyrek.com for more information.
4.8 Out Of 5.0