SAXON Carpe Diem

By George Mihalovich, Pittsburgh Contributor
Tuesday, February 22, 2022 @ 10:20 AM

| | | |
| --- | --- | --- |
| | | |
SAXON
Carpe Diem
Silver Lining Music




SAXON remain at the top of their game even in the latter stages of their storied career. The band continues to refine and build upon the style they helped to create, setting a high standard for current New Wave of Traditional Heavy Metal (NWOTHM) bands to follow. Since finding their stride with an updated and somewhat heavier take on their classic sound with Unleash The Beast in 1997, they have had an amazingly consistent run — and the streak continues with their latest release, Carpe Diem.

Like contemporaries U.D.O., JUDAS PRIEST, ACCEPT, IRON MAIDEN and a few select others, SAXON continue to produce high-quality new music on a regular schedule. In fact, since their debut in 1979, the longest gap between original releases is the four years since Thunderbolt in 2018 (not counting the 2021 covers record Inspirations). They have stayed at this level by artfully incorporating modern musical influences and production techniques that complement their core sound and songcraft. To put it another way, SAXON has adapted to the times and technology enough to stay relevant for multi-generational audiences in the current metal landscape.

Carpe Diem can be summed up as a compact set of concise and focused songs. There are no epics, orchestras or guest choirs; just get in, rock, make the point and move on. In some sense it's what you would expect, but that's far from meaning that the album is predictable or boring. Rather, SAXON has written 10 vital new tracks in their trademark style — memorable riff-based heavy metal with a penchant for historical themes ("Carpe Diem") and literature ("All for One", which celebrates Alexandre Dumas' French historical adventure novel The Three Musketeers). Current events are another strong theme; "Remember The Fallen" is a moving tribute to the heroes that lost their lives helping to fight the pandemic, and "The Pilgrimage" reflects on how this long-established search for meaning still resonates and continues today. It's not a throwback attempt, but it certainly sits nicely alongside the classic "Crusader".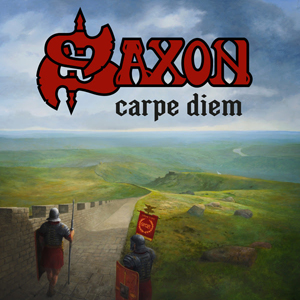 The double-bass fury of the past few releases has been pulled back slightly, but the songs remain high-energy and aggressive. Drummer Nigel Glockler and bassist Nibs Carter once again lay it down and demonstrate the value of a thunderous and seasoned rhythm section. The riffs are always there, but this time out the solos (courtesy of guitarists Paul Quinn and Doug Scarratt) seem more focused and melodic ("Black is The Night"). Finally, Biff Byford's voice remains undiminished even after his well-publicized heart issues. His power and range are amazing at his age (or any, for that matter), and he should be spoken of in the same breath as contemporaries Rob Halford and Bruce Dickinson. Furthermore, his insightful and intelligent lyrical approach remains intact.
State-of-the-art production, mixing and mastering are once again courtesy of the renowned Andy Sneap (with an assist from Biff). He has set the gold standard for modern metal production, and Carpe Diem is no exception; what he has done for SAXON, ACCEPT and a host of other bands is nothing short of fantastic. As always, the end result is clear, heavy and eminently listenable. As a side note, Seb Byford helped to record his father's vocals at Biff's home studio and contributed backgrounds. He's quite the singer in his own right, as evidenced on their HEAVY WATER release, Red Brick City (2021).
SAXON are rightfully considered one of the cornerstone New Wave of British Heavy Metal bands (alongside the likes of IRON MAIDEN, JUDAS PRIEST and DEF LEPPARD). While they haven't reached the same pinnacles of success as the aforementioned artists, their total output and quality rivals all of them — and they continue to bolster their place in this pantheon with each new album. Carpe Diem may never have the chance to reach the legendary status of their early work, but SAXON has nonetheless released another killer metal record that easily measures up to anything in their extensive catalog.
4.5 Out Of 5.0 Battle Axes