DREAM THEATER In Akron, OH With Photos!


By Geoff Ketler, Cleveland Contributor
Friday, February 25, 2022 @ 12:24 AM


| | | |
| --- | --- | --- |
| | | At The Akron Civic Theatre On February 23rd |
All Photos By Geoff Ketler/Aces High Photography
Another chilly February weeknight in the Rubber city is typically uneventful, but downtown Akron was alive and buzzing with excitement. A last minute venue change in order to accommodate the necessary sound and stage production meant moving DREAM THEATER from the Goodyear Theater on the outskirts of the city limits to the Akron Civic Theatre, located centrally in downtown. The sidewalks were packed, the bars were filled, surface lots and garages were at capacity – it looked like a return to normalcy…finally.
Words that are often associated with DREAM THEATER are "precision", "innovation", "perfection", maybe even "dexterity" or "creativity". It is the type of band that sends their fans home in one of two conditions: those that will strive to emulate the talent they were lucky enough to witness firsthand and those that are rendered speechless and in complete shock realizing DREAM THEATER's abilities are out of sight and out of reach. It is more than music; it is an experience that can completely submerge you. It is art.
Let's be honest, half or more of the attendees at DREAM THEATER's Akron, Ohio performance were musicians, at least in some capacity. Folks turn out in droves much like high school baseball players attending a Major League game – to see how the professionals do it. "Professional" doesn't even begin to touch on the mastery at hand. A DREAM THEATER show is the epitome of artistry, the depth of an orchestra and the thrill of a roller coaster compacted into a 2-hour-long spectacle of diversity, dynamics, and emotion. It seemed that the band was particularly juiced on this night. Vocalist James LaBrie commented that today, February 23rd, marked two years since the touring had to prematurely stop due to the rise of Covid. After additional delays, it was like DREAM THEATER had two years of pent-up energy, frustration and emotion to let out. It is so cliché to throw around a word like "re-energized" but tonight's performance was easily the most animated and crowd-pleasing I had ever seen the band since jumping into the DT camp twenty or so years ago. Drummer Mike Mangini and keyboardist Jordan Rudess often locked eyes, playing up each other's parts. You could not wipe the smile off of Mike's face, he just looked so happy to be there.
Although the latest and greatest offering from DREAM THEATER was released in August of 2021, the group is finally getting around to actually touring in support of the album. The set was as diverse as can be, with slices of various eras of their careers added to the fold, but there was little doubt that DREAM THEATER was here to push the new material and it was immaculate. From the banger of an opener "The Alien" to the epic…and I mean epic in every sense of the word, especially in literary terms…title track, "A View From The Top Of The World", it was an absolute beast of a night. Ten songs over 2+ hours…I will let you do the math. That gives you just the sense of the aptitude, the movements within songs and the stories each song tells. Don't ever take live music for granted again. Go see DREAM THEATER and allow them to tell you a few stories as well. At least the county mask-mandate prevented too many jaws from dropping on this particular night.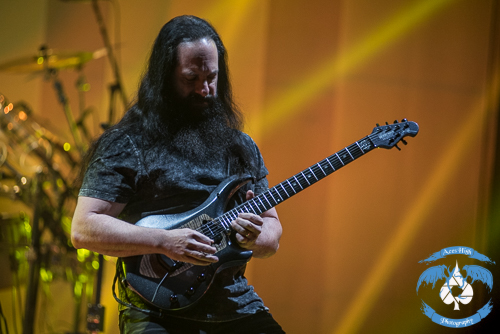 Setlist:
"The Alien"
"6:00"
"Awaken The Master"
"Endless Sacrifice"
"Bridges In The Sky"
"Invisible Monster"
"About To Crash"
"The Ministry Of Lost Souls"
"A View From The Top Of The World"
Encore: Check out some more photos from the show!
All Photos By Geoff Ketler/Aces High Photography

Please log in to view RANTS




YNGWIE J. MALMSTEEN, GLENN HUGHES In Worcester, MA With Photos!

ALICE COOPER Road

RAT ROD Four On The Floor

GIRLSCHOOL WTFortyFive?

DANKO JONES Electric Sounds

AVATAR, ORBIT CULTURE, THE NATIVE HOWL In Houston, TX With Photos!

THE DEAD DAISIES In Hollywood, CA With Photos!

KILL DEVIL HILL Seas Of Oblivion

THE DEAD DAISIES In Ottawa, Canada

MAMMOTH WVH In Santa Ana, CA

UADA Crepuscule Natura

BARONESS Stone

KAMELOT, BATTLE BEAST, XANDRIA In Houston, TX With Photos!

CRYPTOPSY As Gomorrah Burns

RAY ALDER II

GHOST, AMON AMARTH In Houston, TX With Photos!

U.D.O. Touchdown

DETHKLOK Dethalbum IV

STEVE VAI In Ottawa, Canada

PANTERA, LAMB OF GOD In Houston, TX With Photos!