DRAGONFORCE, VISIONS OF ATLANTIS, SEVEN SPIRES In Santa Ana, CA With Photos!


By Junkman, On-Air Personality
Sunday, March 13, 2022 @ 11:38 AM


| | | |
| --- | --- | --- |
| | | The "Extreme Power Metal Tour" Hits The Observatory On 3-7-22 |
All Photos By Junkman
To celebrate and promote their 2020 album release Extreme Power Metal, DRAGONFORCE finally returned to the concert stage here in 2022. After being shut down, like everything else the last few years, an enthusiastic DRAGONFORCE blew the roof off of The Observatory concert club in Santa Ana to kick off their tour. Previously dubbed "The Fastest Band in the World" by some due to their extreme guitar skills and high energy live shows, a sold out crowd was treated to the band at their best.
Giant arcade games, of which the band members periodically appeared on top of, a huge Dragon, Lazer lights, and confetti canons were all part of the elaborate stage show. It was like a giant arcade inside the club, with the video wall behind the band showing a constant array of old-school video games, as well as commercials for past video game consoles like Colecovision and Atari. The band even adorned plastic "Day-Glow" shaded glasses from the early 1990's that glowed brightly when bathed in blue light.
The real show was the band itself. Based on the blazing lead guitars of Herman Li and Sam Totman, who are masters of guitar wizardry, the band was rounded out by drummer Gee Anzalone, bassist Alicia Vigil, and singer Marc Hudson. Riff after fiery riff brought the crowd to a fever pitch and a mosh pit ensued. The pace of the music of DRAGONFORCE is epic. Li and Totman are in constant motion throughout the show, slowing down only momentarily to marvel at the crowd's reaction. Singer Hudson is like a cheerleader, eliciting fist-pumping and chanting from his beloved audience. He even brought out a large gun that shot imitation fire, pointing it at his most loyal subjects.
Drummer Anzalone, naturally has to keep up a frenetic pace. He along with bassist Alicia Vigil, lay down a more that solid foundation for the maniacal guitar onslaught that they drive and support. About halfway through the set, Herman Li addressed the crowd, exclaiming that "For the last two years I have been a camera boy on Twitch," referring to the media app that was streaming the show, live. He then added "Do we have any Gamers here? This made many in the crowd erupt. "What's your favorite game right now?" He then offered up the names of several, before thanking everyone for supporting the band. He then introduced singer Marc Hudson, who by now was atop one of the giant arcade games on stage left. Hudson then jammed out on guitar himself, performing an intricate medley of songs from popular video game soundtracks. Very impressive it was, and the crowd roared their approval.
As for the set, the band was there to promote the Extreme Power Metal release and played five of the album's ten songs, including the opening number "Highway To Oblivion" as well as the outstanding "The Last Dragonborn". One of my favorite DRAGONFORCE numbers, "Ashes of The Dawn" from 2017's excellent Reaching into Infinity release, rocked the room. There were some very interesting and bizarre parts of the show as well. Such as when the band invited some local friends, guitarists Kiki Wong and Scott Carstairs, to come out and jam on a country-themed Lester Flatt and Earl Scruggs song, which also featured Sam Totman, dressed in overalls, and a straw hat- on the banjo!
After a rousing "Valley of The Damned", the band left the stage, returning for an encore of their amped-up version of the Celine Dion ballad "My Heart Will Go On" that is on Extreme Power Metal. As wacky as that may sound, they truly make it into a worthy DRAGONFORCE number, complete with soaring choruses and blindingly fast guitar arpeggios throughout. Naturally, the crowd sang along to every word. DRAGONFORCE ended their set with their first big hit, 2005's "Through The Fire And Flames" and punctuating it with streamers flying through the air. The band members appeared onstage, grinning and exhausted, thoroughly pleased with their output and their fans were equally happy, screaming for more. DRAGONFORCE's connection with their audience has always been solid, and their self-deprecating humor has always been part of the act.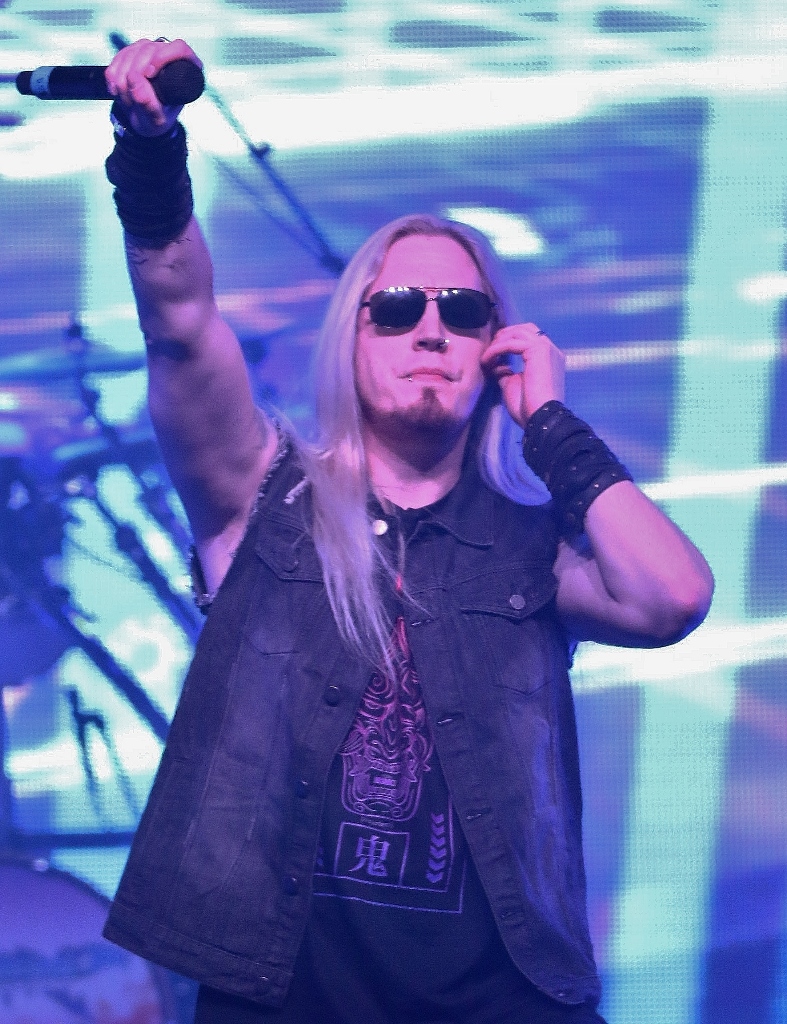 Opening acts SEVEN SPIRES, from Boston, and VISIONS OF ATLANTIS were both visually and technically stunning. Both had angelic female front persons and produced a wonderful mix of Melodic metal and Black Metal, as well as bits of symphonic and Gothic rock. Kudos to DRAGONFORCE for adding these outstanding two acts to the tour. Get there early and don't miss them when they come to your town. My thanks to the bands, as well as those that made it possible for me to attend.
DRAGONFORCE Set List:
Intro/"Point of Origin" (Yanni song)
"Highway to Oblivion"
"Fury of the Storm"
"The Last Dragonborn"
"Ashes of the Dawn"
(Sega Commercials played on video screen and Arcade cabinets)
"Heart Demolition"
"Dracula's Castle"/"Fight On!"
(Marc on Guitar. Songs from Castlevania Symphony of The Night and Final Fantasy VII, respectively
Banjo Solo/Guitar Solo
(Based on "Randy Lynn Rag" by Flatt & Scruggs. With Kiki Wong and Scott Carstairs)
"Black Fire"
"Razorblade Meltdown"
"Cry Thunder"
"Remembrance Day"
"Valley of The Damned"
Encore:
"My Heart Will Go On" (Celine Dion cover)
"Through The Fire And Flames"
Check out some more photos from the show!
All Photos By Junkman

Please log in to view RANTS