TONY MARTIN Thorns


By Jason 'JRock' Houston, Contributor
Monday, April 18, 2022 @ 1:12 PM


| | | |
| --- | --- | --- |
| | | |
TONY MARTIN
Thorns Dark Star Records




Most people know Tony Martin as the Lead Singer for BLACK SABBATH for most of the 80's and early 90's and while Thorns is not his first solo CD ever it's the first Tony Martin solo release to receive such high praise from both critics and and fans alike. The 10 song album really is quite solid and all 10 songs really are quite impressive.

While most people may expect this album to sound like a carbon copy of any of the albums that Tony Martin recorded throughout his time fronting SABBATH I think what makes this album really shine is that Tony Martin was able to experiment a little and go outside of the box and was just allowed to write and record the songs that he wanted to write. There was no pressure for this to be a BLACK SABBATH sounding album but rather a Tony Martin solo album. While the album does have a bit of a SABBATH influence the truth is that many of the songs are quite different from anything Martin has ever written or recorded in his career! Probably the one song that will be the biggest surprise for any Tony Martin fan is the song "This Is Your Damnation". It is an accoustic type song, but has elements of rap, and one of my favorite songs off the album.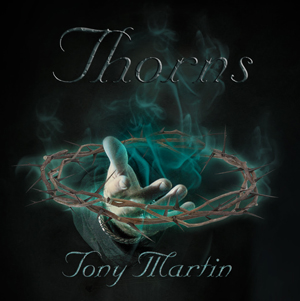 Other stand out tracks include "As The World Burns", which is the first single/video that was released from the album, then there's the title track "Thorns" which has a SABBATH-y ballad type of vibe to it with special guest vocalist Pamela Moore on background vocals and her haunting vocals make the track a very special track indeed. Another musician that is featured quite heavily throughout the album and worth mentioning is Guitarist Scott McClellan who was also very involved with the songwriting as well. Scott's heavy guitar riffs really make giving this album a listen and believe me when I tell you he's quite capable of filling the huge shoes of SABBATH guitar legend, riffmaster Tony Iommi! I must say that there's not one bad song on here, all 10 tracks will rock your world!
Thorns is one of my favorite Metal albums from 2022 so far and I think what makes it such a top notch album is that Tony Martin was allowed to write the songs he wanted to write and his label Dark Star Records has really gotten behind the album and done a great job of helping to promote the album.
5.0 Out Of 5.0

Please log in to view RANTS



TOM KEIFER, L.A. GUNS, FASTER PUSSYCAT In Houston, TX With Photos!

CAVALERA In Los Angeles With Photos!

JACK STARR'S BURNING STARR Souls Of The Innocent

HAUNT Windows Of Your Heart

PHIL LYNOTT Songs For While I'm Away/THIN LIZZY The Boys Are Back In Town [Live]

FOREIGNER In The Woodlands, TX With Photos!

OCEANS OF SLUMBER In Houston, TX With Photos!

SINNER Brotherhood

ORIGIN Chaosmos

CLASSLESS ACT Welcome To The Show

MICHAEL SCHENKER GROUP Universal

SUFFOCATION, ATHEIST, CONTRARIAN, SOREPTION In Los Angeles With Photos!

DOWNSET Maintain

PROJECT RESURRECT False Reality

DEF LEPPARD Diamond Star Halos

TED NUGENT Detroit Muscle

KREATOR Hate Über Alles

DESTRUCTION, NERVOSA, SUNLORD, VX36 In Los Angeles With Photos!

ASTRONOID Radiant Bloom

EMISSARY The Wretched Masquerade

TESTAMENT, EXODUS And DEATH ANGEL In Portland, OR With Photos!

HYPOCRISY, CARACH ANGREN, THE AGONIST, HIDEOUS DIVINITY In Los Angeles, CA With Photos!

DECAPITATED Cancer Culture

GWAR The New Dark Ages

SEPTICFLESH Modern Primitive

CHUCK WRIGHT Chuck Wright's Sheltering Sky

MARK TREMONTI Mark Tremonti Sings Frank Sinatra

BON JOVI In Austin, TX With Photos!