DESTRUCTION Diabolical


By Andrew Depedro, Ottawa Corespondent
Monday, April 18, 2022 @ 1:19 PM


| | | |
| --- | --- | --- |
| | | |
DESTRUCTION
Diabolical
Napalm Records




Their songs have cursed several religious deities, cracked twice as many more brains, and infernally overkilled crowds the world over since their inception originally as the less-catchy-sounding KNIGHTS OF DEMON 40 years ago before settling on the more impactful moniker of DESTRUCTION back in their home turf of Weil Am Rhein in southwestern Germany. And with their 15th studio album Diabolical living up to every aspect of its promise of remorseless riffs, punishing bass and slammin' snare work, the unsung mad butchers of Teutonic thrash deliver a nicely trimmed beefy buffet that skimps on nothing but relief for the ears.

Fronted by bassist/vocalist Marcel "Schmier" Schirmer who continues to be the band's driving force and its sole original member, this latest lineup of DESTRUCTION also includes the fiery lead and rhythm guitar work of newcomers such as Damir Eskic and Martin Furia as well as the familiar punishing sounds of Saskatchewan-born Randy "The Human Drum Machine" Black, known for his past work with PRIMAL FEAR, ANNIHILATOR, W.A.S.P. and BIF NAKED. Together on Diabolical, the quartet deliver some of the band's both heaviest and vintage-sounding work in their career. Opening with the instrumental interlude "Under The Spell", which charges and rages with surprisingly panoramic impact for a song that's just over a minute long, the album continues its merciless onslaught with its title track with raging drums, bloodthirsty riffs and hellish vocals that sink deep down into your bones. "No Faith In Humanity" relentlessly rages on with non-stop headbanging action, while DESTRUCTION continues to smash eardrums on "Hope Dies Last" – providing unbeatable brutality with unstoppable speed, destructive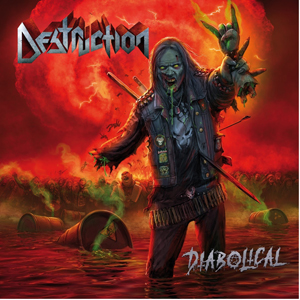 verses and screeching voices. "Tormented Soul", on the other hand, is loaded with proper heavy metal and promises explosive drums that smash musical violets. The fade-in intro to "Servant Of The Beast" alone harkens back to the aura of the meat-and-potatoes production of Eternal Devastation as the band take a slight break from raging about the evils of organized religion and war so as to briefly indulge in their fantasy storytelling KING DIAMOND style both on this song and "The Lonely Wolf".
And closing out this grand finale of the 47-minute parade of devastation is a faithful but heavy-hitting (and far from being madly butchered) cover of the GBH banger "City Baby Attacked By Rats" guaranteeing immediate whiplash by combining rough hardcore punk with brute thrash metal and showcasing DESTRUCTION's own punk and hardcore roots. And for a lineup that have mostly got its proverbial toes dipped into the band's catalogue from having only started playing on 2019's Born To Perish, they play and crush throughout Diabolical like seasoned pros who've played with Schmier their entire professional career. The end result? Not a diabolically filler track can be found on Diabolical as DESTRUCTION continue their legacy of bringing out all of the heavy artillery full of honest and uncompromising thrash metal, catapulting you straight into the seventh heaven of metallic bliss and causing a massacre of razor-sharp sound which no fan of the genre should miss.
5.0 Out Of 5.0
https://www.destruction.de/
https://www.facebook.com/destruction
https://www.instagram.com/destruction_official/

Please log in to view RANTS



TOM KEIFER, L.A. GUNS, FASTER PUSSYCAT In Houston, TX With Photos!

CAVALERA In Los Angeles With Photos!

JACK STARR'S BURNING STARR Souls Of The Innocent

HAUNT Windows Of Your Heart

PHIL LYNOTT Songs For While I'm Away/THIN LIZZY The Boys Are Back In Town [Live]

FOREIGNER In The Woodlands, TX With Photos!

OCEANS OF SLUMBER In Houston, TX With Photos!

SINNER Brotherhood

ORIGIN Chaosmos

CLASSLESS ACT Welcome To The Show

MICHAEL SCHENKER GROUP Universal

SUFFOCATION, ATHEIST, CONTRARIAN, SOREPTION In Los Angeles With Photos!

DOWNSET Maintain

PROJECT RESURRECT False Reality

DEF LEPPARD Diamond Star Halos

TED NUGENT Detroit Muscle

KREATOR Hate Über Alles

DESTRUCTION, NERVOSA, SUNLORD, VX36 In Los Angeles With Photos!

ASTRONOID Radiant Bloom

EMISSARY The Wretched Masquerade

TESTAMENT, EXODUS And DEATH ANGEL In Portland, OR With Photos!

HYPOCRISY, CARACH ANGREN, THE AGONIST, HIDEOUS DIVINITY In Los Angeles, CA With Photos!

DECAPITATED Cancer Culture

GWAR The New Dark Ages

SEPTICFLESH Modern Primitive

CHUCK WRIGHT Chuck Wright's Sheltering Sky

MARK TREMONTI Mark Tremonti Sings Frank Sinatra

BON JOVI In Austin, TX With Photos!