BLACK SWAN
Generation Mind
Frontiers Music Srl - 2022




When BLACK SWAN's self-titled debut album came out in 2020, the fact that it had Robin Mcauley, Reb Beach and Jeff Pilson in the lineup made me think I would end up liking the release. But what I didn't know is just how good that album would turn out to be. It ended up finishing high up on my year-end best-of list.

Two years later, the band is back with their Generation Mind release. It's the same lineup (let us not forget about powerhouse drummer Matt Starr) that recorded the first album and my hopes were high. And for the most part, whatever expectations I had were easily met.

I first heard the title track online when it was put out ahead of the album's official release. Right from the start, I was captured by how intensely rocking the track was. Great melodies woven into the mix too. Plus McAuley's depth of feeling comes shining through in his vocal take for the song.

As I started to listen to the album proper, I found that whether I looked at the opening instrumental "Before The Light" as its own individual song (as it is listed) or as a table setter for the song "She Hides Behind", I just couldn't get into it. To me, it just felt like unnecessary noodling around before getting to the meat of the album.

The good stuff definitely starts up quickly though. That "She Hides Behind" track is a ball of pure energetic rock and roll. It's got a rollicking pace and the guitar work from Reb Beach captures both the frenzied and melodic side of his playing while giving the listener a caffeine jolt.

On Generation Mind, BLACK SWAN keeps the rock coming at you fast and furious for the most part. When they do slow things down (either a little or a lot), the results vary a bit but they still turn out some interesting music. "The Crown" features an uptempo pace but adds in a bit more of a heavier stomp sound to the track as well. As for the album closing "I Will Follow", the pace will still beat you out in a footrace but there's some extra dramatic flair to the music as well, particularly when the track fades out and then comes back in. It's a really strong way to finish up the disc.

I'm not going to lie to you here though, I found the album's "ballad" track "How Do You Feel" to be a bit ponderous to get through. Considering the number of times I listened to Generation Mind before writing this review, it is a song that just doesn't grow on you either.

While "See You Cry" might have you thinking it is another ballad, the song actually moves along pretty quickly and I quite enjoyed the song's chorus. Speaking of song choruses, the track "Eagles Fly" has a stunningly good one. I liked the song immediately since it's pretty lively start to finish. Plus I loved the rhythmic feel to the music (Matt Starr's drums were particularly inviting on this song) But the anthemic nature of the chorus helps put "Eagles Fly" on another level for me.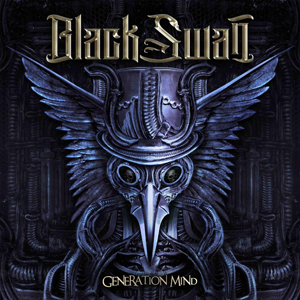 I haven't found any kind of track-by-track discussion articles online with the band, but unless I'm reading way too much into things, the songs "Killer On The Loose" and "Miracle" are companion pieces. The former track bleeds directly into the latter with no pause, which was my first inkling of the idea of the songs being connected. But as I listened to both songs, they lyrical content struck me as being thematically similar as well. Two sides of the same coin if you will. "Killer On The Loose" comes off like a mystery thriller, while "Miracle" is more of a contemplative reflection of the song's "narrator". Both are uptempo in nature but I loved the way they came off as a connected dramatic story.
I loved the breakneck delivery of "Long Way Down" and how the band really blew it out on this song. However, along with the title track, I would have to say my favorite song on the album is "Wicked The Day". The song has an all-out blitzing attack musically. Reb Beach's guitar is incredible and he has a ripping solo as well. Jeff Pilson and Matt Starr lay down a killer rhythm track and Robin McAuley's vocals are both intense AND immense. It's just a flat out great song!
I know that the individual members of BLACK SWAN will always be busy with their "day jobs" with WINGER, WHITESNAKE, FOREIGNER, etc., but with Generation Mind, the quartet once more demonstrates that they have really struck gold with this new project of theirs. Generation Mind is a fantastic album that will leave you begging for more...a lot more!
4.5 Out Of 5.0