Alice Cooper Photos By Krishta Photography
Buckcherry Photos By Alison Webster Photography
Nobody asked me, butÖas usual, Iím going to give my opinions anyway.
A rock show at The Arlene Schnitzer Concert Hall in Portland, OR? Wow. This is a gorgeous venue dripping with opulence and history. Iíve seen a handful of shows in this venue. A play, opera, comedy or even a magic show would be completely fitting for this place. A rock show is just an odd pairing for this venue however. It feels wrong. It sounds wrong. It is almost like a defiling of fine art. Some things in this world just donít make sense or mix.
As a music photographer, when I heard Alice Cooper would be playing at this venue, my heart sank a bit. I knew there would be no photo pit. Photographers will be stuffed over to the side wall trying to get whatever profile shots within the couple song timeframe allowed.
The average age of the ushers and staff at that venue hovers around 75-years-old. Yes, Alice Cooper is 74, but he obviously drank some elixir of the Gods and has kept himself in a well preserved time-capsuleÖmore on him later. The eagle-eyed (theyíve had cataract surgery with super-power lenses inserted, Iím sure) staff at this venue are right on top of keeping everyone in their seats at all times. You can stand up, but make sure thereís not much gyration of the hips into your neighborís space, or youíll be asked to contain yourself promptly. I saw one guest to the far side of the venue step out into the outside aisle (where no one was anywhere near) so she could dance, and a swarm of blue hairs came running to let her know she had to be in her seat. When the argument arose that she was blocking the guy behind her, she got the evil-eye and dreaded finger wag, so she begrudgingly stepped back to her seat.
Opening the show was BUCKCHERRY. Iím friends with a couple of the guys, Kelly LeMieux (bassist) and drummer, Francis Ruiz. Iíve seen these guys play in this band (and other bands) before, but with this show, they were on fire. I was left with a whole new level of respect for them.
Speaking of Kelly, man, what a transformation and inspiration this man is. In 2016 he was diagnosed with Acute Myeloid Leukemia, and ultimately kicked its ass after becoming quite sick. To see him today with his long grown out wild locks and healthy fit physique, he looks like heís in his 30ís again. Obviously at the top of his game and wearing it. It looks fantastic on him. Serious Rock God status. The entire band looks super healthy and fit.
Francis, who is an incredible painter as well as drummer, had been behind the scenes as a drum tech for many years. He teched for many artists including Paul Bostaph (SLAYER), Tommy Aldridge (WHITESNAKE), Mikkey Dee (MOTORHEAD), and James Kottak (SCOPRIONS) to name a few. To see him behind his kit on stage is just the best. Heís beyond kind, talented and so deserving to be there.
Along with founding member and vocalist Josh Todd, guitarists Stevie D. and Billy Rowe, BUCKCHERRY was a tight, well oiled machine. I heard someone say they were too loud. Well played boys! Just as it should be at a rock show. They brought their well known songs, "Lit Up" with many hard hitters between. They closed the night with a super funky compilation of "Crazy Bitch", with interludes of KOOL & THE GANGís "Jungle Boogie", "Bad Girl", "Proud Mary", and back to "Crazy Bitch". In between the montage encore, the band got introductions by Todd, with a very cool choreographed ďline danceĒ of the band (squee!), that was my absolute favorite. What a fantastic opener.
Alice Cooper was up next. Watching the crew set up the stage, I realized it was quite a production in itself. (https://www.gallagherstaging.com/home-gallagher-staging-and-manufacturing/gallagher-manufacturing/custom-stages/g-set-alice-cooper/) The crew worked swiftly, some with costumes erecting this complicated set. I would imagine the crew would most likely have their own rehearsals before the tour began to pull this off night after night with timely success. It looks like a dungeon in a castle with three staircases, large lit chandeliers, and elaborate portcullis, and lots of the horror goodies that are synonymous with an Alice show.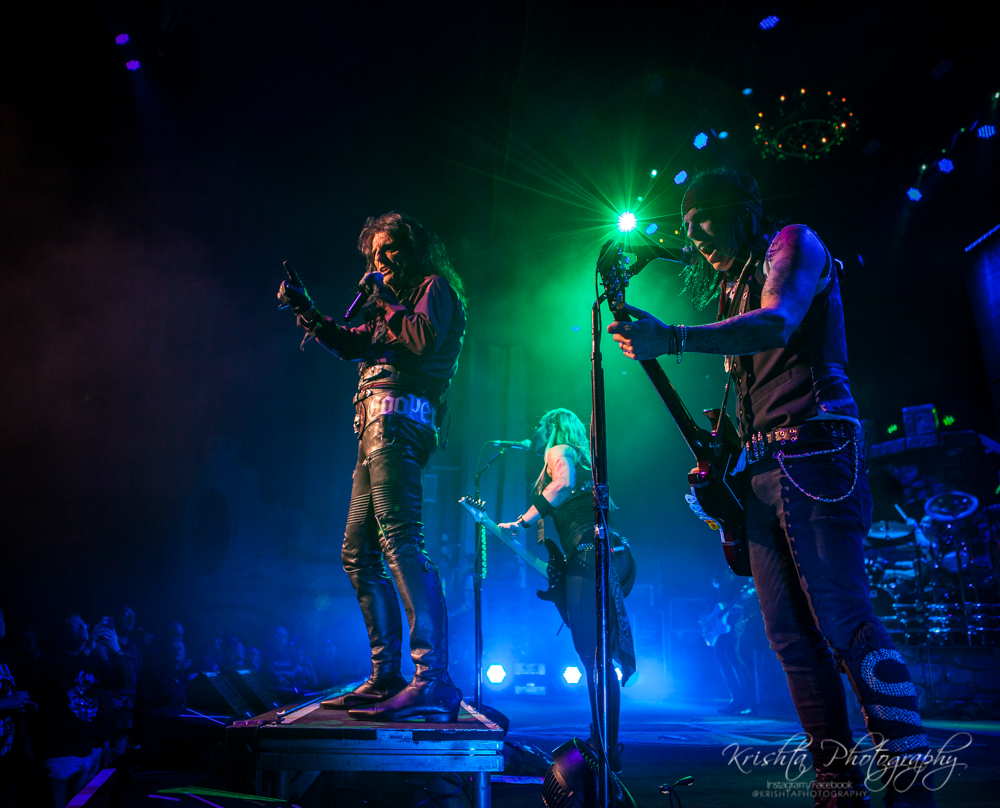 The current band lineup for Alice includes: Ryan Roxie, (Guitars, vocals), Tommy Henriksen (Rhythm/lead guitars, backing vocals), Chuck Garric (Bass,vocals), Nita Strauss (Lead/rhythm guitar) and Glen Sobel (drums).
Alice Cooper has widely been known to surround himself with the top playing musicians available. Many Berklee graduates got their start with this band through the years.
The Alice camp runs a tight ship and has been a great springboard for many musicians starting out. On a sidebar, I had a friend that played with him and got fired. A cautionary tale; Never date co-workers. Evidently my friend started dating a backup singer on the tour. One big breakup and a guitar ended up in the hotel ice maker and some microphone plugs allegedly got disconnected to the power outlet prior show time with a dead mic, resulting in an immediate termination of both folks. Fuck around and find out I suppose. Ha!
Onto Alice. Heís 74-years old. Heís never been a guy thatís been known for being dashingly handsome, but seriously, he hasnít changed or aged one bit. I wouldnít say heís had a lot of cosmetic work done either. Heís just in really fantastic shape. Iíve seen a few bands that have aging members, that clearly should call it. Alice claims he will never stop touring, and says he hasnít actually written his best song yet. Check out my pictures of his boots. Seriously. What 74-year-old wears those fantastic shoes? Long live this iconic star!
An Alice show is so much more than a typical rock concert. Itís a show of the macabre, with characters coming onto the stage, making it an incredible theatrical experience. An overblown, large baby comes out for "Billion Dollar Babies", a guillotine cuts off Aliceís head, and Aliceís wife Sheryl, who is a ballet dancer, comes out as a dead bride in a white wedding dress thatís red with blood for "Roses on White Lace". Alice and Sheryl share a dance and a kiss before she disappears, being lowered into the castle floor. "Roses on White Lace" is also Nita Straussí favorite song to play while on tour with Cooper. Itís a complicated solo, and she claims this is why she loves it.
The band played 24-songs to a sold-out audience. One of the ushers, who was about 74 himself, told me he purposely asked to be at the side of the stage because Alice is one of his idols. He is truly iconic. Refreshing to still get to see his show and not feel that he didnít give a hundred percent or wasnít really capable of performing his hits. Bravo to the Cooper camp for still bringing a show together thatís worth every dollar spent on a ticket.
For Alice Cooper tour information, visit:
https://alicecooper.com/
BUCKCHERRY Setlist:
"54321"
"So Hott"
"Ridiní"
"Out of Line"
"Lit Up"
"Hellbound"
"Gluttony"
"Sorry"
"Summer of Ď69" (Bryan Adams cover)
"Crazy Bitch"/"Jungle Boogie"/"Bad Girl"/"Proud Mary"/"Crazy Bitch" (montage)
ALICE COOPER Setlist:
"Feed My Frankenstein"
"No More Mr. Nice Guy"
"Bed of Nails"
"Hey Stoopid"
"Fallen in Love"
"Be My Lover"
"Go Man Go"
"Under My Wheels"
"Heís Back (The Man Behind the Mask)"
"Go to Hell"
"Iím Eighteen"
"Poison"
"Billion Dollar Babies"
Guitar Solo (Nita Strauss)
"Roses on White Lace"
"My Stars"
"Devilís Food"
"Black Widow" Jam (with drum solo)
"Steven"
"Dead Babies"
"I Love the Dead"
"Escape"
"Teenage Frankenstein"
Encore:
"Schoolís Out" - (With "Another Brick in the Wall Pt. 2" (Pink Floyd) interlude)
Check out some more photos from the show!
Alice Cooper Photos By Krishta Photography
Buckcherry Photos By Alison Webster Photography