Hello and welcome to KNAC.COM! I recently had the chance to interview SCREAMKING Guitarist Rafael Hernandez and a good portion of the interview was discussing the band's latest CD, Thee Indomitable Spirit, which was just released towards the end of 2021 and I must tell you what a METAL MASTERPIECE the album really is! Lead Singer Joe Lawson really shines throughout the entire album and I must tell you that while anyone who calls themselves a true METALHEAD knows the names of Halford, Dickinson, and Dio you can add the name of Joe Lawson to your list of Future METAL LEGEND! Rafael Hernandez is also a very key important part of what makes up the SCREAMKING sound with his blazing, metal riffing. He's also very involved with the songwriting in the band so I thought it was important to get his perspective in talking about the history of his band, as well as to discuss the new SCREAMKING CD as well as to talk about what fans can expect from the band in the future! Thanks again Rafael for this fantastic interview! It was a blast talking with you!

KNAC.COM: Hello Rafael, I'd like to thank you for taking time out of your very busy schedule to do this interview with KNAC.COM. We really do appreciate it. How old were you when you first started playing the guitar?

HERNANDEZ: Hello Jason, Thanks for having me. I was 9 when I started playing bass guitar, I really wanted to play the electric guitar, but my dad thought it would be easier to start with 4 strings, so for Christmas that year I got a red Kay bass guitar.

KNAC.COM: Did you take lessons when you were first starting out or would you consider yourself more of a self-taught player?

HERNANDEZ: Well I would have to say a little of both. My dad had me studying the Carol Kaye bass books, and shortly after that I was finally hitting the Melbay books for guitar.
KNAC.COM: What do you remember about the very first guitar you ever got?
HERNANDEZ: As I mentioned the Kay bass was my first, I also remember playing around with my dad's hollow body that was so big I had to lay it down and play it like a steel guitar. So, between that and the bass guitar it was tough. Ha! Ha! So, I'd have to say my first real guitar was a red Ibanez roadster that I got later on. I loved that thing and I still have it in a box in pieces. I think it only had 19 frets...
KNAC.COM: Who were your guitar heroes when you were growing up? Who were the guys who influenced you to do what it is that you do today?
HERNANDEZ: When I was a kid one of the first albums, I got was THE VENTURES, so they were like heroes to me and it was a cool album that came with music when you opened it up. It had "Walk Don't Run" and a few other tunes on it. So that was one of the first songs I remember learning. It kind of took off from there and then I was into Michael Schenker, Randy Rhoads and Yngwie Malmsteen for guitar. I also had some bass guitar heroes like Stanley Clarke and Jaco Pastorius, but they were guys I heard early on, but there was no way I could play that stuff until later on and of course Steve Harris.
KNAC.COM: You are the guitar player for the hybrid metal band SCREAMKING. What year was the band formed and where is the band based out of?
HERNANDEZ: The band was formed in 2011. Me and my brother Alex (drummer) were auditioning Joe for a cover band, but that didn't work out and then soon after Joe had a 5-song demo and a show opening for ANVIL without a band so that was the first incarnation of SCREAMKING. After playing the show, the other guitar player split and we started writing and recording in my home studio, Divine Underground Studios, what would be Evilibrium. The first album was very different from the demo stuff and that became the SCREAMKING sound.
KNAC.COM: Where is your home town?
HERNANDEZ: My home town is Valparaiso, Indiana, but as far as the band goes, we are basically from the Chicagoland area as it is referred to around here.
KNAC.COM: For people who have never heard of your band how would you describe the overall sound of the band?
HERNANDEZ: I'm going to have to stick with Hybrid Metal Band, due to the mix of styles of music that we put into all the songs. I bring a lot of the heavier or even Death metal vibe to the band and Joe is more of the straight up Metal side. We incorporated Thrash, Speed and Death metal all together and hopefully it has appealed to all those genres of fans.
KNAC.COM: How involved are you with the songwriting in SCREAMKING?
HERNANDEZ: I have written all the music for all 3 releases and about 50% of the lyrics and Joe has written the other 50%.
KNAC.COM: SCREAMKING's latest album was released in 2021 which is titled Thee Indomitable Spirit. I just love that for an album! Talk a little bit about the album title.
HERNANDEZ: Ok so, Joe came up with the title and the idea for the artwork, but the basic meaning of the Thee Indomitable Spirit from SCREAMKING's view is being incapable of being overcome or subdued regardless of your physical capabilities and basically like the song states "Unconquerable". I'd also like to mention the artwork was done by Drake Mafessta, who also did the artwork for the 2nd album Tyranny of The Sea.
KNAC.COM: In regards to the new album, how happy are you with the way the fans have responded to it?
HERNANDEZ: Well the album was released at a time when everyone and their brother released an album due to everyone being trapped inside with Covid going on. I think there had to be a record number of album releases. So we are just now getting the album reviewed and airplayed and the word out.
KNAC.COM: Have you had a ton of opportunity to tour much behind the latest album? Talk a little about the affect COVID-19 and all the lockdowns have had on your band.
HERNANDEZ: No, we have not played any shows in support of the new release mainly due to restrictions with different venues. We were geared up for the release and practicing weekly and then Covid hit.
KNAC.COM: Has SCREAMKING toured much outside of your local area?
HERNANDEZ: No, we only tour in our surrounding states due to our various work schedules.
KNAC.COM: In regards to the latest album, where's the best place to purchase the album? Can fans purchase physical CDs as well as purchase the album digitally?
HERNANDEZ: Yes, you can hit up our website: www.screamkingofficial. which has all our links to the physical and digital release. The CD has 14 songs and the digital release has an additional 3 bonus songs.
KNAC.COM: What is next for SCREAMKING?
HERNANDEZ: Currently, we are hoping to start practicing and playing out to support the CD once the Covid dust settles, and a lot of bands are playing out now with the restrictions being lifted. My hope is that we will hit the studio after that and start working on a 4th release, and members of the band also have various side projects going on as well.
KNAC.COM: Have you begun to think about the next SCREAMKING album or do you still plan doing more live shows behind the latest album that came out in 2021?
HERNANDEZ: No, I have not started writing any material as of yet with the couple other project I have going on, but plan to after those are completed.
KNAC.COM: Are you currently involved in any other projects or bands that you'd like to let us know about?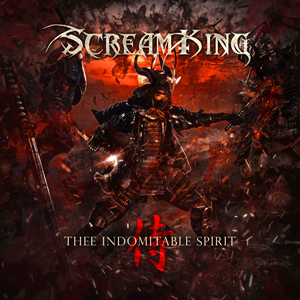 HERNANDEZ: Yes, in the downtime from SCREAMKING I am currently recording an album with my old death metal band SEA OF TRANQUILLITY entitled The Pale Man and hopefully that will be released later this year. I am also working on another currently unnamed death metal project with a couple of members from the band DYSPHORIA for release later this year or early next year. I am also working on a song for a compilation album with Tim "Ripper" Owens, with two of the members from SEA OF TRANQUILLITY, for release later this year called Abyss of Creation, and also an instrumental solo album. So there is a lot going on.
KNAC.COM: When you're not recording new music or playing out live with SCREAMKING, what are some things that you do in your down time to have fun?
HERNANDEZ: Taking guitar lessons, Ha Ha!, I also, like bike riding and hiking.
KNAC.COM: What do you enjoy most about being in SCREAMKING?
HERNANDEZ: Writing songs and being able to play them out.
KNAC.COM: Please let all the KNAC.COM readers and your fans know where they can find you on the internet.
HERNANDEZ: WWW.SCREAMKINGOFFICIAL.COM, WWW.INSTAGRAM.COM/SCREAMKINGOFFICIAL, WWW.YOUTUBE.COM/OFFICIALSCREAMKING, WWW.FACEBOOK.COM/SCREAMKINGMETAL
KNAC.COM: Thanks again Rafael for doing this interview with KNAC.COM. Anything left to say to all your fans out there?
HERNANDEZ: Thank you for the interview and everyone pick up a copy of Thee Indomitable Spirt or download it on whatever streaming platform you prefer. Check out our two new videos on YouTube and "Keep the Metal Strong".