AND JUSTICE FOR ART ... Live! Stories About Hard Rock & Heavy Metal Live Album Covers Book


By Alex Yarborough, Orlando Contributor
Monday, May 2, 2022 @ 10:17 AM


| | | |
| --- | --- | --- |
| | | |
AND JUSTICE FOR ART ... Live! Stories About Hard Rock & Heavy Metal Live Album Covers Book
By Ramón 'Oscuro' Martos
www.andjusticeforart.com
facebook.com/andjusticeforart
[email protected]




You may have seen my reviews for all three of the previous volumes of Ramón Martos' book series called And Justice For Art here on KNAC.COM. The many fans of this series have kept it going with crucial support, and I am again proud to be featured in the 'Thank You' list for helping get another incredible volume in the series published. This fourth book is all about live albums, thus the title, And Justice For Art ... Live!. Mr. Martos has outdone himself on this volume, as I believe it is one of his best!

Once again, this a coffee table sized book. It weighs three pounds. We are talking 240 pages of glossy full color content and over 500 images in total. Romanian artist Costin Chioreanu returns to provide amazing cover art (I think the best so far), and VOIVOD's drummer and visual artist Michel 'Away' Langevin provides a brief forward. Then, dive right in to the contents and fantastic features, once more compiled and designed painstakingly by Ramón Martos! Ramón has streamlined the entries for this book and condensed each feature to two pages, and this makes it easier to include many more albums. There are 111 live albums featured here by my count, listed in chronological order of release, starting with KISS' Alive! in 1975, and ending with GAMMA RAY's 30 Years Live Anniversary, released just last year.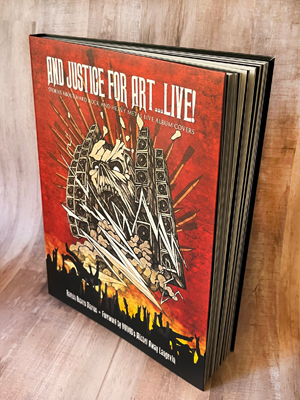 Some of these album covers are legendary... for example, IRON MAIDEN's Live After Death is certainly a great piece of art. Surprisingly, the artwork you know was not the original artwork. To be fair, sometimes it's hard to come up with something cool and unpredictable for a live album cover. That's what makes these album covers special. There's tons of insight and information about the creative process in this book. Many famous names in heavy metal cover artwork have features here: Ken Kelly, Storm Thorgerson, Paul Raymond Gregory, Derek Riggs, Hugh Syme, Andreas Marschall, Thomas Ewerhard, Eliran Kantor, Stan Decker and many more. Some of my other favorite artworks featured are:
Black Sabbath - Live Evil (1982)
Ozzy Osbourne - Tribute (1987)
Iced Earth - Alive In Athens (1999)
Megadeth - Rude Awakening (2002)
Blind Guardian - Live (2003)
Sabaton - Swedish Empire Live (2013)
Armored Saint - Carpe Noctum (2016)
Accept - Symphonic Terror (2017)
There's something for everyone in this book. So, how many live albums do you own? Personally, I own a ton of live albums, but admittedly, a lot of these albums in this book I did not know about. I've got some catching up to do! Like I've always said, a great album cover can sell an album just by itself. And Justice For Art ... Live! proves that point.
There are a limited number of copies of this book left for purchase. Do yourself a favor and Click HERE to purchase this highly recommended book!
5.0 Out Of 5.0

Please log in to view RANTS