FOZZY, JOHN 5, GFM, KRASHKARMA, THE NOCTURNAL AFFAIR In Houston, TX With Photos!


By Larry Petro, News Monkey
Wednesday, May 4, 2022 @ 7:52 AM


| | | |
| --- | --- | --- |
| | | "Save The World" Tour Hits Warehouse Live On April 29 |
All Photos By Larry Petro/Petrofyed Photography
Living in Texas seems to have always had its advantages, at least when it comes to concerts and tours. I remember back in the day while living in Oklahoma seeing concert shirts that were specific to the Lone Star State and even now we sometimes get bonus touring packages that others don't. Case in point is the upcoming W.A.S.P. tour this Fall, the Texas shows get ARMORED SAINT AND MICHAEL SCHENKER GROUP. Such was also the circumstance when FOZZY came to town. It just so happens that JOHN 5's "Sinner Tour" was routed through the state at the same time as FOZZY so instead of us just getting the 4-band package tour from them, JOHN 5 was simply added to those shows. Bonus!
Since there were now 5 bands performing on this night the doors opend at 6pm and the first band, THE NOCTURNAL AFFAIR, took the stage at 6:30. the Las Vegas based outfit, led by vocalist Brendan Shane are somewhat newbies to the scene, having released their debut full-length (Meta)Morphosis In March. And although quite a few attendees missed their set they did a nice job of getting those of us that were there primed up for the show with a 6 song set that included the catchy "Thousand Ways To Die".
Following next on the bill was KRASHKARMA, a Los Angeles band that currently consists of just two members, guitarist/vocalist Ralf Dietel and drummer/vocalist Niki Skistimas. It was interesting to see just a two-person group such as this but it worked. The combination of the clean feminine vocals of Skistimas and the more gruff, manly ones of Dietel melded into nice tracks in their brief set, including their closing number "Tears Of Gasoline".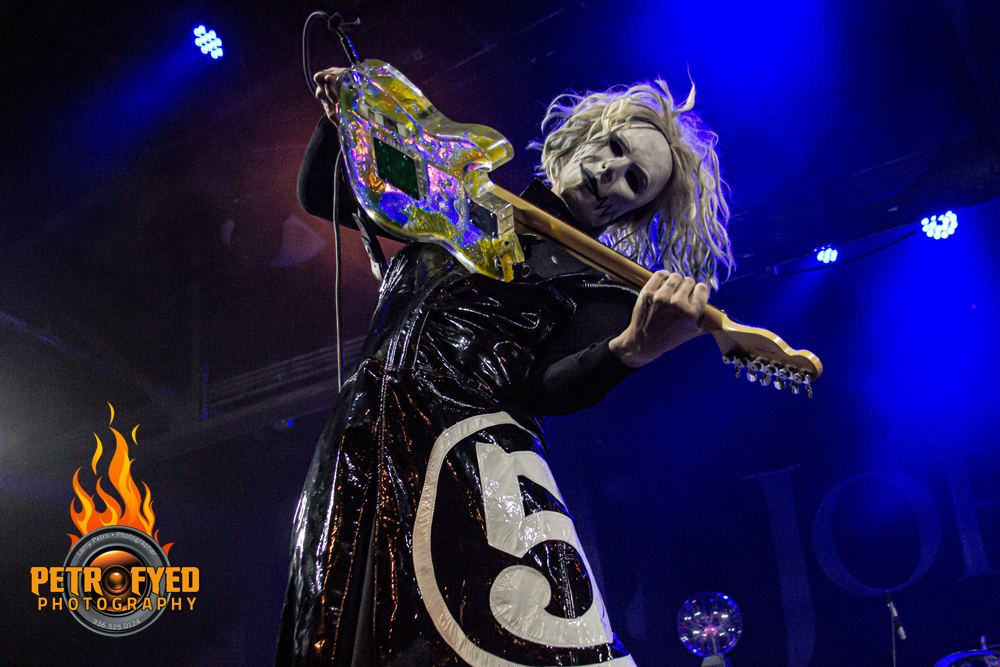 Third up was all-girl trio Gold Frankincense & Myrrh, otherwise known as GFM. The band is comprised of 3 sisters, CJ, Maggie and LuLu English and are based out of Jacksonville, Florida. The band is technically in the metalcore genre but being women they're classified more as 'beautycore' and a Christian band to boot. But that's one thing that I've never really understood. If you're a Christian band then the message and lyrics in your songs should be understandable while being metalcore means you get the Cookie Monster vocals the majority of the time, so how can you tell what they're saying? At any rate, even though the band is a trio, for the better part of their short set there was only a guitarist and a drummer with vocalist Maggie occasionally picking up the bass. The crowd sure seemed to enjoy them and they performed admirably but that style of music just isn't my cup of tea and the faith-based message gets lost in the vocals.
Finally things were about to get kicked up several notches by the uber-talented guitarist JOHN 5, out on the road in support of his latest release Sinner. The JOHN 5 camp certainly got a scare recently just affter the tour started as someone came down with Covid and several shows had to be postponed. Thankfully for us the shows that were affected all came just prior to the band entering Texas. I was told that John would not be doing any in-person anything until after the Texas run but that was not true as he held his normal meet and greet as scheduled.
However, as JOHN 5 was about to take the stage it was announced that his bassist was ill annd rather than cancel their performance John made the decision to go ahead and play without a bass player for the first time ever. He began his set with "Season Of The Witch" while wearing 2 masks, the first of which was removed a minute or so into the song revealing a skeleton mask as he played a clear, oil-filled guitar. That mask was soon removed to show his typical facepainted makeup as he rolled through such tracks as "Que Pasa", "Crank It", "Zoinks" and his namesake song, "I Am John 5". The band performed flawlessly and considering there was no bassist you certainly couldn't tell. JOHN5 was in incredibly great spirits and displayed a huge smile at numerous point during the show. The man is incredibly deft in his craft and watching him perform will leave you in awe. As the show was coming to a close John announced that we would know the coming songs and that for the first one, a cover of QUEEN's "Crazy Little Thing Called Love" he would attempt to play both the bass part and the guitar part simultaneously and to "wish him luck". He pulled it off without a hitch before finishing his night with a little medley of tunes we all know from bands like WHITE ZOMBIE, VAN HALEN, RAGE AGAINST THE MACHINE and PANTERA. A masterful performance from JOHN 5!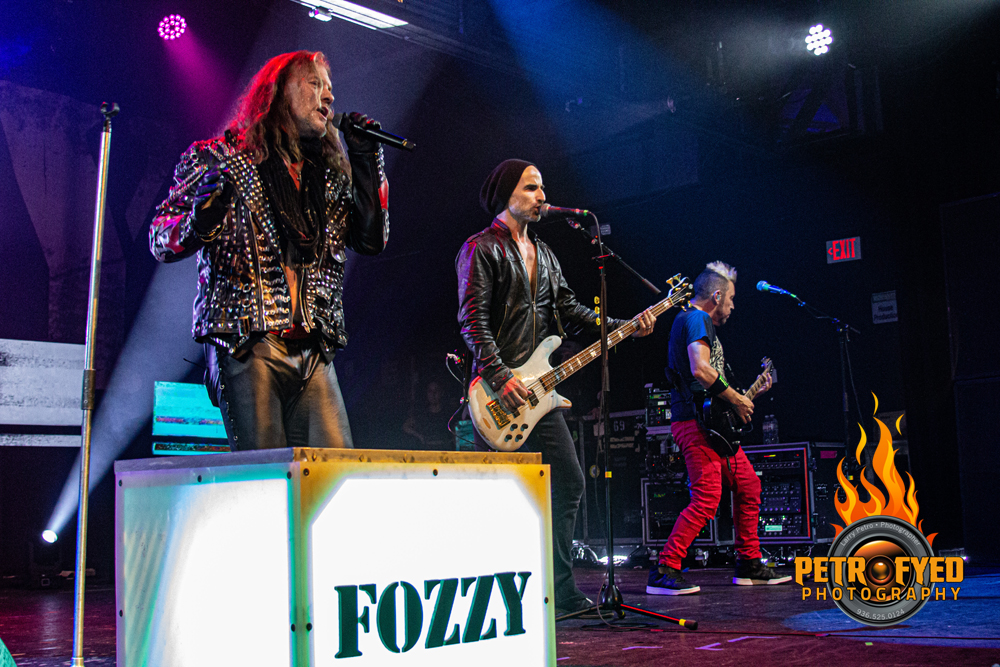 Setlist:
"Season Of The Witch"
"Que Pasa"
"666"
"Crank It"
"Zoinks"
"Cactus Flower"
"Land Of Misfit Toys"
"I Am John 5"
"How High The Moon"
"Constant Sorrow"
"Black Grass"
"Crazy Little Thing Called Love"
Medley - WHITE ZOMBIE, VAN HALEN, RAGE AGAINST THE MACHINE, PANTERA
Now if there's one band that will always give you your money's worth, it's FOZZY. Having seen them now 3 times (once as support for SAXON amd twice as headliners), you just can't beat it for a solid, nonstop rock show. From the opening notes of their set opener "Sane", one of 5 songs they would play from the new album Boombox out May 6th, they leave it all on the stage every night. Forget the fact that vocalist Chris Jericho is a wrestler or that the band initially started as a joke, these guys fucking rock! The band was on fire from the get-go and the portion of the audience that felt the need to leave after JOHN 5 were the true losers as they missed out on a great show. As mentioned, the new allbum was heavily represented in the band's 15 song set with singles "Nowhere To Run" and "I Still Burn" on the list along with their cover of the FRANKIE GOES TO HOLLYWOOD hit "Relax" and my favorite track from the new album, the smashing "Purifier". The previous album Judas was also represented in the set with 4 songs, "Drinking With Jesus", "Painless", "Burn Me Out" and the title track that was performed as one of their encores.
The thing I find the most appealing about this band is watching how much energy they have. Guitarist Rich Ward, with his antics and interactions with his bandmates, the audience and even the photographers, is alone worth the price of admission. It's hard to find a band these days that is having as much fun as FOZZY is. The guys are all over the stage, playfully messing with each other and just having a rock-n-roll party, which is really what it's all about. And new bassist PJ Farley, he of TRIXTER fame, has certainly found himself right at home in this band. He contributed to the writing of the new album and his low end is featured prominently on Boombox. FOZZY concluded their night with the aforementioned "Judas" and a cover of AC/DC's "Dirty Deeds Done Dirt Cheap". The band has a couple more weeks of the U.S. tour happening, including a show in Los Angeles at the Whisky on May 5th. Go to https://fozzyrock.com/tour/ for dates and if they play near you, do yoursself a favor and GO SEE THEM!
Setlist:
"Sane"
"Drinking With Jesus"
"Painless"
"Nowhere To Run"
"Do You Wanna Start A War"
"Lights Go Out"
"Relax" (FRANKIE GOES TO HOLLYWOOD)
"Sin And Bones"
"I Still Burn"
"Burn Me Out"
"Purifier"
"Enemy"
"Sandpaper"
Encore:
"Judas"
"Dirty Deeds Done Dirt Cheap" (AC/DC)
Check out some more photos from the show!
All Photos By Larry Petro/Petrofyed Photography

Please log in to view RANTS



TOM KEIFER, L.A. GUNS, FASTER PUSSYCAT In Houston, TX With Photos!

CAVALERA In Los Angeles With Photos!

JACK STARR'S BURNING STARR Souls Of The Innocent

HAUNT Windows Of Your Heart

PHIL LYNOTT Songs For While I'm Away/THIN LIZZY The Boys Are Back In Town [Live]

FOREIGNER In The Woodlands, TX With Photos!

OCEANS OF SLUMBER In Houston, TX With Photos!

SINNER Brotherhood

ORIGIN Chaosmos

CLASSLESS ACT Welcome To The Show

MICHAEL SCHENKER GROUP Universal

SUFFOCATION, ATHEIST, CONTRARIAN, SOREPTION In Los Angeles With Photos!

DOWNSET Maintain

PROJECT RESURRECT False Reality

DEF LEPPARD Diamond Star Halos

TED NUGENT Detroit Muscle

KREATOR Hate Über Alles

DESTRUCTION, NERVOSA, SUNLORD, VX36 In Los Angeles With Photos!

ASTRONOID Radiant Bloom

EMISSARY The Wretched Masquerade

TESTAMENT, EXODUS And DEATH ANGEL In Portland, OR With Photos!

HYPOCRISY, CARACH ANGREN, THE AGONIST, HIDEOUS DIVINITY In Los Angeles, CA With Photos!

DECAPITATED Cancer Culture

GWAR The New Dark Ages

SEPTICFLESH Modern Primitive

CHUCK WRIGHT Chuck Wright's Sheltering Sky

MARK TREMONTI Mark Tremonti Sings Frank Sinatra

BON JOVI In Austin, TX With Photos!