JEFF SCOTT SOTO
Complicated
Frontiers Music Srl
www.jeffscottsoto.com




When the terms Melodic Rock & AOR were first used, they were most likely created to describe the music of vocalist JEFF SCOTT SOTO. Like the genre terms themselves, Soto doesn't quite get the grandeur he deserves in the U.S.-based music scene. Soto has appeared on 100+ albums/projects over the span of his 4 decade career. Complicated is his 8th solo studio album. Just like he did with his last solo effort Wide Awake (In My Dreamland), JSS teams up with Frontiers Music producer & songwriter Alessandro Del Vecchio.

"Last to Know" kicks things off with fervor and energy. Guitarist Fabrizio Sgattoni is simply on fire with his lightning quick guitar soloing. "Disbelieving" is full of funky grooves and rhythms. The chorus delivers strong multi-part harmonies. "Home Again" is very reminiscent of the Melodic Rock powerhouse TALISMAN that Soto fronted from 1989-2019.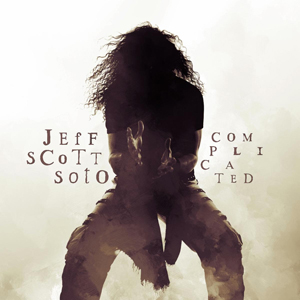 "Love is The Revolution" takes diverse elements likely inspired by LED ZEPPELIN and turns them into a powerful message of love. Again, Sgattoni steals the show during the break. His guitar work on this album cannot be ignored.
Soto slows things down with the touching acoustic ballad "Until I See You Again". The piano work adds extra emotion and Jeff pours his heart out with melodic grace and power. "Complicated" and "Don't Look Back" recall memories of JEFF SCOTT SOTO's 2004 Melodic Rock classic Lost in The Translation.
Soto kicks the energy into overdrive on "New Horizon", but slows things back down on "Thank You". The album closes with the synth-heavy, '80s AOR feel of "Obsession".
Complicated is essentially a JEFF SCOTT SOTO 'best of' album with all new material. All of Soto's diversity, experimentation, and melodic familiarity over the last 40+ years culminates here.
4.0 Out Of 5.0