MARK TREMONTI
Mark Tremonti Sings Frank Sinatra
Tremonti Music




Founder of CREED, guitarist for ALTER BRIDGE, solo artist under the TREMONTI banner, and Grammy Award winner MARK TREMONTI, is kicking it old school for a cause near and dear to his heart. TAKE A CHANCE FOR CHARITY is Tremonti's branchild, created to persuade artists, musicians, athletes, and comedians to step out of their comfort zone and try something new, all in the name of charity.

MARK TREMONTI steps up to the plate first with Mark Tremonti Sings Frank Sinatra, with all proceeds going to the National Down Syndrome Society (NDSS). Tremonti is backed by members of SINATRA's touring band. Mark talks about it HERE.

The opening notes of "I've Got You Under My Skin" will transport you back to the 1940s with its mid-tempo swing beat. Tremonti is impressive with his channeling of Old Blue Eyes' delivery and swagger. 1"I've Got The World On a String" slows the tempo down before kicking it back up. Mark keeps the nostalgia flowing with his uncanny impersonation of Frank.

"Fly Me to The Moon" is accented by soft percussion and a bouncing upright bass. The brass section kicks in at the break to add a little more punch to the track. "Nancy (With The Laughing Face)" is a deeper cut of Sinatra's. It's a touching ballad dedicated to Frank's daughter. Tremonti is no doubt picturing his little girl Stella as he croons the lyrics.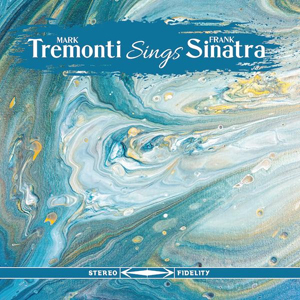 Mark changes up the Sinatra classic "My Way" by bringing in acoustic guitars and more piano embellishments. The track remains just as powerful as the original. "You Make Me Feel So Young" plays to the familiarity of Sinatra's version. "Luck Be a Lady" is another track that isn't messed with too much. There are bits and pieces here that have been tweaked, but it doesn't take away from the song's flow.
"That's Life" sheds the original organ for traditional piano and more brass and percussion. "Come Fly With Me" doesn't deviate from the version you know and love by The Chairman of the Board. The deeper non-single cuts like "Wave" and "The Song Is You" are tough to get into for the casual Sinatra listener.
Of all the Hard Rock and Metal covers albums that were released over the past two years, and there were a lot of them, Mark Tremonti Sings Frank Sinatra is by far the best one. What separates Tremonti from the pack is that he steps so far out from what he's known for, that you can't help but to be drawn to it. Tremonti steps out of the box and nails a home run with Mark Tremonti Sings Frank Sinatra. Hopefully he inspires more artists to take a risk like this.
www.tremontisingssinatra.com
4.5 Out Of 5.0