EMISSARY The Wretched Masquerade


By Jason 'JRock' Houston, Contributor
Friday, June 3, 2022 @ 8:15 AM


| | | |
| --- | --- | --- |
| | | |
EMISSARY
The Wretched Masquerade
Underground Power Records




EMISSARY is a band I had never heard of until the band's Publicist reached out to me and asked me to check out the band's recently released album The Wretched Masquerade and then decide if I'd be interested in writing up a review on the album. As you can see I decided to do just that! I could not believe what I was hearing! EMISSARY is a Metal band out of Medford, Oregon and the best way I can describe the overall sound of the band is that EMISSARY is an old school Power Metal band that sounds like classic IRON MAIDEN with a modern metal twist to their sound! Now to my ears there is a heavy IRON MAIDEN influence that is throughout the entire album. I will say that there is also a heavy influence of other classic European Metal acts as well!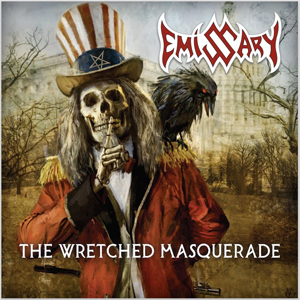 The Wretched Masquerade was just released on May 27th, 2022 and fans can purchase it both as a digital download or on Cassette.
Wow talk about being old school! You get an 8 track album here and yet I feel like I got the whole package because the songs are just that good, and while I would have loved if this was a 10 or 11 song album I was actually very satisfied with what EMISSARY delivered on their latest release here! The whole band really shines throughout the album and every single member of the band really does bring something to the table here! The songs are well written, really well arranged, and while EMISSARY is a band that I am hearing just for the very, first time they sound like a band that is a vetran act!
After listening to The Wretched Masquerade there's no doubt that EMISSARY is a indeed a METAL band but what I love is the fact that on this album the band shows they are so much more than just a one trick pony and on songs such as "In Solitude" and "Crash And Burn" show that they are a Metal band with melody but let me go record as saying that there's nothing close to a power ballad or pop tune anywhere on this album!
5.0 Out Of 5.0

Please log in to view RANTS