ASTRONOID Radiant Bloom


By Peter Atkinson, Contributor
Monday, June 6, 2022 @ 8:48 AM


| | | |
| --- | --- | --- |
| | | |
ASTRONOID
Radiant Bloom
3DOT Recordings




One generally doesn't associate adjectives like "gentle" or "soothing" with metal. Yet both aptly describe the ethereal post/prog/black-gazey/new agey sound of Boston's ASTRONOID. The band's oddball sonic stew is something akin to DEFTONES meets DEAFHEAVEN/ALCEST meets QUICKSAND meets SMASHING PUMPKINS at its most sensitive – though thankfully without the whinyness – with a bit of TOOL thrown in for good measure.

Yet despite these convenient reference points, its sound is utterly unique and almost uncategorizable. ASTRONOID's 2016 debut Air was something of a revelation. The self-titled follow up from 2019 proved the debut was no fluke as the band honed its quirkiness and delivered a more accomplished, seasoned outing that was confident where the debut might have felt a bit tentative, while still maintaining an almost unassuming delivery that emphasized finesse over ferocity.

And that's not to say ASTRONOID is wimpy. There is a turbulence and a determined heaviness at the core of nearly all of its material, the band is just more subtle than most in its overall presentation.

The soft pink/turquoise hues of cover artwork – done with atypical restraint by the usually more graphic/vivid Travis Smith, whose worked with OVERKILL, KATATONIA, NEVERMORE, OPETH, DEATH, DEVIN TOWNSEND/SYL – would indicate that Radiant Bloom has more of the same on tap. And indeed it does, as "Admin" opens the album in a bubbling wash of synths and guitar shimmer before Brett Boland chimes in with this breathy, disarming vocals.

As with ASTRONOID's previous efforts, Radiant Bloom is the sort of album where the music slowly washes over you like the incoming tide instead of crashing ashore with the usual storm surge effect. It might not pummel you from the outset, but it can smother and drown you nonetheless. And as the song moves along, the weightiness and volume of Boland and Casey Aylward's riffs build considerably before easing to a close with a reprise of the intro.

The spunkier 1"Eyes" follows by fusing brisk, buoyant pop-punk verses with abrupt blast-beat sprints and jarring hooks and solos, while the lumbering "Sleep Whisper" plays crashing riffs against sweeping harmonies, all again topped by Boland's wispy vocals, which never really diverge from a boy-bandish tenor yet manage to sound at home and project even when the band is at its heaviest.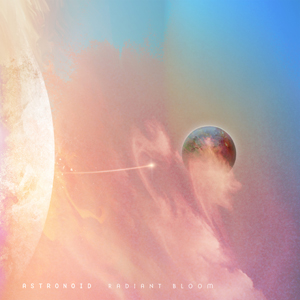 Ironically, Boland seems at his most measured and serene during the album's most intense moments, as on the black/thrash metal charge of "Sedative" or "Orchid". "Please let me breathe in deep and watch the clouds," he offers almost dreamily over the otherwise tumultuous "Orchid", providing a profound "serenity now" contrast to the music's aggressiveness rather than employing the usual grim or blustery tropes.
Yet it works. And kudos to these guys, especially Boland who is also the main songwriter, for daring to defy metal convention and not only give this unorthodox approach a try, but maintain the conviction to stick with it, and make it that much better in the process. In that way, ASTRONOID recalls the way-underappreciated HUM or the modestly higher profile FAILURE, a couple of gutsy bands who earned metal bona fides over a series of stellar albums in the mid-'90s, even if they were never really "metal" in the classic sense.
ASTRONOID's music, though, is much more metal-centric, given its blackened hues, frantic bursts and genuine muscle. It's just packaged up and delivered with more emotion and atmosphere factored in, largely – as noted, ad nauseum, above – a factor of Boland's temperate vocals, which soften the sharp edges or blunt object directness. It's still heavy, but it's also uplifting, even calming.
And there's more than enough screaming and yelling to go around as it is from just about everyone else. So instead of joining an already overcrowded chorus and adding to the cacophony, ASTRONOID has carved a niche for itself and developed a voice all its own, understated though it may be.
4.5 Out Of 5.0

Please log in to view RANTS