DESTRUCTION, NERVOSA, SUNLORD, VX36 In Los Angeles With Photos!


By Francisco Zamudio, Metal X Candy 2.0
Saturday, June 11, 2022 @ 10:16 AM


| | | |
| --- | --- | --- |
| | | At Venue 1720 |
All Photos By Diego Gonzales Pictures
I don't take the word 'Rage' lightly nor throw it around like some around town do for their local shows. No, I save it for times like this. After the past couple of weeks I've just had, let alone this past weekend, what a crazy amount of rage that has been had. Another word I use sparingly is 'Legends' and when it comes to Thrash, I've reached a new level of respect for the legends of Thrash Metal, a scene I'm super stoked and honored to be a part of. So when you hear that German Thrash pioneers DESTRUCTION are coming to your town, you damn don't dare hesitate. Add to that one of my favorite groups representing the New Wave of Femme Fatale Metal is NERVOSA. This was a show I dare not miss. DESTRUCTION and Los Angeles came to Thrash and we thrashed hard on a Wednesday. That's right, not a Friday, not a Saturday but smack dab in the middle of the week. And for a venue like 1720 to host such a monster of a show, expensive beers be damned, it's not a bad venue to host such a rager. As the crowd was filtering in, the 2 openers did their best to warm up the crowd but the majority were definitely there for DESTRUCTION and especially NERVOSA which was obvious once you saw the room fill up very quickly when they hit the stage.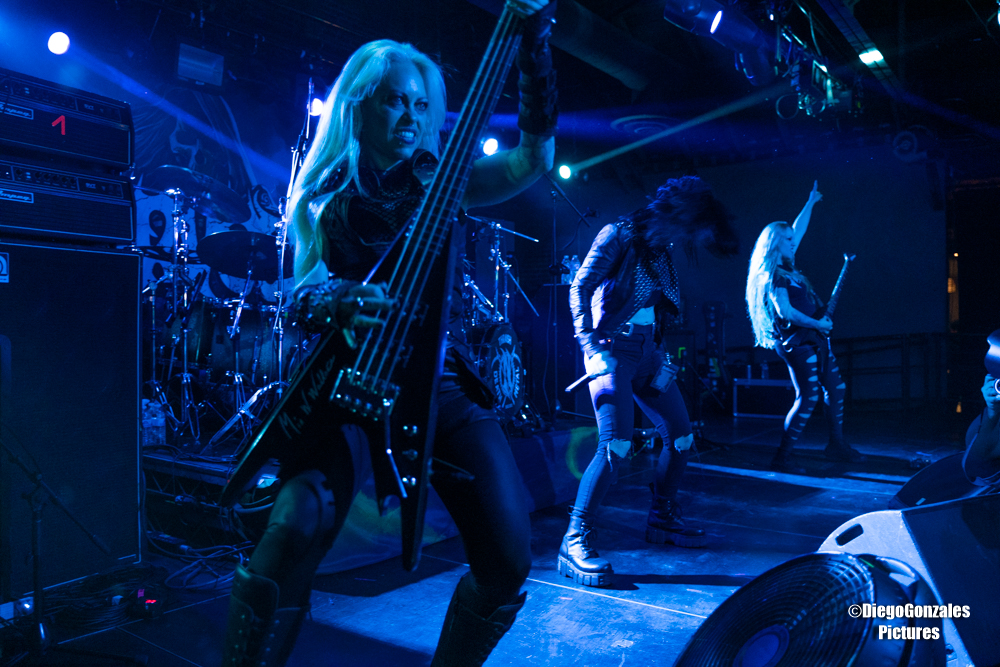 One of the openers that was lucky enough to get on this tour was SUNLORD from New York. The band and name belong to the sole member who is the guitarist/vocalist who b(r)ought on 2 hired-hands to put in work. They didn't seem to fit the style of the night. They weren't really a Thrash band, nor "crossover" but more like groove-oriented Metal with very few random Thrash moments with some minor technicality. The band as a whole really didn't really give off much energy for the crowd as everyone just stood there. Although the singer/guitarist had a nice tone and vocals, his flamboyant button up shirt, along with a cute dress worn by the bassist, who was playing a pretty rad looking bass actually, was barely enough to hold the attention of the pre-dominantly jeans and battle-jacket audience. The other opening band that was also lucky enough to get added to this tour was VX36. The 4-piece, California based band was a tad closer to fitting the style of the night. Dual guitars and vocals tried their best to get the crowd hyped and moving but they weren't too active on stage either other than a bit of mild wind-mill head-banging. Their music had some catchy elements made up of typical mainstream thrash bands. So with that I can say what many new bands want to hear, they show promise if they continue to polish their style and showmanship more.
I was eagerly waiting to catch NERVOSA in Los Angeles. Only last year they came close and played out at the Dragon Roja Festival (which I might add has a killer line-up this year) in Tijuana, so when I heard they were on this bill as well, I HAD to make it a point to catch them. They're last album Perpetual Chaos marked the debut of new vocalitst, Diva Satanica as well as Mia Wallace on bass and Eleni Nota on drums, and was one of the best albums of 2021. It was clear that they gained a following here in L.A. which was great to see. For a (relatively) new band to gain an audience in Los Angeles without any radio airplay is a great accomplishment. Diva had an awesome swagger to her stage presence, often times pausing to acknowledge that we're all here for the Thrash and was especially vocal about their appreciation for the girls in the crowd proving it's not just a "a boys game". What lacked in movement from the crowd was made up by their vocal reaction as they were loud and loved what NERVOSA was giving out. Their sound was on point that night, and honestly 1720 has been killing it with their sound lately, so props to the system and the sound techs who travel with every show.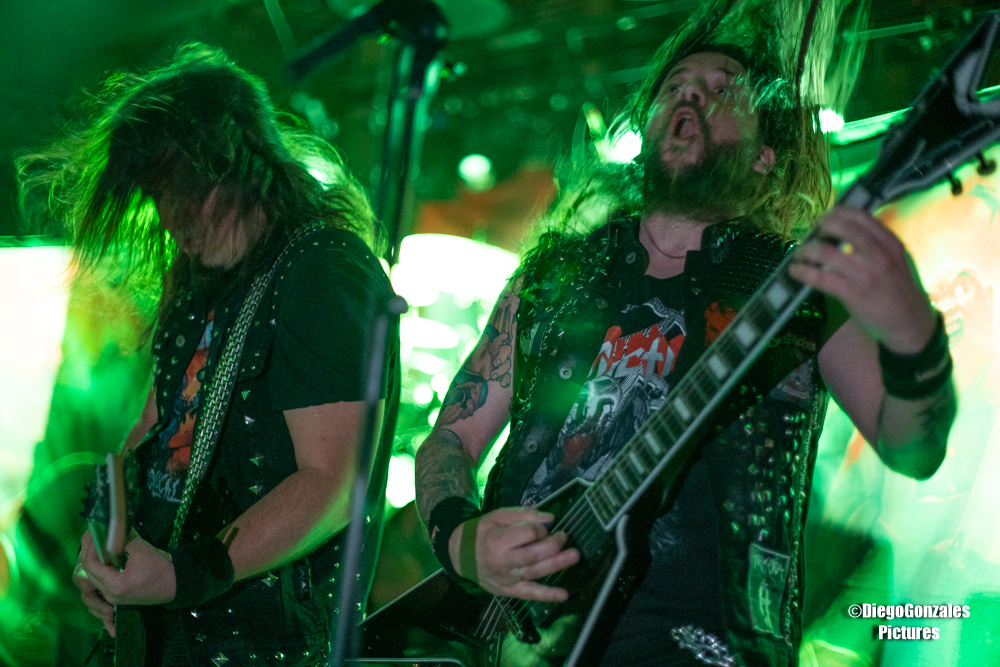 In support of their newly released album Diabolical, DESTRUCTION played 4 songs of the new album. Surprisingly their 2019 album Born To Perish didn't get much attention as the only cut played this night was the title track. The rest of the set-list was made up of cuts from the 14 album, 30 year history that has made them one of the greats of Germany's (and the world) 'Big 4'. After opening with their title track from the last album, they followed that up going back to 1985's Infernal Overkill and the song "Death Trap", only to drive the nails further and further with "Nailed To the Cross" from 2001's Antichrist. Donned in black, DESTRUCTION kept the punches rolling as the pit action was stopping to take its breath every now and again. I think a lot of attendees were really eager just to SEE them live, but the LA Thrashers didn't disappoint as their energy was going all night. As DESTRUCTION reached back into its catalog with more classics like "Mad Butcher", "Life Without Sense", "Release From Agony" – it was a total vintage show for the old and new school Thrashers of Los Angeles.
What a raging show in Los Angeles! DESTRUCTION did exactly just that – destroy. Small intimate shows, with world-wide touring legends are where it's at. Forget that large stadiums are milking those re-scheduled and postponed shows that livenation is charging you an arm and a leg for. You want that large coliseum feel, well you get that when you pay $13 for that beer at 1720, but don't come for that (I HIGHLY encourage you to pregame and/or check out the local bars beforehand – go ahead and ask me where!). And I have to say that if you think sitting around and waiting for things to mull over or a sign that the "coast is clear", you're already missing out.
Check out some more photos from the show!
All Photos By Diego Gonzales Pictures

Please log in to view RANTS