TED NUGENT Detroit Muscle


By Ruben Mosqueda, Contibutor
Wednesday, June 15, 2022 @ 8:04 AM


| | | |
| --- | --- | --- |
| | | |
TED NUGENT
Detroit Muscle
Pavement Music 2022




Ruben Mosqueda TED NUGENT is an iconic figure, yet polarizing. His first four albums are classics and his album Double Live Gonzo is essential as well. Nugent has gone on to sell more than 15 million albums in his 55-year career, he is an avid hunter and a defender of the second amendment, and he regularly uses his first amendment to express his feelings on the latter. It is for the latter that he has been shut out of the Rock and Roll Hall of Fame after being eligible for several years.

In the 80s Ted changed with the times and toyed with a more contemporary rock sound. It didn't suit him. He later founded DAMN YANKEES in 1990 with bassist JACK BLADES [NIGHT RANGER] and guitarist TOMMY SHAW [STYX] and went on to record two albums before that band was placed on a hiatus. Ted returned to form with 1995's Spirit of The Wild, which received critical acclaim by fans and critics alike, well aside from the song "Kiss My Ass" which took aim at the Clinton's amongst other things. That was followed by Craveman in 2002. There were a couple albums that weren't up to snuff in my opinion, though he did right the ship with 2018's The Music Made Me Do It which I would put alongside Spirit of The Wild as a great recent classic. This brings us to the new album Detroit Muscle issued in April of 2022.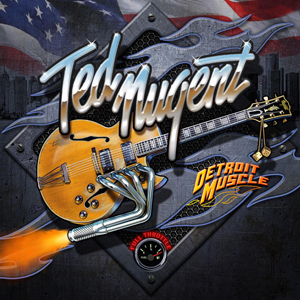 Ted Nugent is a meat and potatoes type musician and he is at his best when he isn't following trends and he is doing what he does best, playing no frills, in your face, Motown/blues inspired rock 'n' roll music on 11. He did that on the last record The Music Made Me Do It and I was anxiously awaiting the follow up. 1Detroit Muscle, much like its predecessor, clocks in at a little over 30 minutes, which is a throwback to the albums of the 70s, when albums where short, concise and left you wanting more. He launched the promotion of the album with "Come And Take It" which is an ode to the second amendment, and has a "We Will Rock You" stomp with a little bit of "The Stroke" vibe to it. It wouldn't have been my pick to introduce music from the record, but that's just me. I do like the next tune that a video was issued for, "Born In The Motor City". It's got a killer groove to it and the guitar play is stellar. I like the bottom half of the album more, starting with "Alaska", one of Ted's best lyrical moments of his career, the instrumental "Winterspring Summerfall" which will have you thinking the second coming of "Homebound" it's that good. "Leave The Lights On" is a touching tribute to his late brother and you don't ever think of Nugent and a 'beautiful' song. This song is just that. He closed out the album with a rendition of "The Star Spangled Banner" that rivals Jimi Hendrix's. Trying to top Spirit of The Wild, Craveman or The Music Made Me Do It is a tall order. He came close and having said that, Detroit Muscle is still worth investing some of your hard-earned money into.
3.5 Out Of 5.0

Please log in to view RANTS