Press Release:

Moorehead Productions in association with Verotik Publishing unveil Craven Moorehead's directorial feature debut in "Ed Lee's GRUB GIRL."

Verotik Publishing is masterminded by none other the rock legend Glenn Danzig himself. singer of the infamous heavy metal band DANZIG. "GRUB GIRL" features a corpse hooker who tells her own story of scientific torture and experimentation. It's a story in her own words on how she comes back from the dead, seeking justice as well as revenge. "GRUB GIRL" stars Brittney Sky as the main character along with costars Charmaine Star, Teanna Kai, Eva Angelina and GiGi. The soundtrack includes songs from underground rock bands as well an unreleased remix of the Danzig song Unspeakable.

"Grub Girl was originally going to be put out by Hustler Video , but I decided to go with Craven after seeing a few videos he had directed for Peter North" Glenn states. "He had a sick twisted vision of this movie that I always intended it to have. It might be too much for some people."

"I was really excited to be given the chance to do something of this nature" Craven states with an evil grin. "I have always loved horror movies and have always been a fan of Danzig's music growing up. It was different than anything I've directed before. It's a very sick, twisted mix of horror, rock music and great sex scenes."

Grub Girl will be distributed through NorthStar Associates with a release date of Feb 7th.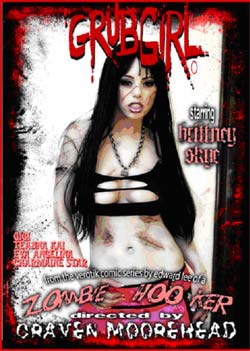 "We could not be more pleased with the release of this movie through NorthStar" States Michael Atkins Marketing Director for NorthStar Associates. "It is a unique departure for us and we are extremely excited and proud to have this opportunity."
"Craven has been shooting for us for quite some time and has always delivered a great product, while Glenn Danzig has sold millions of records worldwide and is a major rock legend and influence." Craven and Glenn have been friends for awhile and had even been out on the road shooting concert footage for Glenn and his band over the past year. "I am a big Danzig fan myself and this is personally exciting for me as well," said Atkins.
"It is a perfect match." Atkins continued. "With all the success of the Rap and Hip Hop porn that has come to the market we wanted to bring something to the metal and rock fans." We are excited that Craven and Glenn chose us to distribute it for them." "This collaboration between a legend like Glenn Danzig and the directing and shooting expertise of Moorehead is like throwing gas onto an already blazing fire. The finished product is simply amazing.