THE HALO EFFECT Days Of The Lost

By Peter Atkinson, Contributor
Wednesday, August 10, 2022 @ 12:44 AM

| | | |
| --- | --- | --- |
| | | |
THE HALO EFFECT
Days Of The Lost
Nuclear Blast Records




If you were thinking that, given the stellar pedigree of its lineup, THE HALO EFFECT maybe would recapture the sonic magic of vintage Swedish melodeath on its debut full length, best to manage your expectations. While the all-star band certainly does offer a liberal helping of the classic "Gothenburg sound" on Days Of The Last, it also intersperses modern, arena-friendly metal along the way and ends up stumbling a bit because of it.

That said, the music overall is still much better than anything we've heard in a long, long time from the band all five of its members once called home. Which brings us to IN FLAMES, once a melodeath stalwart thanks to its landmark string of albums from 1994's The Lunar Strain to 2000's Clayman that has largely been a victim of a self-inflicted "law of diminishing returns" ever since. Its last several albums were downright dreadful and the Clayman 2020 EP, with re-recordings of four of that album's best-known songs, is a fucking travesty.

THE HALO EFFECT guitarist Jesper Strömblad formed IN FLAMES in 1990, then left in 2010. Two-time IN FLAMES guitarist Niclas Engelin may still technically be a member, but has not played with the band since 2019. Bassist Peter Iwers and drummer Daniel Svensson anchored the IN FLAMES rhythm section for nearly 20 years before leaving in 2016 and 2015, respectively. Vocalist Mikael Stanne, who still fronts DARK TRANQUILLITY and recently formed up with buzz-sawing Swe-death revivalists THE GRAND CADAVER, sang on Lunar Strain as a session member before Anders Friden came onboard.

So all these guys were either there for the formative years of IN FLAMES or the "golden" era noted above. And most were on hand for what became its downward spiral – both in terms of creativity and intensity - as the band moved away from melodeath into nu/alternative/mainstream metal then into something more recently that barely resembles metal at all.

With Days Of The Lost, the "metal" aspect is never really in question. There's a fairly resounding crunch throughout, especially over the promising front section. Indeed, the first four tracks recall IN FLAMES at its Colony/Clayman-era prime, delivering driving tempos, meaty, assertive riffs, harmonized lead forays and a seasoned mix of technical sophistication and engaging melody. It's definitely heavy and gets some extra bite from Stanne's commanding gravely shout.

"Shadowminds" leads things off with its punchy, rollicking hooks and anthemic choruses. The title track ratchets up the intensity with Svensson's double-bass gallop and Strömblad/Engelin's agile interplay. "The Needless End" jockeys between dbeat-powered sprints and sweeping, majestic bridges and choruses with Strömblad and Engelin's nifty flourishes flitting about betwixt and between. And after a moody false-start intro, "Conditional" follows up with more of the same, but with less emphasis on melody and more on oomph.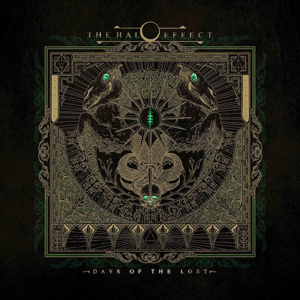 Sadly, that wanes over the album's midsection as the band puts the "melodeath" histrionics on pause and adopts a more standard approach with intermittent clean vocals, a less aggressive delivery and radio-friendly compositions – all trappings that IN FLAMES embraced from Reroute To Remain onward, with less satisfying results as time went on. While "In Broken Trust" and "A Truth Worth Lying For" with their clean choruses and the rather tepid "Gateways" – save for its peppy lead break – are decent-enough tunes, they lack the electricity and verve of the upfront material and certainly slow the momentum that had been building, especially when packaged back to back to back. Perhaps scattering them about might have been the way to go, but what's done is done.
"Feel What I Believe", however, kicks things back into gear with its surgingriffs, elaborate guitar harmonies and Stanne's snarling vocals. The haunting strings that open "Last Of Our Kind" turn out to be another dramatic false start as the song soon jets off, harking back to sprint and soar dynamics of "The Needless End".
The album does end with a bit of a thud with the mid-tempo anthemics of "The Most Alone". Despite Stanne's acerbic delivery, the song really never takes off as it builds to its inevitable towering choruses. "Last Of Our Kind" might have made for a more emphatic finale, to harp on sequencing once again. Just sayin.'
Still, Days Of The Lost is performed with purpose, conviction and gusto by a group that certainly seems to have loftier goals than being a mere nostalgia act. And while the contemporary aspects might not resonate as much as the old school-inspired material here, the material for the most part is solid throughout and, on occasion, sensational. So anyone hoping for "magical" or "magnificent" might come away from Days a bit disappointed. But if "pretty good" is good enough, then there you go.
3.5 Out Of 5.0