SAMMY HAGAR, GEORGE THOROGOOD, QUEENSRYCHE In Ridgefield, WA With Photos!


By Krishta Abruzzini, Pacific Northwest Writer
Thursday, September 15, 2022 @ 8:47 AM


| | | |
| --- | --- | --- |
| | | At The RV Inn Style Resort Amphitheater |
All Photos By Krishta Photography
What an unexpectedly fun summer day. While Iím not a big Sammy Hagar (sans my huge fandom for his work in MONTROSE) or George Thorogood fan, I ended up having a true appreciation for both after this show.
Portlandís favorite rock station, KGON hosted this gig. The original lineup was supposed to have THE GLORIOUS SONS along with Nita Strauss. Iím assuming Nita backed out because of her new position as guitarist for Demi Lovato, and Iím not sure what happened with THE GLORIOUS SONS. No matter. The day was epic as it was.
The show started out with a special backstage BBQ hosted by KGON, with the TIM TAYLOR BAND playing. Special tickets to the event could be bought through the station, or won. Tim, a long time radio guy formed his band several years ago and has a large Portland fan base. Being a huge Sammy Hagar fan, and actually getting to play with Sammy a few times in Cabo, his band was the obvious choice to open this show. Between his sets, the members of QUEENSRYCHE and George Thorogood came out for interviews with an excited audience.
Asked by one of the stationís DJs what it was like to open for THE ROLLING STONES, George Thorogood looked at the guy and deadpanned, ďI didnít open for the STONES.Ē It was a bit awkward for a moment with the silence, but he went on to explain that he was told by Mick Jagger himself that each band on a bill stands alone, not as an opener, but as part of the show. He was a bit cantankerous in a really humorous way. When youíve had a few birthdays and have made a name for yourself, Iím sure itís an irritation to be related to other (despite their popularity) bands/musicians as an opener.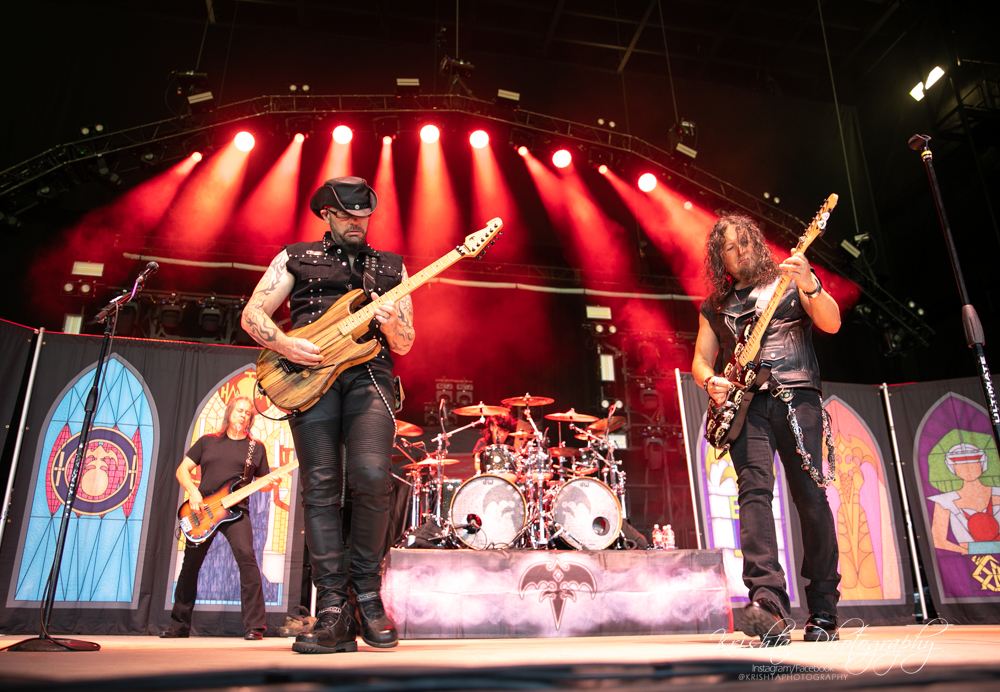 Opening this show was QUEENSRYCHE. The current lineup is: Todd La Torre (vocals), Eddie Jackson (bass), Michael Wilton (guitar), Mike Stone (guitar) and Casey Grillo (drums). This seemed like an odd pairing for a show honestly, as Sammy Hagar and George Thorogood seem more of a ďpartyĒ band compared to the more serious music of QUEENSRYCHE. I saw the QR guys wandering around and chatted with Todd the night before at the AIC show. He had mentioned something about not understanding BREAKING BENJAMINís music at all. We all got a laugh out of it and while a heavy enough band, BREAKING BENJAMIN vs. ALICE IN CHAINS seemed a bit of an odd pairing as well.
QUEENSRYCHE played roughly an hour. The band was tight. They played the songs flawlessly. The only off-putting thing for myself personally were the layers of delay and reverb on La Torreís vocals. While heís a powerful singer, itís really odd to see him hit a note, then walk away from the mic with the vocals still resonating for several seconds after. It was honestly distracting from the songs. It felt almost like lip synching, despite it being his original note coming through. Realizing that very few live bands play without a lot of effect loops, etc, I think if itís on vocals, the singer should stay at the mic until the note is finished with the delay/reverb.
Their setlist:
"Queen of The Reich"
"I Donít Believe In Love"
"En Force"
"NM 156"
"Empire"
"Walk In The Shadows"
"Jet City Woman"
"Operation Mindcrime"
"The Needle Lies"
"Take Hold of The Flame"
"Screaming In Digital"
"Eyes of A Stranger"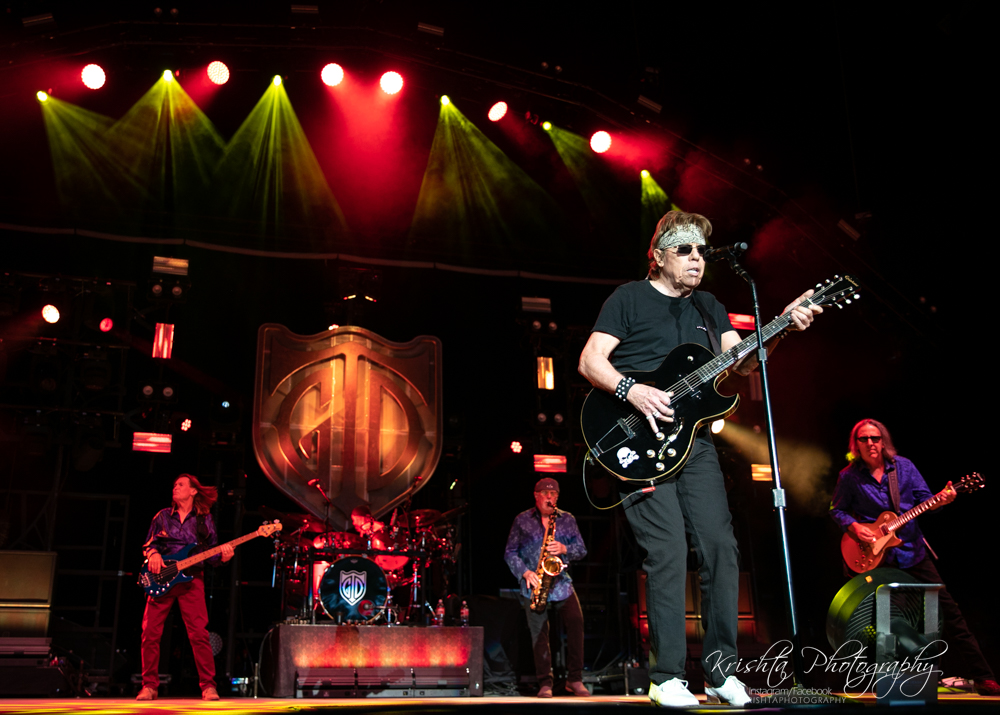 George Thorogood was up next. One of the most celebrated American blues rock artists of all time, he is a trademark himself. At 71-years-old, the man still has his charisma. His band, bassist Billy Blough and drummer Jeff Simon have all played together since 1976. Saxophonist Buddy Leach helped bring the spirit of the veteran rockerís many celebrated (celebrating) songs. Opening with "Rock Party", the band continued into several drinking-themed songs including, "I Drink Alone", "House Rent Blues/One Bourbon, One Scotch, One Beer".

One big grin revealed a silver covered canine tooth from Thorogood, which I couldnít help but wonder if it was because he was truly "Bad To The Bone", or just a bad tooth. I mean if Madonna can wear a grill, why canít George have a silver tooth? Either way, it was a joy seeing him still performing.

Thorogoodís setlist:
"Rock Party"
"Who Do You Love"
"Shot Down"
"Night Time"
"I Drink Alone"
"House Rent Blues/One Bourbon, One Scotch, One Beer"
"Gear Jammer"
"Move It On Over"
"Bad To The Bone"
SAMMY HAGAR AND THE CIRCLE were up next. THE CIRCLE includes his longtime friend from VAN HALEN and CHICKENFOOT, bassist Michael Anthony, Jason Bonham (son of legendary John Bonham-LED ZEPPELIN) on drums and guitarist Vic Johnson.

Let me just start off by saying it is hard to believe that Sammy Hagar is nearly 75-years old. Jaw dropping honestly. He is fit. He sings well. He certainly doesnít look like any 75-year old Iíve ever known.

Between his band(s) and being a businessman, he has created quite a trademark for himself. Business partner, friend and restaurateur, Guy Fieri and he have a line of Santo Tequilas and Mezquila and he is renowned for his line of Cabo Wabo Tequila and Sammyís Beach Bar Rum. Tequila is somewhat synonymous and associated with him now. Hagar claims, ďWater will kill a drink,Ē so perhaps his secret to youth is getting a little pickled now and then and certainly knowing how to sell it.

The Red Rocker and his cohorts belted out songs from his expansive career, which included songs from MONTROSE, VAN (HAGAR) HALEN, and even a nod to drummer Jason Bonhamís dad, "Rock Ní Roll" from ZEPPELIN. The Red Heads (Loyal Sammy Hagar fans nickname) were in their element clearly and perhaps a little more than tipsy to get to spend an evening with this band entertaining. "I Canít Drive 55 seems apropos for SAMMY HAGAR AND THE CIRCLE, as they give such a powerhouse performance. Sammy refuses to walk off stage for an encore (the adult version of hide and seek), so he stays until the last minute.
All fun, great songs and a few hours to forget the world. What a perfect way to spend an evening.
Setlist:
"Crazy Times"
"One Way To Rock"
"Poundcake"
"Three Lock Box"
"Top Of The world"
"Rock Candy"
"Finish What Ya Started"
"Mas Tequila"
"Your Love Is Driving Me Crazy"
"Ainít Talking Bout Love"
"I Canít Drive 55"
"Heavy Metal"
"Eagles Fly"
"Dreams"
Check out some more photos from the show!
All Photos By Krishta Photography

Please log in to view RANTS