SCORPIONS, THUNDERMOTHER In Houston, TX With Photos!

By Larry Petro, News Monkey
Wednesday, September 21, 2022 @ 9:12 AM

| | | |
| --- | --- | --- |
| | | 'Rock Believer' Tour Hits Toyota Center On September 17 |
All Photos By Larry Petro/Petrofyed Photography
They say that absence makes the heart grow fonder. If that is true then what does a 20 year absence do to the heart? That was the question to be answered as it has been nearly 20 years since SCORPIONS last played in Houston. This is somewhat bewildering because the band has toured the US numerous during the ensuing years and played in Texas, just not Houston even though there were openings in the schedule that could have allowed them to play here. We didn't even get a show on the band's 'farewell' tour years back. That's something I've always wondered: Did SCORPIONS have an issue with Houston? Did Houston have an issue with SCORPIONS? The last time I personally saw them live was on the Monsters of Rock Tour in 1988 at Rice Stadium here in Houston so their announced return as part of the Rock Believer Tour was certainly ecstatic news! It was absolutely worth the wait.
The tour when originally announced included WHITESNAKE and vocalist David Coverdale's farewell tour but unfortunately persistent upper respiratory issues forced WHITESNAKE to withdraw from the trek which I'm sure was a disappointment to many, including my wife who would have gone to the show had they still appeared. It was a bit strange though that SCORPIONS did not get anyone else to take that slot on the tour. What it did do though was give tour openers THUNDERMOTHER some extra exposure time onstage and they certainly made the most of it.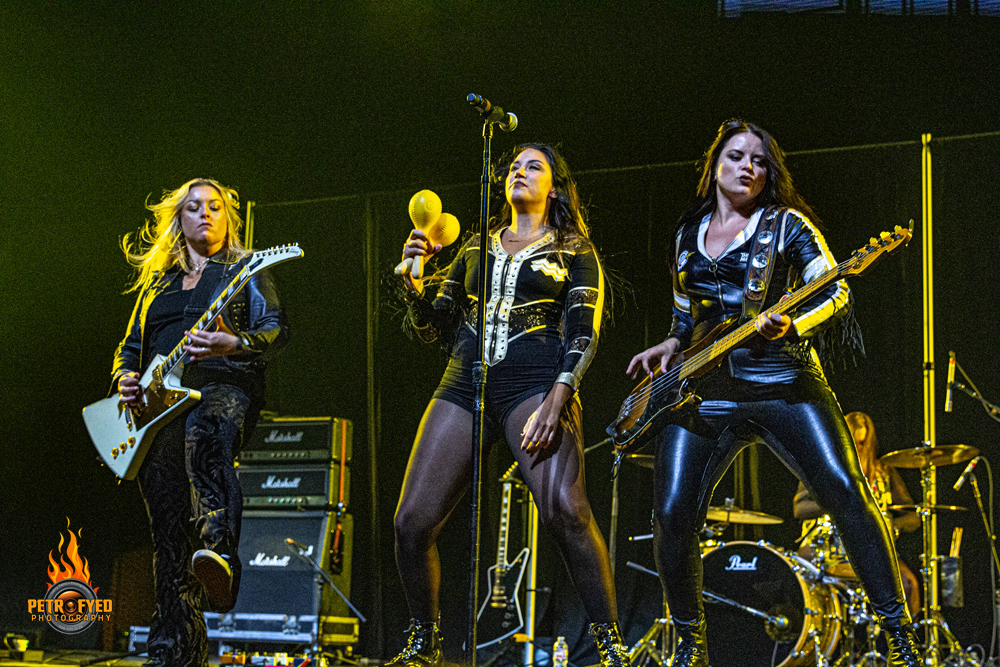 This female quartet from Sweden has actually been around for at least 8 years but have only recently started to get some attention here in the States after the release of the Heatwave album of 2020. The release of the new album Black And Gold, which dropped a month ago, only furthered their exposure and if the reactions to our recently posted interview with the band are any indication, the sky's the limit. The ladies took the stage at 7pm sharp and started their set with "Whatever", a track from the band's self-titled album from 2018. Instead of the normal 5 or 6 song opening set they got additional time and performed 11 songs spanning their careers. The new album was represented with 3 tracks, the title track, "I Don't Know You" and "Loud And Free". The band, vocalist Guernica Mancini, guitarist Filippa Nässil, bassist Mona "Demona" Lindgren and drummer Emlee Johansson were truly grateful and overjoyed to be on this tour and it showed in their performance. They definitely got the crowd ready for what was to come.
Setlist:
"Whatever"
"The Road Is Ours"
"Dog From Hell"
"Try With Love"
"Back In '76"
"Black And Gold"
"Loud And Free"
"I Don't Know You"
"We Fight For Rock 'n' Roll"
"Watch Out"
"Driving In Style"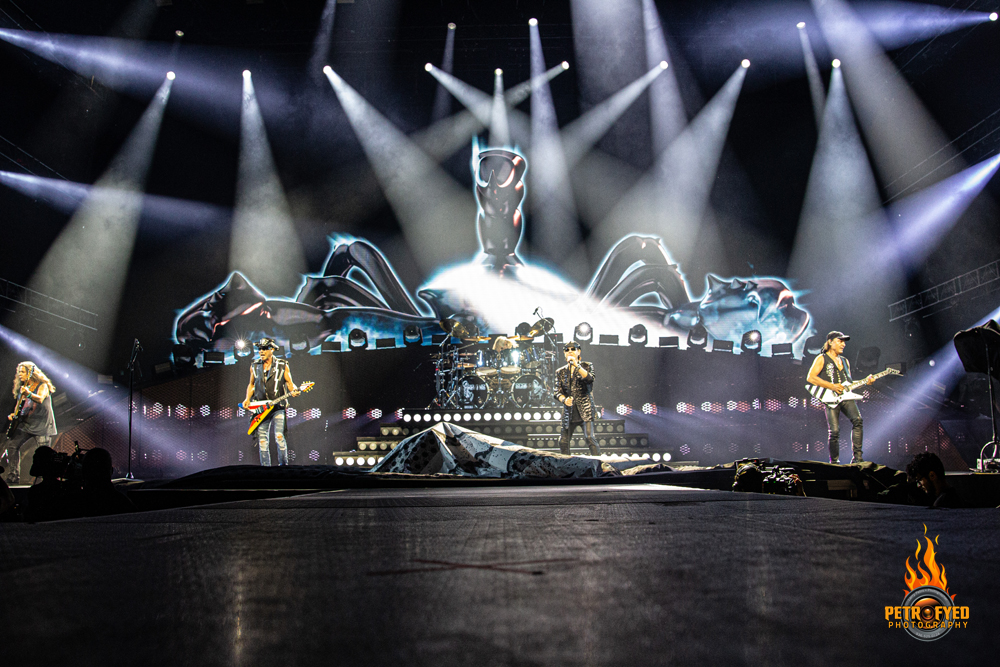 Now when the tour was first announced and that the band would playing at Toyota Center in Houston my very first thought was, 'Okay, I know they haven't played here in years but are they really big enough still to play that venue?' Don't get me wrong, I'm a huge SCORPIONS fan but Toyota Center is normally reserved for huge bands and I just didn't think that SCORPIONS alone were quite of that caliber anymore. Who knows what impact WHITESNAKE would have had on ticket sales had they stayed on the tour but the additional fact that ALICE IN CHAINS and BREAKING BENJAMIN were also playing the same night at the Woodlands Pavilion north of town certainly did affect the attendance at SCORPIONS as the upper level sides of the Toyota Center were curtained off and what remained was not completely sold out. All I can say is that those who went to the other show were the ones who truly missed out because SCORPIONS absolutely brought it in their return to Houston!

A curtain with the SCORPIONS logo was draped over the stage prior to show time. As the opening chords of the song "Gas In The Tank" rang through the arena the curtain dropped revealing another curtain with 'Are You Ready To Rock?' emblazoned on it. A few seconds later this curtain dropped and the band proceeded to wow Houston with one of the most incredible stage shows in recent memory. It was a light show galore during this first song while behind the band was a huge end-to-end LED screen that showed an animated scorpion moving throughout the song. The band was absolutely on fire this night as they steamrolled H-Town with "Make It Real" and "The Zoo" to cap the first 3 songs we photographers were given. The band was engaging the entire night with booth the fans and the photographers that were there.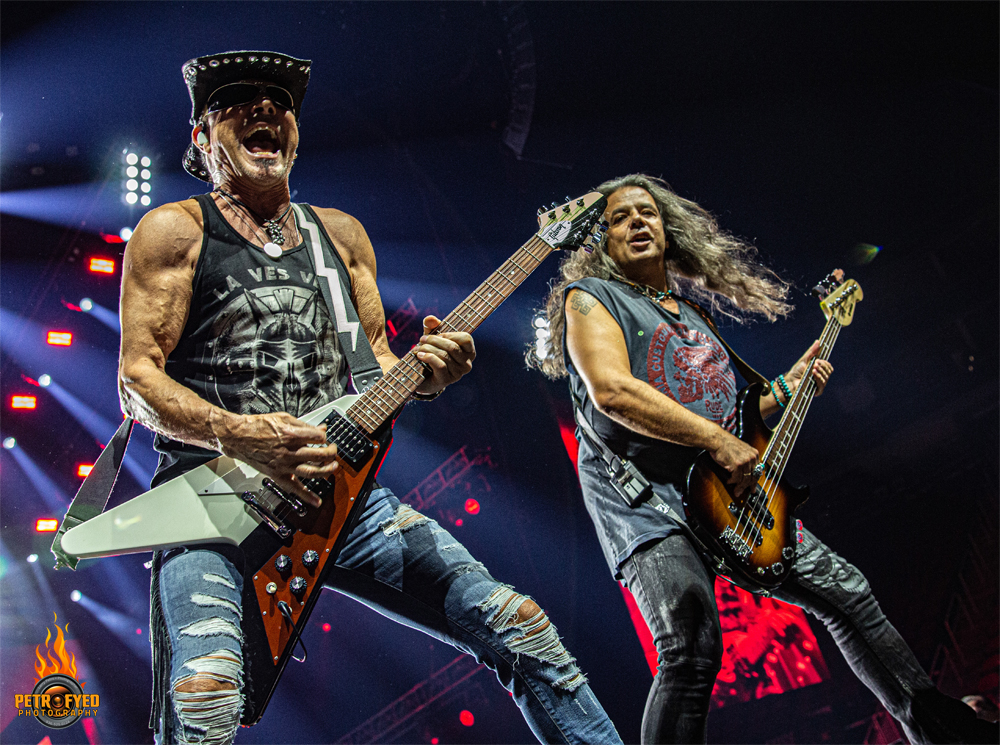 The enjoyment continued "Coast To Coast" and a pair of tracks from the new Rock Believer album in "Seventh Sun" and the barnstorming song "Peacemaker" before performing the classic "Bad Boys Running Wild". The next 'track' was called "Delicate Dance" and was basically a jam session/Matthias Jabs solo opportunity, but during this little jam there was another guitarist on the stage with him and I have no idea exactly who it was. I had missed the beginning of the jam and at the end I honestly could not understand a single thing Klaus said about the guy. So, at least for now, his name shall remain a mystery.
Things slowed down just a bit as the band played a couple of ballads, "Send Me An Angel" and "Wind Of Change", the latter of which he dedicated to Ukraine. During "Send Me An Angel" both guitarist played acoustic with Rudolph Schenker playing a Flying V acoustic. I had never seen one before and thought it was pretty cool while during "Wind Of Change" Matthias Jabs played Ukranian flag guitar. The rock cranked back up again with "Tease Me Please Me" and the title track to the new album before giving way to "New Vision", which was another fancy name for the bass and drum solos. The addition of MOTORHEAD drummer Mikkey Dee to the band added a whole new dimension to their sound. He was an absolute beast behind the kit and his thunderous backbone for the rest of the band was apparent throughout the show. During his solo the screen behind him lit up with a Vegas-style slot machine that would spin every so often until at the very end it ended up with 5 scorpions lined up across the board.
The band finished up the pre-encore set with "Blackout" and "Big City Nights", then returned for "No One Like You" and their mega hit "Rock You Like A Hurricane" replete with even more spectacular graphics being shown on the screen. The show was fantastic, the band was tight and Klaus, bless his heart, at 74 (!?) years of age, sounded as good as I've ever heard, even if he moves on stage quite a bit slower than he used to, almost shuffling his feet. This review really doesn't convey how good this stage show really was so do yourself a favor and check out some of the videos from this tour on YouTube and see for yourself. The tour runs through October 21st in Las Vegas so check 'em out if you can! In Houston's case, good things do indeed come to those who wait and hopefully it will not be another 20 years before SCORPIONS visit us again.
Setlist:
"Gas In The Tank"
"Make It Real"
"The Zoo"
"Coast To Coast"
"Seventh Sun"
"Peacemaker"
"Bad Boys Running Wild"
"Delicate Dance" (Matthias Jabs solo jam session)
"Send Me An Angel"
"Wind Of Change"
"Tease Me Please M"
"Rock Believer"
"New Vision" (bass and drum solos)
"Blackout"
"Big City Nights"
Encore:
"No One Like You"
"Rock You Like A Hurricane"
Check out some more photos from the show!
All Photos By Larry Petro/Petrofyed Photography