VENOM, INC. There's Only Black


By Francisco Zamudio, Metal X Candy 2.0
Friday, September 30, 2022 @ 7:52 AM


| | | |
| --- | --- | --- |
| | | |
VENOM, INC.
There's Only Black
Nuclear Blast




Truth be told, there is only one VENOM and while it can be argued about who wears the crown, BLACK METAL is one of the greatest albums of all time. For a band that was born in 1978 (my birth year coincidentally), their name still reigns supreme in the hearts of Metal Lifers everywhere. We are Legion and remain loyal to what Abaddon, Mantas and Cronos created over 40 years ago. Of course the story is not without its twists and turns as the 80's came to a close and Metal was once again taking on a new form, and so was VENOM. A new face in that of Tony "Demolition Man" Dolan would take the helm and introduce the new era. 1989's PRIME EVIL was Dolan's first attempt at taking over the Legion and it was quite successful (91% on Encyclopedia Metallum as a matter of fact). Let's skip ahead to 2017 and the re-debut of this classic line-up under the guise VENOM, INC(.) and the album AVÉ which would display a new and modern VENOM that suits the time.

Now five years later, Demolition Man and Mantas return to further the flames of Satan in that of their new album THERE'S ONLY BLACK. Not too far a cry from Dolan's first go around since TEMPLES OF ICE ('91), THE WASTE LANDS ('92) and his aforementioned debut yet his vocal style has taken a new approach and is much more aggressive and falls under the category of the Matt-Pike-meets-Lemmy realm. Taking the helm at drums is the 'War Machine' Jeramie Kling (INHUMAN CONDITION, THE ABSENCE) that helps thrust these songs into overdrive. With modern recording technology to their advantage their all-around sound is massively abrasive. We get 12 tracks, count 'em, TWELVE which is an outstanding decision, giving the listener more to sink their teeth into. A move I hope more bands follow in tow and stop settling for 9 songs when wanting to release FULL-LENGTH albums.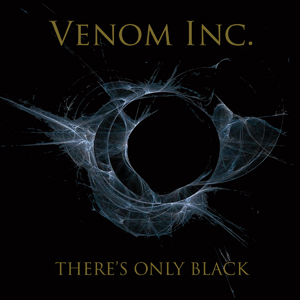 Whereas AVÉ was a lot more straight up 'Black n' Roll' and more groove oriented that started off slow and built up the intensity, THERE'S ONLY BLACK is much more of a modern Thrash-oriented album that is a non-stop adrenaline rush with brief hints of groove and kicks off right from the start with "How Many Can Die". Some of my favorite, hard and fast hitting tracks on the album are "Infinitum", "Man As God", "Rampant" and "The Dance Macabre" that even though contains some melodic elements, Manta's riffing is totally ripping on this one. Other songs with a lot of melody, if only just brie,f lie in "Don't Feed Me Your Lies", "Burn Liar Burn" while the Black n' Roll vibe exists on songs "Come To Me", "Tyrant", "Nine", "Inferno" and the title track.
Those loyal to the name will expect the raw sound Mantas help create over 40 years ago. Those who embraced the often dreaded term "change" enjoyed what Demolition Man had offered. The chemistry helped lead into what would re-manifest several years later with a great comeback album. THERE'S ONLY BLACK is an outstanding follow-up to that and in many ways their sophomore, released under the incorporated re-branding. There are quite a few bands who fall under the category of off-shoots of an original line-up. Try not to go into the headspace of what WAS but now of what IS and you should come out appreciating what Demolition Man, Mantas, along with the great help of War Machine have offered on this album. An album like this makes a statement especially after 40 years, that Mantas still has plenty of fuel for the inferno and can still go. So in Metal, for what was and for what is, remember that There's Only Black.
4.5 Out Of 5.0

Please log in to view RANTS