CHEZ KANE
Powerzone
Frontiers Music Srl
www.chezkane.com




Powerzone is the sophomore release of '80s revivalist CHEZ KANE. Some of you might have missed her fantastic self-titled debut due to her inability to tour, and the huge influx of music releases while live shows were on hiatus. Let me bring you up to speed.

CRAZY LIXX frontman Danny Rexon was scouting talent for an upcoming project he was planning when he came across British vocal powerhouse CHEZ KANE on YouTube. Together Rexon & Kane set forth to craft an album that harkened back to the AOR radio days of PAT BENETAR, ROBIN BECK, VIXEN, CHRISSY STEELE, and SARAYA.

Chez Kane was released on March 12, 2021. I rated the album 9.5 out of 10 (for another publication), proclaiming that Kane & Rexon have brought back female-fronted AOR. Over the last year and a half CHEZ KANE has made notable appearances on Frontiers Music releases by RESTLESS SPIRIT, JIM PETERIK & WORLD STAGE, CRAZY LIXX, and GINEVRA.

With CHEZ KANE's latest album Powerzone, Rexon once again covers all writing, (most) instruments, and production, while Kane handles all vocals. Can lightning be captured in a bottle more than once? Read on.

It was surprising to hear that the first track on Powerzone was a power ballad. While not typical, "I Just Want You" works in the lead off position. Chez puts all of her heart and soul into this song of forbidden love. The accompanying music video is quite steamy and a little bit 'cheeky'. Kane looks back on youthful love affairs on "(The Things We Do) When We're Young In Love". I can forgive the grammar issues with the title because the chorus is so damn catchy.

"Rock You Up" may be playing it a bit tongue-in-cheek lyrically, perhaps a wink toward some of the silly sexual enuendos the hair bands of the 80s delivered on a constant basis. It's still a fun and playful track if you don't take it too seriously. Piercing synths dominate the highly energetic track "Love Gone Wild". Kane really flexes her vocal muscles on this tale of a heartbreaker in disguise. I love the saxophone solo. It doesn't get any more '80s AOR than that.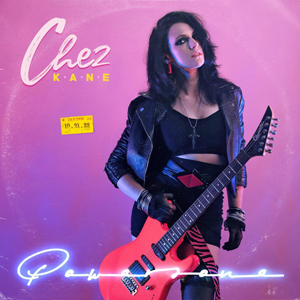 Kane delivers another keyboard heavy power ballad with "Children of Tomorrow Gone". It's another reflective song about growing up and realizing how promising the future was way back then. Chez's vocals are simply stunning and pushed to their limits at the song's conclusion. "Powerzone" is an anthem about never accepting defeat, fighting for what you believe in, and overcoming any obstacles. Chez is confident and melodic in her performance.
Simple guitar licks and an intoxicating drum beat set the soundtrack for "I'm Ready (For Your Love)". Rexon busts out the acoustics for "Streets of Gold". Kane laments that things aren't always what they seem on this down tempo track. "Guilty of Love" is an epic 7+ minute track that plays with multi-tempos, lots of synths, a long instrumental section, and of course Chez's exhilarating vocals.
Powerzone is essentially a continuation of the CHEZ KANE debut. There's not much in the way of breaking new ground, but that's not a bad thing. There are plenty of prominent acts known for their consistency and repetition. It's safe to say you know what you are getting with CHEZ KANE. Powerzone is another album by the songstress full of dynamic vocal melodies and catchy hooks in the vein of 80s AOR radio. Kane never wavers with her passionate tales of love, lust, and heartbreak.
4.5 Out Of 5.0
The Rock Is George Podcast: Music, Whiskey, Pop Culture, and Nostalgia.
www.rockisgeorge.com