THE DEAD DAISIES, GILBY CLARKE, ENUFF Z'NUFF In Los Angeles With Photos!


By Charlie Steffens aka Gnarly Charlie, Writer/Photographer
Tuesday, October 4, 2022 @ 8:15 AM


| | | |
| --- | --- | --- |
| | | At The Vermont Hollywood, September 18 |
All Photos By GnarlyFotos.com
Los Angeles was one of the last stops on the DAISIES' chain of dates in the States, and with support from GILBY CLARKE and ENUFF Z'NUFF it was an appealing gig for rock n' roll fans. With a 1200 seating capacity, the Vermont Hollywood was the ideal venue for Angelenos to come out on a Sunday night.
ENUFF Z'NUFF opened their 45-minute set with the BEATLES classic "Magical Mystery Tour". The Chicago band's set would include another Fab Four hit, "Eleanor Rigby", along with a tight, energetic version of the Paul McCartney And Wings song, "Jet". It was at this point in which the crowd came alive. Singer/bassist Chip Z'Nuff donned in his policeman hat and oversized pink glasses was loving every moment onstage. Two ENUFF Z'NUFF hits— "Fly High Michelle" and "New Thing", elicited an 80s vibe and capped the set off nicely.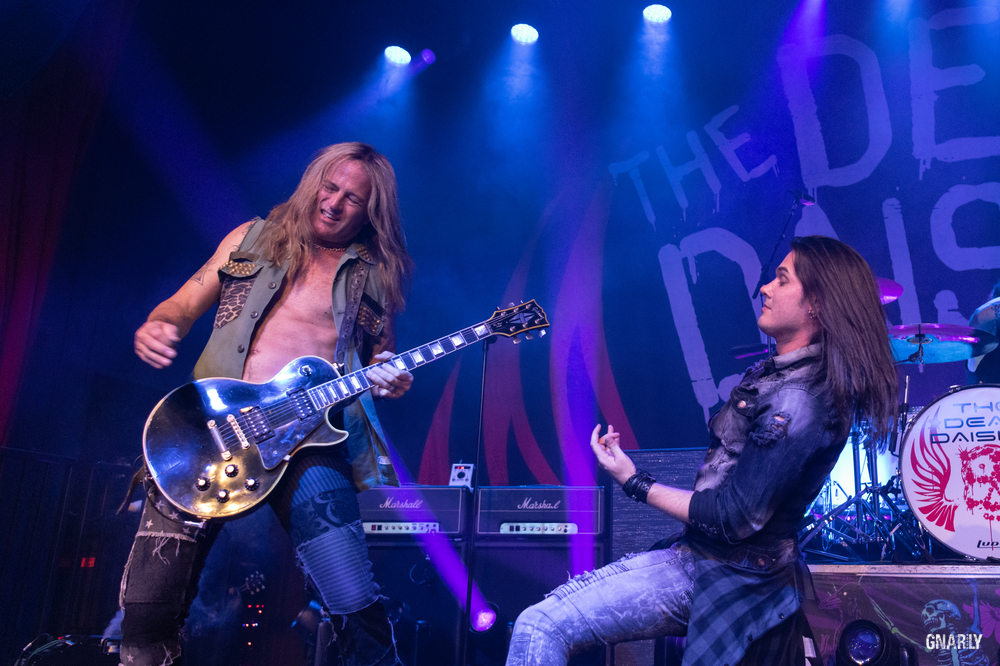 Gilby Clarke took the stage next. Clarke, the former GUNS N' ROSES guitarist, joined by bassist E.J. Curse and Troy Patrick Farrell on drums, proved right away that they are a no-frills, bonafide rock trio. They won the audience with THIN LIZZY's "Cowboy Song" and lost of few of us with a listless "Knockin' on Heaven's Door". Redeemed by "Tijuana Jail", a catchy, guitar-driven Gilby Clarke original, the crowd was primed for the headliner.
THE DEAD DAISIES took over and opened with "Long Way To Go", a song from their 2015 album, Make Some Noise. At the microphone, in place of DAISIES singer/bassist Glenn Hughes was Dino Jelusick and filling in on bass was Jimi Crutchley. Hughes was not able to perform due to illness, but the rock supergroup, well-acquainted with shifting lineups, powered through like the pros they are. Despite glancing down to read lyrics of a few songs off Radiance, the band's new album, Jelusick sang well and worked the stage with confidence. Crutchley, an impressive bassist, played well, yet opted to stay back to the side of the drum riser the whole show. Undeniably, the musical excellence and effervescence of Glenn Hughes would have made for a better show. Hughes, for the last three years (replacing singer John Corabi), has added an excitement unmatched by the previous incarnations of the DAISIES.
Guitarist Doug Aldrich's guitar playing has always been one of the main draws at DEAD DAISIES concerts. His physicality and sound epitomizes rock and roll lead guitar playing, and his face-melting solos throughout the set elevated the energy in the room and became the focal point. The exception was when Brian Tichy played a seven-minute drum solo that left onlookers spellbound.
When performing "Shine", a blistering track from the new album, the band proved undoubtedly that the song, which includes a searing Aldrich guitar solo, will be a staple on future DEAD DAISIES set lists.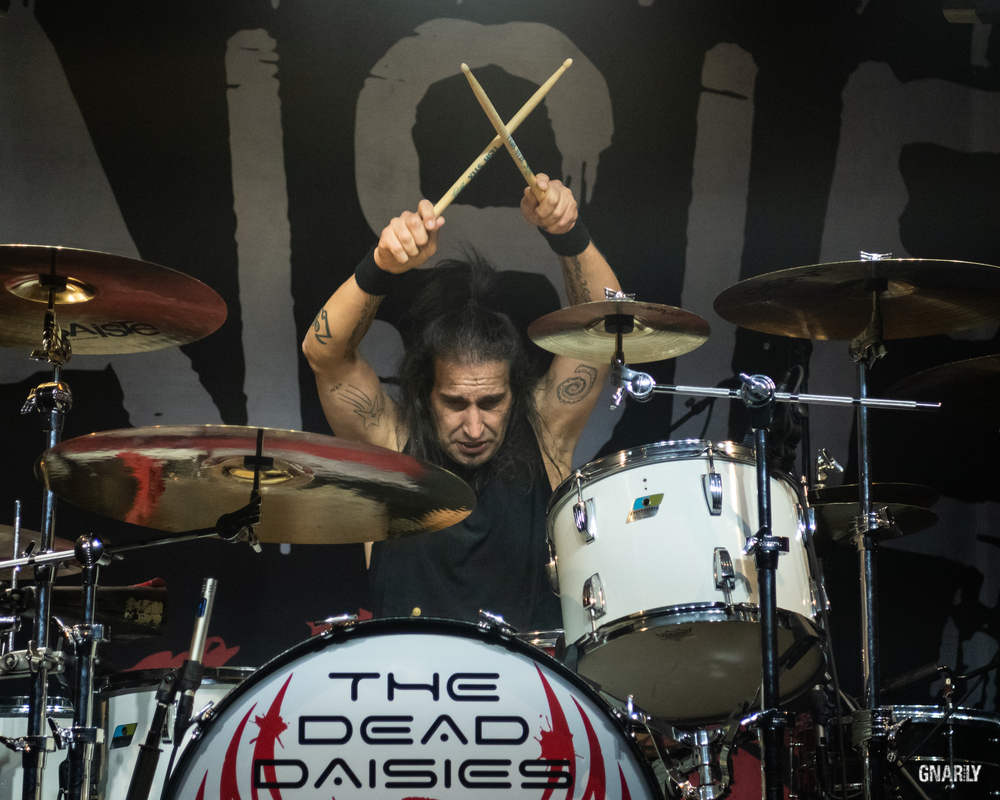 A 90-minute set comprised of songs from Radiance (released on September 30, 2022) and older favorites from the DEAD DAISIES timeline, was pleasing to the crowd, particularly the "real fans" who were gyrating and singing along. There were classic rock covers, such as "Fortunate Son" and "We're an American Band", as well as two DEEP PURPLE cuts, "Mistreated" and "Burn". The latter songs, presumably, had us missing Hughes (a celebrated DEEP PURPLE alumnus) even more.
Check out some more photos from the show!
All Photos By GnarlyFotos.com

Please log in to view RANTS