ELLEFSON/SOTO Vacation In The Underworld

By Andrew Depedro, Ottawa Corespondent
Tuesday, October 4, 2022 @ 11:44 AM

| | | |
| --- | --- | --- |
| | | |
ELLEFSON/SOTO
Vacation In The Underworld
Rat Pak Records




Coverdale & Page!
Sweet & Lynch!
Iommi & Hughes!
Shaw & Blades!

And now a new project featuring a Grammy® Award-winning thrash metal bass legend and a renowned frontman known for his powerful vocals on many a top-sounding YNGWIE MALMSTEEN album throughout the 80's? You be trippin', you're probably wondering to yourself while reading this, but this collaboration of sorts has been an ongoing project in the works for years in the making.

This recent project I'm referring to here would be of the dual brainchild of David Ellefson, renowned for his work as a co-founding member of MEGADETH as well as writing and performing on the band's series of multiplatinum landmark albums such as Peace Sells…But Who's Buying?, Rust In Peace, Countdown To Extinction, Youthanasia, and Dystopia for which he garnered that same Grammy® Award along with his other musical accomplishments such as THE LUCID, TEMPLE OF BRUTALITY, F5, and METAL ALLEGIANCE as well as having and collaborated with everyone from Gus G and Mark Morton to SOULFLY and MINISTRY while detailing his experiences by having co-written the popular memoir titled My Life With Deth, and Jeff Scott Soto, known for his vocal brilliance on YNGWIE MALMSTEEN's seminal Rising Force and Marching Out albums before branching out to front TALISMAN and supergroup SONS OF APOLLO, also logging in a good year heading up the vocal slot in JOURNEY and established a role as a vocalist in the TRANS-SIBERIAN ORCHESTRA since 2008 as well as releasing 12 studio albums as a solo artist and a further four with his other solo project titled SOTO in between – quite possibly the only musician ever to have two different solo careers. Along with the combined efforts of Andy Martongelli on guitar and keys and Paulo Caridi on drums, the acclaimed metal duo have unleashed their debut Chris Collier-produced album titled Vacation In The Underworld, promising and delivering on its word of providing an ample hybrid of sonic firepowered thrash, swaggering full-on metal and thunderous arena rock.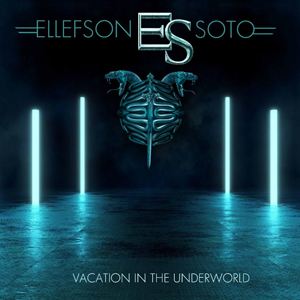 With eleven tracks heralded by three bonus tracks on the album of which half of their titles could pass as some of the best James Bond movie ideas never released (and if 007 himself were a fan of power metal), Vacation musically harkens back to both ELLEFSON/SOTO's halcyon days in their respected careers. Tracks such as "Like A Bullet", "Sharpen The Sword" and the opening title track (also featuring guest appearances from Steve Conley and Ken Mary from FLOTSAM AND JETSAM) are definite energetically-fired bangers, with Soto's powerfully raging vocals sounding as strong as ever for someone with an active musical pedigree nearing four decades while Ellefson's galloping bass riffs showcases some of his strongest playing in decades, further highlighted in other tracks such as "S.T.N. (Something To Nothing)", "The Day Before Tomorrow" and the intro to "Rise To Win". And with the ELLEFSON/SOTO project having made its inroads with a short tour of Italy in mid-September, the remaining array of talent outside of Andy's impressive shredding and Paulo's solid drumming also includes another guest appearance by Giada Jade Etro from the Italian power metal band FROZEN CROWN on the aforementioned "The Day Before Tomorrow".
All in all, for both the thrash and power metal enthusiast looking to travel outside of their genre's own musical norms, ELLEFSON/SOTO's Vacation In The Underworld provides the ideal getaway.
5.0 Out Of 5.0
https://www.ellefsonsoto.com/
https://www.facebook.com/ellefsonsoto