MICHAEL SCHENKER GROUP In Hobart, Indiana


By Shelly Harris, Chicago Contributor
Sunday, October 16, 2022 @ 9:07 AM


| | | |
| --- | --- | --- |
| | | 50th Anniversary Universal World Tour Hits Hobart Art Theatre October 11th |
At this, the last of three shows in the Chicago area on the 50th Anniversary "Universal" world tour, Michael Schenker continued his upward live gig trajectory of the past decade.

Indeed, the rumors had spread fast around this tour in advance - and particularly among Schenker's long-time cult following in this part of the Midwest - that he has been performing at a level that approaches even his earliest days as the famed lead guitarist of UFO. Yes, even the rabidly loyal aficionados that buy any and all Michael Schenker related recordings and albums. and often attend multiple shows along his tour routes - and who consider him the premier melodic hard rock genius guitarist of all time (as do I) - had much to joyfully murmur about with this tour and this whistle stop.

While he has always had the ability to induce goosebumps with his famous solos and improvisations while in the throes of such classics as "Rock Bottom", "Doctor, Doctor", "Lights Out", and many more, the main aspects of Schenker's live performances that keep evolving for the better, in addition to his newfound consistent reliability, is his elevated stage presence and showmanship which induces heightened audience interaction and engagement. The Mad Axeman of yore is ethereal as he beams to the audience and to himself while also demonstrating his otherworldly aura and instrumental agility. Indeed, this evident joy of playing sends the heavenly vibes ricocheting around the venue in a way that is physically palpable, particularly in an intimate theater like this one.
Although the front line of the pit (mostly comprised of men who had waited a long time out in the rain for the honor) was within a yard of the stage, and all of them had been told in advance not to touch Schenker when he was up front playing, Schenker himself demonstrated no wariness or worry on the many occasions when he came to the forefront and leaned into the audience while wielding his trademark Flying V. However, he did engage the back of the venue as well, both via eye contact and gestures, and the back is where many (who could not abide standing the whole show) preferred to be, although, oddly, the pit prevented most of them from seeing without standing.
On top of all of this, the other element that makes this edition of MICHAEL SCHENKER GROUP particularly excellent is the addition of Ronnie Romero as the lead vocalist and co-frontman. Romero, who joins frequent MSG standbys Steve Mann (rhythm guitar, keyboards, backing vocals), Bodo Schopf (drums), and recent addition Berend Courbois (bass), is a co-writer on the new MSG songs, which were strategically mixed in with the older classics on this tour, and Romero definitely has the pipes and the stage presence to pull off all the tunes with conviction no matter they had been sung previously by a variety of various well-known singers, including Phil Mogg.
With a recording career that began 50 years ago with the SCORPIONS on Lonesome Crow (thus the "50th Anniversary tour heading), Michael Schenker has surprised even his most devoted fans with his continued metamorphosis and career stamina and staying-power. Based on his Chicago-area gigs such as this one, it appears the consummate guitar Maestro has much more left in the tank and that's a very good thing for those who are thrilled to see a true musical genius at work in a live setting.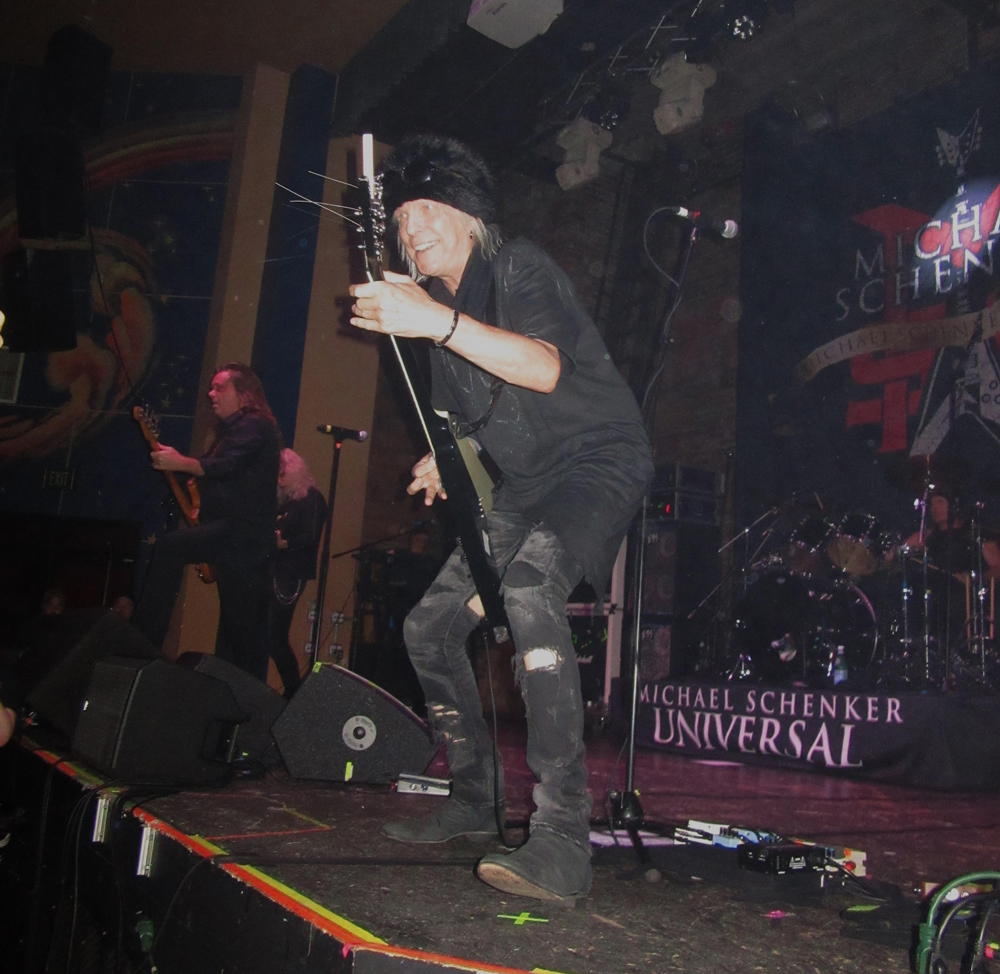 Please log in to view RANTS