RAVEN, RIOT ACT In Ottawa, Canada

By Andrew Depedro, Ottawa Corespondent
Saturday, November 5, 2022 @ 8:37 AM

| | | |
| --- | --- | --- |
| | | The Bird Is The Word: High-Flying NWOBHM Pioneers Celebrate 40 Years Of Wiped Out At The Brass Monkey October 18 |
From the first wave of the New Wave Of British Heavy Metal to the recent wave of the New Wave Of American Heavy Metal, two of its lesser-known individual global ambassadors came together as one to share the stage at the Brass Monkey for the first time and showcase the finest that each respected genre had to offer – and give some aspiring local talent a chance at some riotous exposure for fans to be ravin' about.

Yes, I'd only come up with that intro at around the same time I'd grabbed a last-minute pizza meal at the nearby pizzeria before I caught the first performance of the night, the commute from the other end of town having exacerbated my appetite somewhat. Luckily, my hunger for more consecutive live music in town was just as avaricious.

Upon entering the venue, I'd arrived just in time for local power quintet SCEPTER to take the stage. For those in the Ottawa metal scene who'd attended the show and had been wondering why LYCANTHRO frontman James Delbridge was covering the band's singer slot that night, it had appeared that they were once more on the search for a new frontman, having gone through two frontmen within the past few years, one from the UK – specifically, Kelsey Graham, whom I last saw play with the band opening for HAMMERFALL at their 2019 Halloween ball alongside LYCANTHRO as well – and another from Brazil who'd both did some touring/writing time with the band but had found Ottawa's winters difficult to cope with. Despite his own projects with LYCANTHRO in progress, James was able to find time in his schedule to bring the band back upon the stage. Opening with "Riding Out" which, awesome of a song as it is, is also a bit of a
weird choice when you're starting your set as opposed to finishing it. Still, with the rest of the band, including guitarists Josh Collins and Rob Bell, bassist Stew Everitt and drummer John Crawford, he delivered an impressive set that had many fans almost anticipating that he'd just announce his candidacy as SCEPTER's new singer and juggle both bands. He connected well with the audience, introducing pretty much every song in the band's six-song set, ranging from "Protector Of The Skies" and the anti-serial killer (or anti-shoe salesman) powerful onslaught of "Burn Bundy Burn" to the socialble ALESTORM/RUNNING WILD sway of "Drink On" and the closing KAMELOT-style number "Shadows In The Tower". Yet, despite his powerful performance that night, James appeared to be otherwise more at ease with someone other than himself taking the proverbial baton for SCEPTER's vacant frontman slot.
And here's hoping that the band manage to eventually land someone who can put up with our winters for six months of the year.
https://www.facebook.com/sceptermetal/
https://sceptermetal.bandcamp.com/
Local thrash family men INFRARED are the next band to take the stage as they open their riveting performance with their signature opening instrumental, cleverly titled "Inframental". As you'll recall that the quartet – Armin Kamal (vocals/guitar), Mike Forbes (bass), Alain Groulx (drums) and Kirk Gidley (guitars) – had launched a comeback to the live scene back in 2014 following a 27-year hiatus, having been active as a band between 1985 to 1989. You'd think that a 2-year long pandemic would've been a cakewalk for the quartet to ride through by comparison.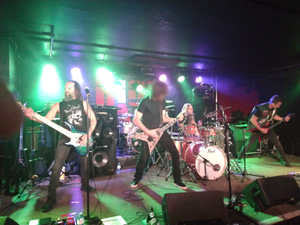 Turns out that they'd spent that downtime releasing a follow-up to their 2018 debut Saviours titled From The Black Swamp in 2021, from which they'd played a few key tracks to rambunctious applause, among them "Tribal Junction", the easily relatable "Lockdown", "Blood And Sweat" and "Eat Your Own" (the latter about the music business, according to Armin). In between, Armin did appear to need some persuasion in helping to get an old-school moshpit happening at first, but with the band's inclusion of the crowd favorites "No Peace" and the closing number "All In Favour", INFRARED got the bright light fright that would give 'em the night and then some.
https://www.facebook.com/infraredmetal
https://twitter.com/infraredmetal
https://www.instagram.com/theofficialinfrared/
http://infraredmetal.ca/
We're told that we're anything but, and yet, either it was the interview with Rick Ventura or my perfect rating of their debut album Closer To The Flame that drew some inspiration, but hearing co-headliners RIOT ACT open their set with the swaying title track off 1977's Rock City on their first-ever visit to Ottawa felt like redemption. Or maybe not since the song's always opened their shows since reforming in 2019, but it's the thought that always counts and helps with boostering our image outside of being a stodgy government town, so I'm running with that. Originally formed with both Ventura and Lou "LA" Kouvaris as the two driving members of the band's 1977-1982 period along with vocalist Don Chaffin, bassist Paul Ranieri and drummer Claudio Galinski, this version of the legendary NYC hard rock outfit sought to pay homage to the work of its past members Guy Speranza, Rhett Forrester and its initial founder Mark Reale. The coronavirus outbreak then curtailed their plans a year later, first by canceling/postponing planned tours and then by claiming Lou's life, but the band, despite being scaled down unexpectedly to a quartet, nevertheless persisted and pushed to get Closer To The Flame out to the masses under their new moniker. Several tours were immediately offered, particularly overseas throughout the spring and summer, including this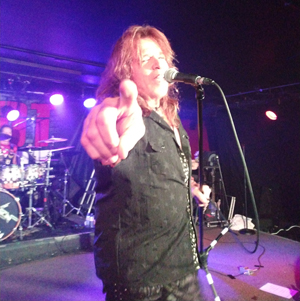 first North American tour by the band in at least four decades. And despite the long gaping absence, RIOT ACT played to the crowd like they were their regular audience. Don, whose boyish Vince Neil looks and customized David Coverdale/Steve Tyler stage moves with and without the mic stand, was an enthusiastic source of energy as he encouraged the crowd to sing along to both the classic numbers such as "Swords And Tequila", "No Lies", "Don't Hold Back" and "Warrior" and the Closer To The Flame material such as the title track and "Right Between The Eyes" – and also expressed astonishing surprise towards how many of the first-time Ottawa crowd even knew the words. Meanwhile, his backing bad delivered a solid performance, ranging from Ventura's bluesy-sounding crunching power chords to Paul's fretless yet funkified freestyling bass riffs drawing much more from Stanley Clarke and Jaco Pastorious than Billy Sheehan (though with his high-end style of playing bass it's also hard to not make the Billy Sheehan comparison with him either) and to Claudio's powerful crashing snare and bass pedal talents, surely prompting many a newfound fan that night to think "how are these guys not more popular already?". Yes, the new album is definitely an indicator that RIOT ACT in its latest form has moved more towards the incendiary fire of glory than ever before.
http://riotactband.com/
https://www.facebook.com/riotactbandofficial/
https://www.instagram.com/riotactband/
Setlist:
"Rock City"
"Road Racin'"
"Closer To The Flame"
"Swords And Tequila"
"No Lies"
"Right Between The Eyes"
"Don't Hold Back"
"Altar Of The King"
"Warrior"
And with this tour being a series of many milestones of sorts, it's only fitting that the headlining slot coveted by NWOBHM underdogs RAVEN be one to celebrate the 40th anniversary of the band's breakthrough opus Wiped Out!. Far from being anything like whatever type of odd-sounding surf music the title would most likely conjure in the illusions of curious onlookers, the band's second album was a crucial blueprint in the creation of the early thrash/speed metal scene and even gave the band their first and only appearance on the UK Albums charts when it peaked at #63. As the only "feuding" Gallagher brothers that matter (who hardly ever feud at all because they've been together literally for 48 years), bassist/singer John and guitarist Mark may look and sound every bit as outrageous as they appear on their album covers and videos, but onstage along with their recent drummer Mike Heller (FEAR FACTORY, MALIGNANCY, THE LUCID), they take their performance seriously as was with this show in paying homage to their sophomore effort by performing the album in its entirety. Granted, while they opened their set with "Take Control" from 1983's All For One and perhaps misleading the audience at a first glance as to which of their albums they're truly paying homage to, RAVEN keep mischeviously dangling the proverbial worm in front of the baited audience further with 1981's "Hell Patrol" and their most recent numbers "The Power" and "Top Of The Mountain" from their most recent release Metal City and even further with the title track of my gateway disc Rock Until You Drop. For a song I'd perceived as being their least renowned out of their entire catalogue, "Rock Until You Drop", from having heard it on The Vault with DJ Will a few times – and often through repeated requests as well afterwards – was a time-honored crowd pleaser as both John and Mark hoisted the crowd to sing along with it. It definitely has that swagger, that groove and that personality to rile up a large group of punters at any public event. It's like the NWOBHM version of "Seven Nation Army" or "Song 2" but with more punishing-sounding rhythm and loud identifiable soaring solos, its chorus sounding more like an immediate compliance than a request.
And barely halfway through the set, RAVEN clearly knew what they were doing in getting their more popular tracks out of the way as they ushered in the birthing of Wiped Out!'s 40-year legacy upon the stage like a pair of well-trained kneepad-wearing obstetricians. As they heralded in the album's legacy with "Faster Than The Speed Of Light", "Bring The Hammer Down", "Fire Power" and "Read All About It", RAVEN christened and celebrated their sophomore effort with copious amounts of headbanging aplomb. And while he appeared like the Coronation Street version of Stephen "Lips" Kudrow of ANVIL from a distance, by God can John Gallagher shred a four-string Flying V like a warlock. Mark Gallagher emits a sonic hellfire of volume from his customized black Fender Telecaster, which honestly had me thinking as to what other hard rock musician is well-known for shredding a top-line Fender in such a manner. Prince? Springsteen? Joe Strummer? THE GEORGIA SATELLITES (the "Keep Your Hands To Yourself" guys who played at that shotgun wedding in the video)? He might have been playing a similar instrument in the 1985 "All For One" video when he leaps through a window, but that whole video pretty much had everyone doing a massive faceplant either through a plate glass window or several inches of plywood and drywall Mark Metcalfe in "We're Not Gonna Take It" style. No wonder they wore NFL gear in all of their album sleeve covers throughout the 80's like they were the white English version of Refrigerator Perry. That aside, RAVEN's rendition kept the crowd on high alert as they churned through their sophomore effort's lesser-appreciated tracks such as "Battle Zone", "UXB", "Hold Back The Fire", "Chain Saw" and the closing number and title track of their celebrated work of the night.
They may not have acquired as much as their fair due in the 80's metal scene, having flocked away from the migrating path of stardom at times during their career through almost no fault of their own, but during this tour, both RAVEN and RIOT ACT were both wings on the same bird as they glided over many of their other contemporaries that had flown too far into the sun.
And Wiped Out!, following this performance, and honored in its entirety, absolutely lived up to its mission statement that night. Do yourself a favor and catch this tour at a venue near you.
https://ravenlunatics.com/
https://www.facebook.com/ravenbandofficial/
https://www.instagram.com/official_raven_lunatics/
Setlist:
"Take Control"
"Hell Patrol"
"The Power"
"Top Of The Mountain"
"Rock Until You Drop"
"Faster Than The Speed Of Light"
"Bring The Hammer Down"
"Fire Power"
"Read All About It"
"To The Limit/To The Top"
"Battle Zone"
"Live At The Inferno"
"Star War"
"UXB"
"20/21"
"Hold Back The Fire"
"Chain Saw"
"Wiped Out"