MOTIONLESS IN WHITE, ICE NINE KILLS, BLACK VEIL BRIDES, ATREYU In Houston, TX With Photos!


By Thomas Coffman, Photographer
Sunday, November 13, 2022 @ 10:05 AM


| | | |
| --- | --- | --- |
| | | The Trinity Of Terror Tour Makes A Stop At The Bayou Music Center |
All Photos By Thomas Coffman, Coffman Rockshots
Halloween was extended this year in Houston. The Trinity of Terror Part 3 Tour came a few days after to the Bayou Music Center and continued the fun and ghoulish theatrics for the fans that love horror.
The Trinity of Terror Tour consisted of 4 bands that rotate headlining and know how to shock rock their fans.
The first band ATREYU was not too ghoulish but definitely rocked the venue. I only knew a couple of their songs but became a fan very quickly. Their loyal fans were on their feet and singing along the whole show. If an opening band's job is to get the crowd ready, well then mission accomplished!
Song list:
"Becoming The Bull"
"Right Side of The Bed"
"The Time Is Now"
"Ex's And Oh's"
"Save Us"
"Falling Down"
"Battle Drums"
"Warrior"
"Blow"
Next up was one of my favorite bands. I have to admit, BLACK VEIL BRIDES was the reason I wanted to review the show. Andy Black and the boys have been in my top 5 bands since they came on the scene in 2010. The band delivered a straight up ass kickin' show. The lighting was as amazing as the vocals and guitar work and the drums were steadily pounding monstrously in the background. Their song list covered alot of their history and the last song "In The End" was a must for me. This was my first time seeing the boys in black and I have to say that they exceeded all of my expectations.

Setlist
The Outcasts (Reborn)
"Crimson Skies"
"Coffin"
"Faithless"
"Devil"
"Shadows Rise"
"We Stitch These Wounds"
"Knives And Pens"
"The Legacy"
"Fallen Angels"
"In the End"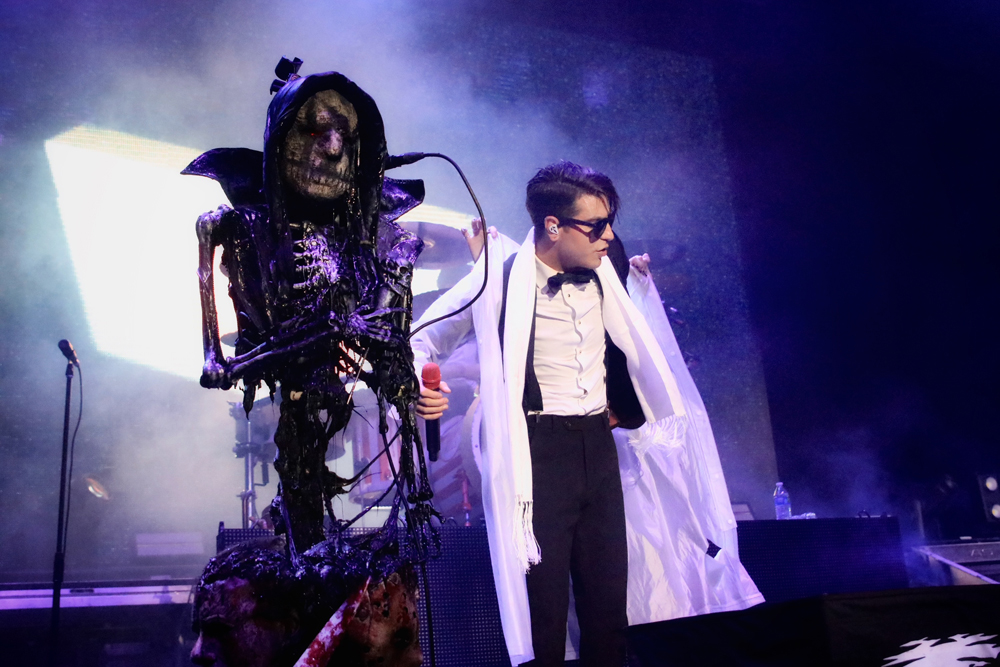 ICE NINE KILLS is a band that I had heard of, but had no idea what I was about to witness. The theatrical tribute to everything horror was crazy cool. The music of course had everyone, and I do mean everyone, on their feet and loving the stage props and murder scene playing out to the tunes like "Farewell To Flesh" and "The American Nightmare". The costume changes and stage performers rounded out the amazing scenes being played. This show is not to be missed if you are into hard music and a broadway type of show. I for one loved it and will definitely go see them again!

Setlist
"Funeral Derangements"
"Wurst Vacation"
"Hip To Be Scared"
"Ex-Mortis"
"It Is The End"
"Stabbing In The Dark"
"The Shower Scene"
"A Grave Mistake"
"Farewell I Flesh"
"The American Nightmare"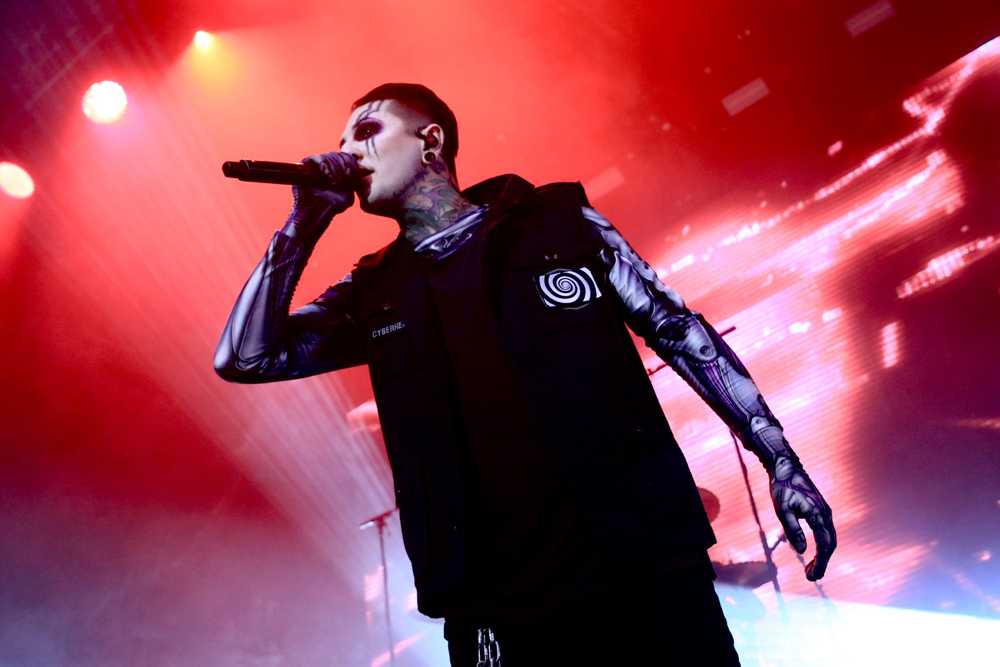 MOTIONLESS IN WHITE was the headliner this night for the rotating headlining tour and they were amazing! Again, I was in unfamiliar territory with this band but straight out I was hooked. The singer Chris Motionless came out and immediately took control. He had the crowdsurfers going crazy and everyone in the venue were on their feet, loving this amazing show. The guys in the band looked like something between Tron and Bader from Batman. The real spectacle was the ladies, in cool outfits, equipped with a metal plate on their bodies and a metal grinder shooting sparks everywhere. (pictured below) This was something that was just really very well executed.

They went on to do a great cover of "Somebody Told Me" by the band THE KILLERS and it was really good. Excellent show, excellent songs and hellacious theatrics make this one bad ass tour! Highly recommended! 🤘🏻

Setlist
"Disguise"
"Werewolf"
"Voices"
"Cyberhex"
"Sign of Life"
"Slaughterhouse"
"Masterpiece"
"Dead As Fuck"
"Another Life"
"Somebody Told Me" (THE KILLERS cover)
"Eternally Yours"
I want to thank KNAC.COM and everyone who helped make this show and review possible!

Check out some more photos from the show!
All Photos By Thomas Coffman, Coffman Rockshots

Please log in to view RANTS


TYPE O NEGATIVE Dead Again

JUDAS PRIEST, QUEENSRYCHE In Houston, TX With Photos!

HOUSE OF LORDS Saints And Sinners

THE CULT Under The Midnight Sun

STEEL PANTHER, BLACK STONE CHERRY In Ottawa, Canada

SWORD III

FOREIGNER In Tampa, FL With Photos!

U.D.O. The Legacy

TUBEFREEKS Unhinged

WEDNESDAY 13 Horrifier

DEVIN TOWNSEND Lightwork

MOTIONLESS IN WHITE, ICE NINE KILLS, BLACK VEIL BRIDES, ATREYU In Houston, TX With Photos!

JOE SATRIANI In Boston, MA With Photos!

VARIOUS ARTISTS Bound For Hell: On The Sunset Strip

DIAMOND HEAD Lightning To The Nations - The White Album, 2022 Reissue

ANUBIS EP Collection

JOE LYNN TURNER Belly of The Beast

DEAD CROSS II

MONSTER MAGNET Test Patterns Vol. 1

W.A.S.P., MICHAEL SCHENKER GROUP, ARMORED SAINT In Houston, TX With Photos!

RAVEN, RIOT ACT In Ottawa, Canada

INVICTUS Unstoppable

W.A.S.P., ARMORED SAINT In Anaheim, CA With Photos!

IRON MAIDEN, WITHIN TEMPTATION In Tampa, FL With Photos!