TUBEFREEKS Unhinged


By Alex Yarborough, Orlando Contributor
Saturday, November 19, 2022 @ 5:15 PM


| | | |
| --- | --- | --- |
| | | |
TUBEFREEKS
Unhinged
2022 Independent Release




TUBEFREEKS are a groove metal trio hailing from the state of Maryland. The band consists of bassist/lead vocalist Paul Van Valkenburgh, guitarist Rob Portillo and drummer Chris Badolato. Unhinged is the band's new album, their fourth release overall.

On the surface, TUBEFREEKS' powerful music may remind you a little of PANTERA or GODSMACK, maybe even DISTURBED. Their music is heavy and aggressive, and the grooves they are dishing out are incredibly tight. Vocalist Paul Van Valkenburgh doesn't sound like the aforementioned bands, having a voice more in common with Ozzy. Guitarist Rob Portillo delivers some major downtuned riffs, and Chris Badolato really punishes the drums. I am digging the band's unique sound; something interesting can be found in every song.

There are 12 songs on the album, none overstaying their welcome and all residing in the three to four minute range. Opener "Release The Crow" should win over any naysayers immediately. The first thing you'll notice is the energy, the rhythms, the riffs. Then there are the intermittent harmonies that keep the songs refreshing. "Lost In My Mind" plows straight ahead, this is another winning track. "Weight" rocks a little slower and sludgier, but with no loss in power. "Preacher Dog" treads a well-worn topic in metal by now, but it still echoes in the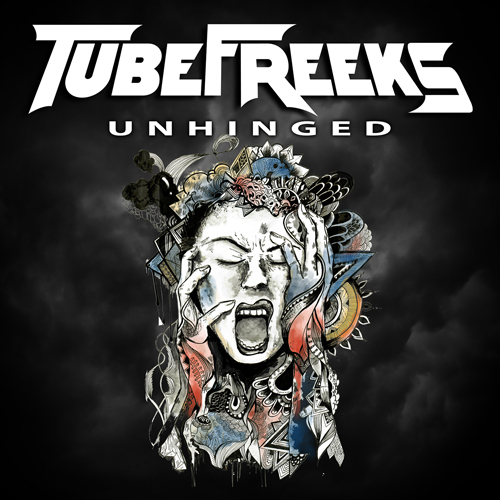 listener's brain. "The Casualty" (video on KNAC.COM HERE) strikes me as one of the stronger tracks on the album, there's some really cool call and response vocals and a pissed off lead vocal from Van Valkenburgh. "Dirty Rabbit" features a spoken intro over building riffs, eventually taking the listener on a bouncing ride and a headbanging journey. The solo is also tasty. "Smacked" has some distorted and clean vocals mixed into its mid-tempo stomp, while "Trouble" has interesting time changes and a pretty cool swagger going on. "The Force" is one of the better tracks to be found on the second half of the album. "Comes Down To War" feels like a manifesto against an enemy. "West Virginia" offers a stylistic change I hope the band explores more; I like this song a lot. Closer "Fall In The Crypt" is a doomy, sludgy hammer to the face full of sweet harmonies.
Unhinged clocks in around 44 minutes and is a catchy album by a focused band pushing their unique sound forward. TUBEFREEKS play with conviction and loads of heavy grooves and catchy lyrics. Unhinged is available now. Go to http://tubefreeks.com to learn more.
4.5 Out Of 5.0

Please log in to view RANTS


TYPE O NEGATIVE Dead Again

JUDAS PRIEST, QUEENSRYCHE In Houston, TX With Photos!

HOUSE OF LORDS Saints And Sinners

THE CULT Under The Midnight Sun

STEEL PANTHER, BLACK STONE CHERRY In Ottawa, Canada

SWORD III

FOREIGNER In Tampa, FL With Photos!

U.D.O. The Legacy

TUBEFREEKS Unhinged

WEDNESDAY 13 Horrifier

DEVIN TOWNSEND Lightwork

MOTIONLESS IN WHITE, ICE NINE KILLS, BLACK VEIL BRIDES, ATREYU In Houston, TX With Photos!

JOE SATRIANI In Boston, MA With Photos!

VARIOUS ARTISTS Bound For Hell: On The Sunset Strip

DIAMOND HEAD Lightning To The Nations - The White Album, 2022 Reissue

ANUBIS EP Collection

JOE LYNN TURNER Belly of The Beast

DEAD CROSS II

MONSTER MAGNET Test Patterns Vol. 1

W.A.S.P., MICHAEL SCHENKER GROUP, ARMORED SAINT In Houston, TX With Photos!

RAVEN, RIOT ACT In Ottawa, Canada

INVICTUS Unstoppable

W.A.S.P., ARMORED SAINT In Anaheim, CA With Photos!

IRON MAIDEN, WITHIN TEMPTATION In Tampa, FL With Photos!