LEATHER
We Are The Chosen
SPV/Steamhammer - 2022
http://www.leatherleone.com




Four years after releasing her outstanding second solo album II, Leather Leone has returned with We Are The Chosen. This third solo release immediately benefits from the clear creative direction, which is the result of Leather teaming pretty exclusively with her now longtime guitarist Vinnie Tex. The two of them wrote and produced all the songs on the disc and Vinnie Tex played all the guitars, acoustic guitars and bass himself. Other than Braulio Drummond being behind the drum kit, it was a two person creative team and you can hear the results of that musical vision throughout We Are The Chosen.

The album opens with what was the first track released ahead of the album's on-sale date. "We Take Back Control" wastes no time in revving its engines. The song is explosively paced right from the start and is a monstrously energetic number that features a pretty gut-ripping vocal performance from Leather as well.

That same kind of relentless pacing continues on the song "Always Been Evil". As the song kicks off, Drummond's pounding on the drums gives an heightened sense of aggression to the track. Once again, Leather's vocals are sublime and perfectly suited to the song. And man, I loved Vinnie Tex's playing on this song a lot.

While the LEATHER albums are always chock full of non-stop rockers, We Are The Chosen kind of takes the foot off the gas a bit after those opening two tracks. This is not a criticism per se, but you can definitely hear a shift in the gears for the next few songs. The song "Shadows" is definitely a uptempo track, but it is far slower in pace than the first two songs and it plays more like a hard rock song than a full bore metal barnburner. And there is a little bit of a rhythmic switchup musically in the song that really caught my ear.

The song "Off With Your Head" was pretty interesting. The opening intro is a straightforward salvo of metallic beauty, but when the lyrics kick in, the tempo comes down and settles into a groove until the song's chorus, where things pick back up. This back-and-forth tempo switch goes on throughout the song. The guitar solo is smoking here by the way. The funny thing is that as I listened to the song, the lyrics were a bit of a mystery at first. There seemed to me like there could be two interpretations of the lyrics and my initial read on them left me a bit surprised to hear Leather singing them. But as I listened to the song more, I began to question my first impressions of the song lyrics and though I do like the song, I'm still not quite sure if I got it right.

The album's title track (dedicated to Ronnie James Dio in the album's liner notes) has a definite uptempo angle to the music. But the intro has a kind of gothic-sounding overtone to it that ends up giving the song that kind of world-building feel that you would get from a lot of Dio's songs as well. It's not quite a full-on anthem feel but when Leather vocally intones the song's title in the chorus, I couldn't help but feel roused to my feet with fists pumping in the air! And the song never loses that epic feeling throughout.

While those three songs are clearly representative of a more methodical approach to the songwriting, giving LEATHER room to shine on the more artistic vision side of their music, the song "Tyrants" pretty much just puts out a balls-out rocking vibe. And there's such an aggressive lyrical stance. Leather's vocals are incredible here as she straddles both sides of her performance. Power driven vocals combined with that gritty vicious edge. When she sings "My rage is from your blind betrayal", I just wanted to make sure I never pissed her off!

In terms of exploring the creation of a dramatic and tension-filled song, LEATHER hits it out of the park with "Hallowed Ground". It's very slow and deliberately paced through the first lyrical passage. (No, it is not a damn ballad!) The track's chorus gets a bit edgier in the delivery but it slows back down for the next lyrical passage. But much like the song "Annabelle" on the II album, there is something scarily cinematic about this song. It's a showcase track in my opinion as it seems to demonstrate each aspect of Leather's style. You've got a standout vocal performance, a vibrantly expressive musical landscape to heighten that tension I mentioned and you can rock out at certain points in the song as well. It just surrounds the listener and draws them into the song completely.

And then we come to "Dark Days". Much like the first two songs on We Are The Chosen, this song is just full on metallic aggression. LEATHER does this so well, with Leone's vocals soaring over the soundtrack. Vinnie Tex really excels at this kind of no-brakes speed attack and I can't say enough good things about how Braulio Drummond's playing sounds as well. I may not be a musician myself, but I can hear when a song gets the relentless metal pacing just perfectly right.

There are plenty of great individual lyrical lines threaded throughout this new LEATHER album. I mentioned one of them above already but on the song "Who Rules The World", I just loved the line "Nature is sacred but I am divine". I'm not sure exactly why I dug that line but man did it him home with me right from the first time I heard the song. There's actually a few lines in this song that struck a chord with me but that's the one I decided to spotlight. The song is uptempo and nature and has a cool sound to it.

LEATHER brings the album to a bracing finish on "The Glory In The End". This is a powerful track with a racing tempo that knocks you back a bit. Fast and furious, the chorus for the song has a nice little bit of rhythm to it and the music is once again fantastic.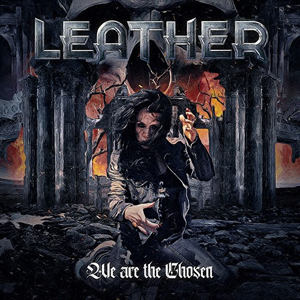 As for Leather Leone, what can I say that hasn't been said a few thousand times over already? She is just freaking awesome, objectivity be damned! The way her vocals power through the music and the songs as a whole remains so purely fantastic. I've been a fan for more than three decades and yet with each new release since she came back to the music world, I find myself adding a new level of appreciation for the vocals she performs and the songs that she writes (or co-writes as the case may be).
Now...I'm going to let you in on a little secret. You know all those nice things I said in this review? It's kind of a good thing I spent a bit of time doing repeat listens to the disc. Because I gotta say, that first time I listened to We Are The Chosen, I felt a little less impressed. Maybe it was because I'm such a big fan of the II album, or maybe it was just that I wasn't in a proper frame of mind to appreciate what was on this new album. Whatever the reason, I found that I had a bit of a hard time getting into the album fully the first time around.
But that's why you listen to an album more than once before writing about it. Because those extra spins of the disc showed me that the album will grow on you with each new listen. The songs are there, there's no question about that. But you really have to dig into them for a while to really see (hear) what is going on at the given time. It's not that I didn't like the album before but hearing it multiple times really opened up my ears and I began to realize just how much We Are The Chosen had going for it. It delves into some fantastic hit-you-right-between-the-eyes metal, creates cinematic experiences with other songs and features the dynamic creativity of both Leather and Vinnie Tex. It may have taken me just a bit longer to come around to this opinion but We Are The Chosen is just a flat out great musical experience and a worthy addition to the LEATHER discography!
4.5 Out Of 5.0