IMPELLITTERI Wake The Beast


By Rob McNees, Vinyl Aficionado
Tuesday, December 20, 2022 @ 6:50 AM


| | | |
| --- | --- | --- |
| | | |
IMPELLITTERI
Wake The Beast
Global Rock Records




When you're describing a new band or a band someone has never heard, it's usually very helpful to attach a genre to it to better explain it to them. And for whatever reason there's just certain genres that are mostly regulated to playing smaller clubs, unless you're in Japan, Greece or perhaps South America. And I'm speaking of Power Metal. One of my personal favorites, it just boggles my mind why more bands aren't huge stadium bands. Bands like JAG PANZER, ASKA, CAGE, FLOTSAM AND JETSAM and FIREWIND IMHO just don't get the accolades I think that they deserve. HELLOWEEN and to a lesser extent HAMMERFALL are the two that can fill auditoriums at will. Another band that definitely fits this bill is IMPELLITTERI. Led by shredtastic guitarist Chris Impellitteri, his band is always top-notch with amazing vocals and first class music.

The band itself formed in 1986 with their self-titled EP coming out in 1987! Featuring the talents of Rob Rock on vocals, it was well received as that was around the time that the 'Neo-classical shred' guitarists were all the rage with multitudes of bands and players coming to the forefront. The band's second album, Stand In Line dropped in June of 1988 and featured a lineup of super talent, with Chuck Wright on Bass, the late Pat Torpey on drums and the vocal talents of one Graham Bonnet, who's also sang for other world class guitarist like Ritchie Blackmore in RAINBOW, Michael Schenker in M.S.G. and Yngwie Malmsteen in ALCATRAZZ. But as we all know by now, the disgusting hair rock phase came along and took over, and then that was mercifully killed off by Grunge. But through all that Chris and his namesake band kept duking it out and flying the flag for Metal everywhere.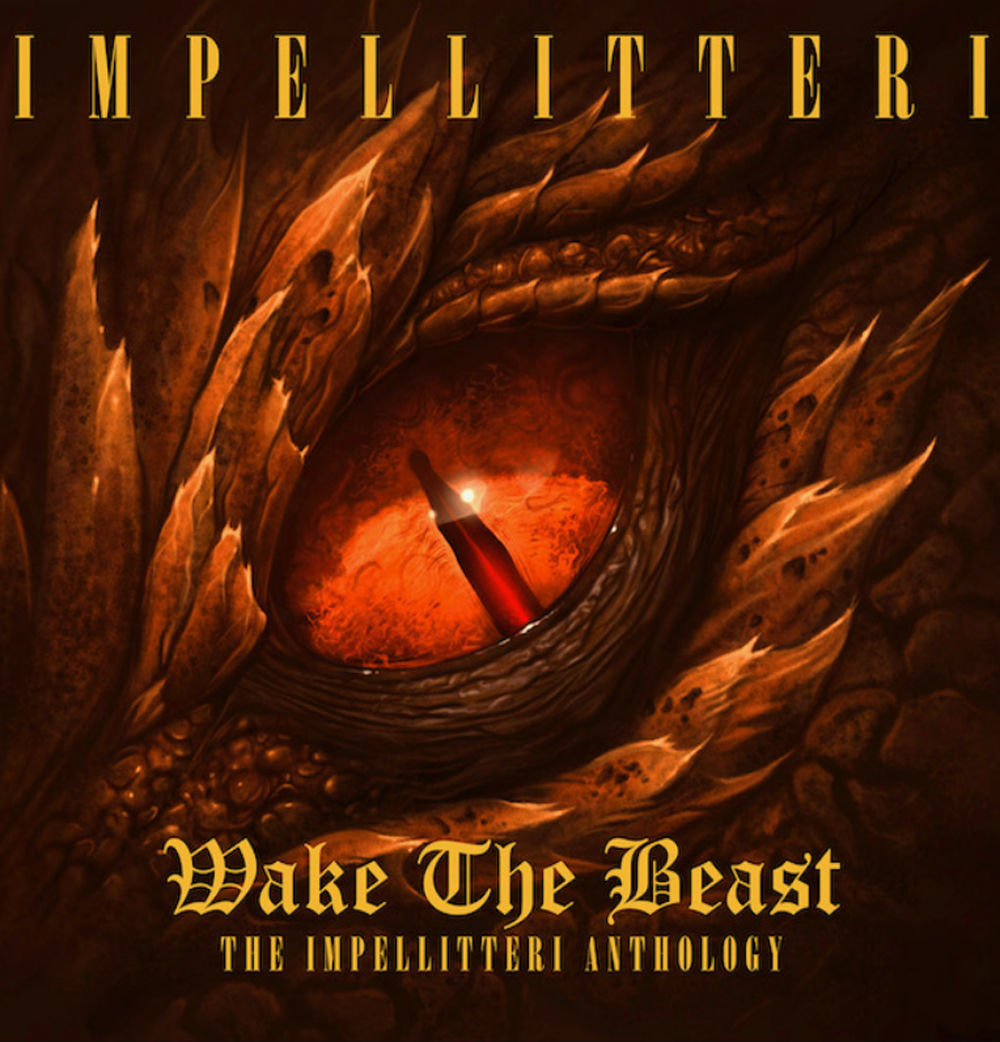 So that's where the latest release from IMPELLITTERI is such a godsend. For those who missed out on a couple, some or maybe all those years of releases, the new album Wake The Beast comes in to help rectify this situation. A 3-CD release, with every song handpicked by Chris himself, this is the perfect opportunity to give you a taste of what you've been missing. You get 2 songs from the debut EP, 2 from 1988's Stand In Line, 3 from 1992's Grin And Bear It,2 from 1993's Victim Of The System, 4 from 1994's Answer To The Master, 4 from 1996's Screaming Symphony, 4 from 1997's Eye Of The Hurricane, 4 from 2000's Crunch, 5 from 2002's System-X, 1 from 2004's Pedal To The Metal and then 2 from 2009's Wicked Maiden to bring you up to date. Definitely value for your hard earned cash these days and a great way to delve into the back catalog of a quality band you may have slept on, or just flat out didn't know about. And if you're wondering who's currently playing in IMPELLITTERI, I've got you covered. The amazing voice of Rob Rock, drumming by ex-Yngwie sticksman Patrick Johansson and ex-BONFIRE bassist James Amelio Pulli.
If you miss banging your head to Matt Barlow-led ICED EARTH or the sounds of the late Warrel Dane and the much-missed NEVERMORE then give IMPELLITTERI a go and see what you may have missed. Or if you're a fan but have had trouble finding some of these hard-to-find CDs then this should be right up your alley. Either way it's a can't lose proposition. Thank me later.
And as for Vinyl, I got on the man's FB page and asked directly if this would be available on wax along with several other folks. Nothing but crickets. Take that for what it's worth I guess. But since I've gotten the last 3 on Vinyl, at least all hope is not lost. Stay Heavy!
4.0 Out Of 5.0 skulls

Please log in to view RANTS