OBITUARY Announce Spring North America Headline Tour

By Larry Petro, News Monkey
Saturday, January 28, 2023 @ 9:48 AM

| | | |
| --- | --- | --- |
| | | Support From IMMOLATION, BLOOD INCANTATION & INGROWN |
Legendary Florida Death Metal icons OBITUARY announce Spring North America tour dates!

. OBITUARY are touring in support of their critically acclaimed new album Dying of Everything! The tour begins April 28 and ends in late May.

Support will be provided by IMMOLATION, BLOOD INCANTATION & INGROWN.

A full list of tour dates is available below & tickets are on sale Friday, January 27 @ 10:00 AM Local Time.

Dying of Everything is out now on LP/CD/CS/Digital & available directly from Relapse.com or from your favorite local retailer.

After listening to Dying of Everything be sure to check out this new interview with drummer Donald Tardy on CNN.com about his feral cat rescue the Metal Meowlisha. For more info on Metal Meowlisha visit their Facebook Page.

Dying Of Everything destroys in the time-honored tradition of early OBITUARY classics Slowly We Rot and Cause of Death while maintaining the killer studio sound that the band has been perfecting in their own studio since 2007ís monstrous Xecutionerís Return.

DYING OF EVERYTHING Track List:
"Barely Alive"
"The Wrong Time"
"Without a Conscience"
"War"
"Dying of Everything"
"My Will To Live"
"By the Dawn"
"Weaponize the Hate"
"Torn Apart"
"Be Warned"
Like just about every album in OBITUARYís vast catalog, Dying Of Everything is instantly memorable; itís a skill that OBITUARY have only improved upon over the years.

Itís unusual for a band thatís been around since the í80s to be doing some of their best work in the 2020s, but thatís exactly what OBITUARY have accomplished through their do-it-yourself attitude and relentless touring on a worldwide level.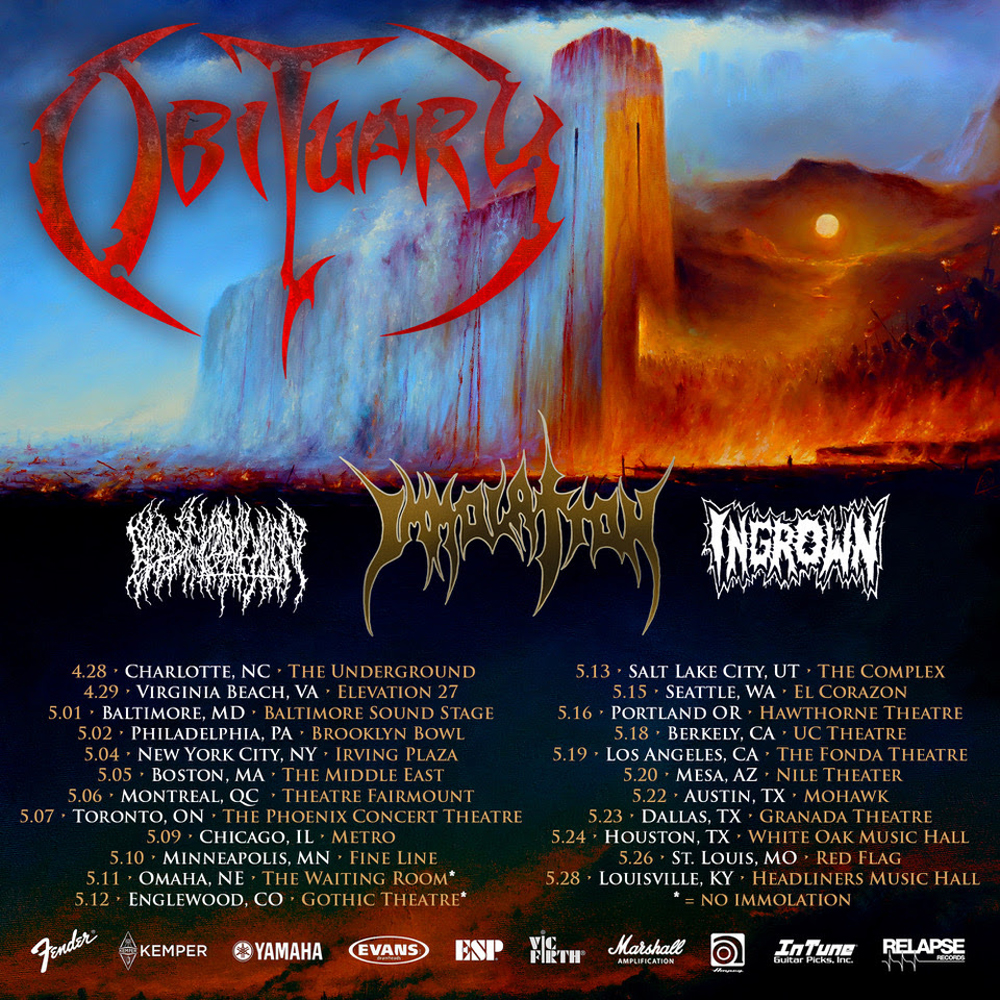 ďI think it comes down to passion,Ē vocalist John Tardy offers. ďI say this all the time, but if somethingís not fun, Iím not gonna do it. And weíre having more fun than ever.Ē
OBITUARY TOUR DATES:
NA 2023 w/ BLOOD INCANTATION, IMMOLATION & INGROWN
Apr 28 Charlotte, NC The Underground
Apr 29 Virginia Beach, VA Elevation 27
May 01 Baltimore, MD Baltimore Soundstage
May 02 Philadelphia, PA Brooklyn Bowl
May 04 New York, NY Irving Plaza
May 05 Boston, MA The Middle East
May 06 Montreal, QC Theatre Fairmount
May 07 Toronto, ON The Phoenix Concert Theatre
May 09 Chicago, IL Metro
May 10 Minneapolis, MN Fine Line
May 11 Omaha, NE The Waiting Room *
May 12 Englewood, CO Gothic Theatre *
May 13 Salt Lake City, UT The Complex
May 15 Seattle, Wa El Corazon
May 16 Portland, OR Hawthorne Theatre
May 18 Berkley, CA UC Theatre
May 19 Los Angeles, CA The Fonda Theatre
May 20 Mesa, AZ Nile Theater
May 22 Austin, TX Mohawk
May 23 Dallas, TX Granada Theatre
May 24 Houston, TX White Oak Music Hall
May 26 St. Louis, MO Red Flag
May 28 Louisville, KY Headliner Music Hall
* No IMMOLATION