LIVING DEAD GIRL Release New Album Not That Innocent - The Covers EP


By Larry Petro, News Monkey
Friday, February 24, 2023 @ 11:47 AM


| | | |
| --- | --- | --- |
| | | Tour Dates Announced |
Photo Credit: Steve Haining
"This EP is a love letter to my childhood and the iconic female artists who inspired me to pick up a microphone in the first place. While I did grow up surrounded by rock music, I do also have a lot of nostalgia for the pop music from that era. These songs I chose to cover are songs that I performed for my stuffed animals in my living room when I was four years old. Now as an artist myself, I wanted to dive into that nostalgia and honor these pop stars who inspired me with my own version of their songs." - Molly Rennick
Watch LIVING DEAD GIRL - "Fighter" [Christina Aguilera Cover] - on KNAC.COM HERE.
Formed in 2017, Orlando transplants LIVING DEAD GIRL's style is a unique combination of goth-inspired heavy metal meets fellow Canadian frontwoman Avril Lavigne, possessing an amalgam of genres including rock, metal, punk pop, industrial, and goth. The music perfectly encapsulates Molly Rennick's personality, which she admits is a dichotomy of "one wears baby pink and Hello Kitty and listens to pop music, and the other a goth girl in fishnet stockings who listens to dark heavy metal." Rennick's amazing vocal range sees her seamlessly switching from taunting, high-pitched croons, to menacing, harsh barks, to haunting growls with relative ease.
Not That Innocent - The Covers Tracklisting:
"Get The Party Started" (by P!nk)
"Oops!...I Did It Again" (by Britney Spears)
"Come Clean" (by Hilary Duff)
"Sk8er Boi" (by Avril Lavigne)
"Fighter" (by Christina Aguilera)
LIVING DEAD GIRL have also announced the Not That Innocent Tour with special guest MARLENE MENDOZA on Leg One, and THE ALMAS on Leg Two.

Confirmed Dates:
Leg One:
3.15 - Myrtle Beach, SC - Gator Tails
3.16 - Gastonia, NC - The Rooster
3.17 - Virginia Beach, VA - Scandals Live
3.18 - Allentown, PA - Club Carrigans
3.19 - Mechanicsburg, PA - Lovedraft's
3.21 - Elmira, NY - Squatch Den Records
3.22 - Buffalo, NY - Stamps The Bar
3.23 - Akron, OH - The Vortex
3.24 - Saginaw, MI - Hamilton St Pub
3.25 - Detroit, MI - Diesel Lounge
3.26 - Cincinnati, OH - Legends Bar & Venue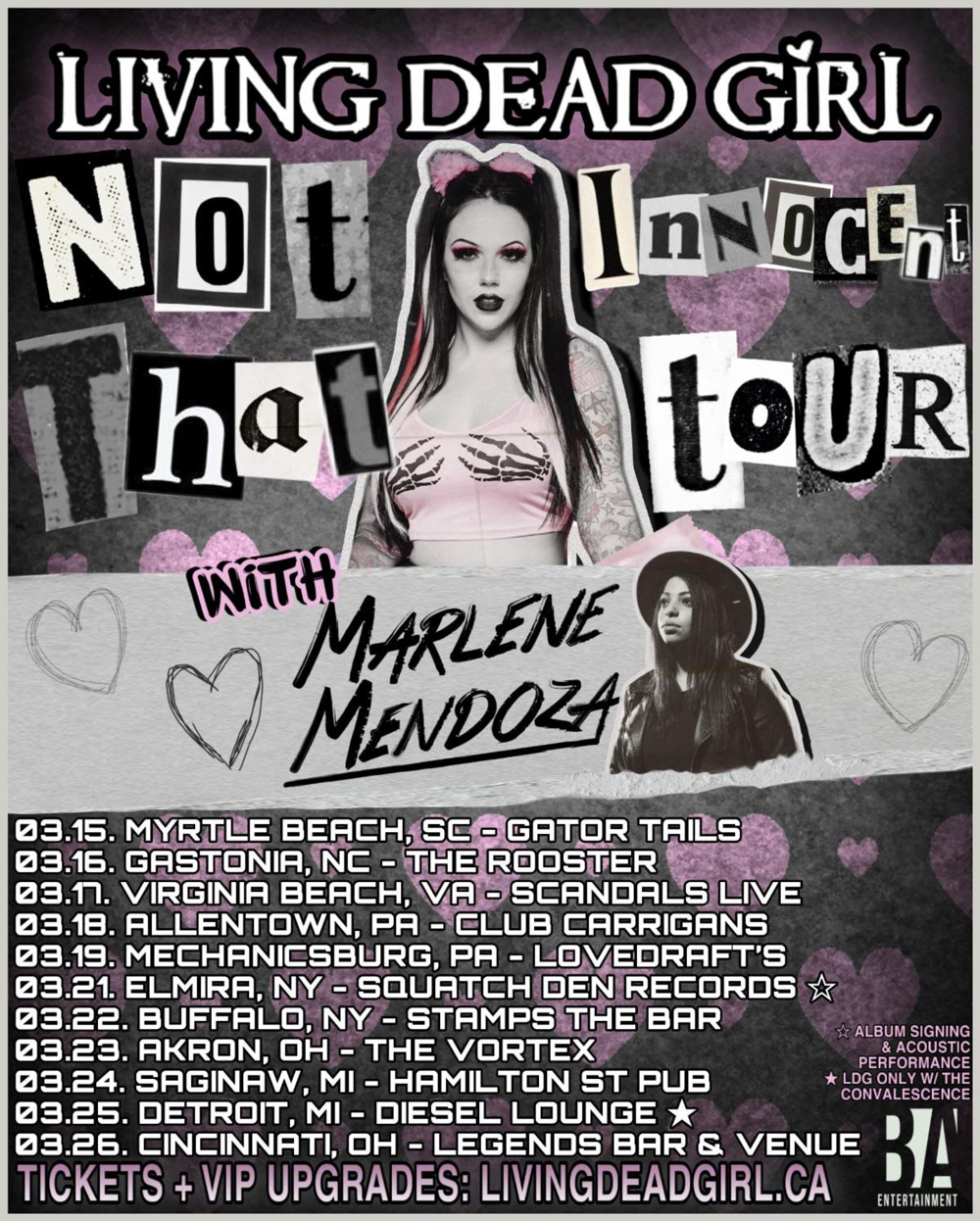 Leg Two:
5.4 - Jacksonville, FL - Jack Rabbits
5.5 - Wilmington, NC - Mad Katz
5.6 - Piedmont, SC - Tribble's Bar & Grill
5.7 - Carrboro, NC - The Station
5.10 - Charlotte, NC - The Milestone
5.11 - Knoxville, TN - Open Chord
5.12 - Glasgow, KY - Aj's Restaurant
5.13 - Huntsville, AL - Shagnasty's
5.14 - Birmingham, AL - The Nick
LIVING DEAD GIRL is an up-and-coming Canadian metal band formed by front-woman Molly Rennick. With a wide variety of influences such as Marilyn Manson and Avril Lavigne, LIVING DEAD GIRL has a unique and distinct sound, blending genres such as modern metal, pop punk, goth rock, and nu metal. Their debut record EXORCISM, produced by Mitchell Marlow (PAPA ROACH, INT THIS MOMENT) & mastered by Howie Weinberg (NIRVANA, METALLICA), exploded the band onto the alternative music scene on June 11th, 2021. The critically-acclaimed independent release was lead by debut single "ALIVE", which landed at #17 on the Billboard Mainstream Rock Indicator Chart; #5 on the Foundations Secondary Market Chart; and was the #1 Most Added song on the Billboard Mainstream Rock Indicator for two weeks straight. LIVING DEAD GIRL's unique and powerful sound has gained them the attention and admiration of fans worldwide, touting hundreds of thousands of views on their YouTube channel, and also the praise from publications such as Revolver and Hustler magazines.

Please log in to view RANTS