QUEENSRYCHE, MARTY FRIEDMAN, TRAUMA In Worcester, MA With Photos!


By George Dionne, Podcaster
Tuesday, April 18, 2023 @ 9:03 AM


| | | |
| --- | --- | --- |
| | | At The Worcester Palladium |
All Photos By George Dionne/@rockisgeorge
There was one album that appeared 9 times when KNAC.COM published its Top Ten Releases For 2022. That album was Digital Noise Alliance by QUEENSRYCHE. The Prog-Metal legends have been out on the road promoting the album since March 3, 2023. The Digital Noise Alliance Tour features special guest MARTY FRIEDMAN (ex-MEGADETH), and Bay Area Thrashers TRAUMA.
On April 7, 2023 the tour made its stop in Worcester (Woostah!), Massachusetts. TRAUMA kicked the night off with what they do best, old-school Thrash Metal. Though their set was brief, TRAUMA made every note count. While drummer Kris Gustofson has been carrying the TRAUMA flag since its inception in 1982, his current bandmates are clearly formidable partners. New vocalist Brian Allen commands the stage like he's been there for decades.
Setlist:
"From Here to Hell"
"Meat"
"The River Red"
"End of Everything"
"Walk Away"
"Death of the Angel"
Ex-MEGADETH ax-slinger MARTY FRIEDMAN made his return to the U.S. stages this year after a 4 year absence. If you haven't followed Friedman since his 1999 departure from MEGADETH, he has become quite the guitar sensation in Japan, releasing numerous acclaimed solo guitar instrumental albums. Recently Marty joined MEGADETH for their live streamed show at the Nippon Budokan, in Tokyo Japan.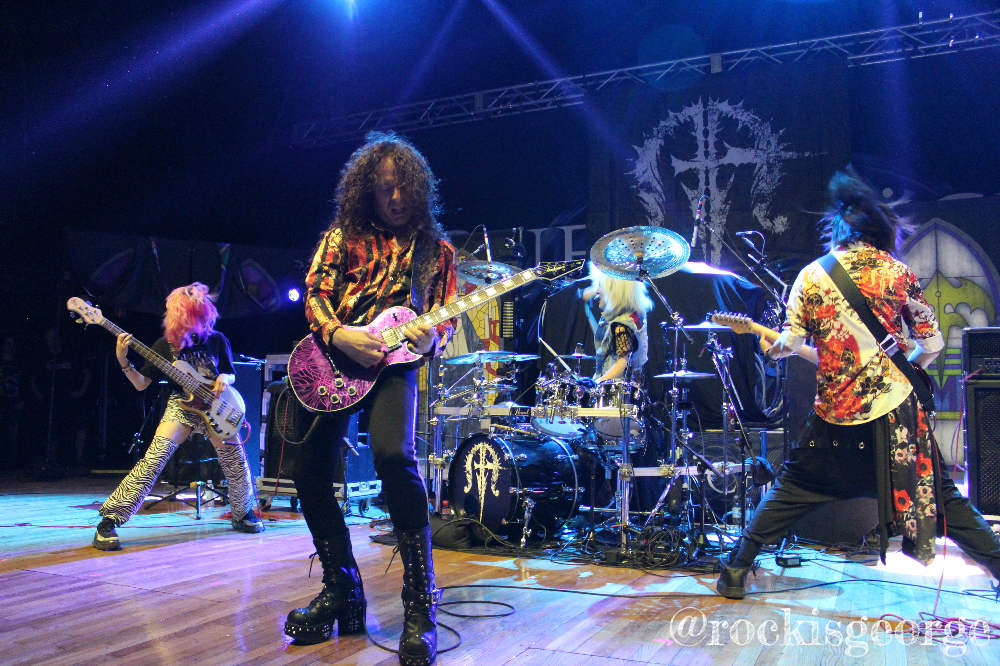 MARTY FRIEDMAN was able to fit in one more song than TRAUMA. Despite his seven song set being all instrumental, he had the crowd hooked from the opening chords of "Stigmata Addiction".
Friedman leaned heavily on material from his first Japanese solo album Loudspeaker. For his MEGADETH fans, Marty covered "Tornado of Souls". For those that have followed Friedman from his Shrapnel Records shredder days, he unloaded with "Dragon's Kiss".
QUEENSRYCHE did not come to play 'the hits' with this round of touring. They came to promote their highly-praised, old-school tinged album Digital Noise Alliance. "Behind The Walls", "In Extremis", "Sicdeth", and "Forest" were not only recreated live from the album recording, but they fit in flawlessly with the band's song legacy.
QUEENSRYCHE also visited many deep tracks from their 1984 full elngth debut The Warning. Current vocalist Todd La Torre's voice inflected the band's past vocalist, while putting his own powerful stamp on the material. La Torre's era with the band was honored beyond the current album with "Don't Look Back" and "Light-Years" .
Now I know that I said this wasn't a 'hits' set, but of course there were some of QUEENSRYCHE's most well-known songs in the set list. "Jet City Woman" and "Empire" both triggered the crowd to sing as expected. What was unexpected was the omission of the biggest single from that album.
It didn't really matter what songs QUEENSRYCHE pulled from Operation: Mindcrime, because every song is a classic with fans. QUEENSRYCHE went to the deep cut well for their 3 song encore that left the crowd excited and perfectly aligned.
Setlist:
"Behind the Walls"
"Don't Look Back"
"Child of Fire"
"En Force"
"Spreading the Disease"
"In Extremis"
"Light-Years"
"Sicdeth"
"Forest"
"Jet City Woman"
"Empire"
"My Empty Room"
"Eyes of a Stranger"
"Deliverance"
"Queen of the Reich"
"Roads to Madness"
Check out some more photos from the show!
All Photos By George Dionne/@rockisgeorge

Please log in to view RANTS