JAG PANZER The Hallowed


By Rob McNees, Vinyl Aficionado
Thursday, June 8, 2023 @ 8:03 AM


| | | |
| --- | --- | --- |
| | | |
JAG PANZER
The Hallowed
Atomic Fire Records




When I put together my list for iconic early U.S. Metal albums, it's a list chock full of what I believe to be the best of what I could get my grubby mitts on here in Texas. RIOT's Fire Down Under, Y&T Earthshaker (their first after shortening their name from YESTERDAY & TODAY), TROUBLE's Psalm 9, METAL CHURCHs self-titled debut, MANOWAR's Battle Hymns, MANILLA ROAD's Crystal Logic, SLAYER's Show No Mercy, CIRITH UNGOL's Frost And Fire, METALLICA's seminal Kill 'Em All, SAVATAGE's Sirens, Houston's own HELSTAR's Burning Star, and Austin's WATCHTOWER's Energetic Disassembly are albums that spent countless hours spinning on my starter stereo. And there was one other album that blew everyone away the first time it was previewed to my crew, and that was JAG PANZER's Ample Destruction. And before that their debut EP, which was self-titled, although everyone has universally called it The Tyrants EP. Whatever you called it, when the tracks "The Metal Melts The Ice" and "Death Row" first hit your cranium, it was unlike anything you'd ever heard before, especially in 1983! Like a fist to the face, it was etched in your mind the savagery of that EP. When Ample Destruction came out in August of 1984, it was just as pummeling, but now add to the mayhem shred guitarist Joey Tafolla. As shred guitar (or neoclassical) was just becoming a thing, and Yngwie Malmsteen had just made his vinyl debut with L.A.'s STEELER in 1983, it was still almost unheard of to hear guitar playing of this magnitude. Add to that the full force of JAG PANZER the band in all their crushing glory, and you had (and STILL DO) a monumental album still worshipped to this day!!!

Now I'm not here to discuss why JAG PANZER didn't become household names after those first 2 ginormus releases, we'll save that for another day. But I myself can say that I've followed their career very closely (and have the album collection to prove it)! And I'm hoping that if you've for some unknown reason never heard JAG PANZER before, maybe this might give you reason to search out the back catalog, or at least their brand new opus, The Hallowed.

While JP have had their share of members like any band with longevity, the core group has remained intact, that being Mark Briody on guitars, John Tetley on bass, the mega-voice in Harry 'The Tyrant' Conklin all being here since 1981, the band's inception, which oddly enough they were originally called TYRANT back then. Rounding out the lineup is Rikard Stjernquist, drummer since 1987, and newest addition Ken Rodarte on lead guitar. So how will their newest masterwork stack up against their 'Hallowed' back catalog you ask? See what I did there? 😁

A brief chat with Mark gives us the backstory on The Hallowed, which is a concept album set in a frozen post-apocalyptic world. A group of survivors and their animals are searching for a place of warmth, which they call 'The Hallowed'. And a cool twist is that there are two stories being told: the album itself is written from the perspective of the animals, and a comic that gives you the perspective of the story from the human point of view! Very cool and intriguing.

The album starts off with "Bound As One", a high energy track that kicks off the album in fine fashion, A driving rhythm, and Ken can shred, make no mistake! That's how you open an album! The narrator gives you a glimpse into the harsh conditions before "Prey", another energetic headbanger bursts through your speakers, giving no quarter and with the gang vocals shouting out the chorus, should be a real belter live! "Ties That Bind" slows things down a bit as the story starts to unfold. "Stronger Than You Know" gets right back to the ass kicking as the guitars scream along with the epic chorus that makes this track a standout. "Onward We Toil" brings us the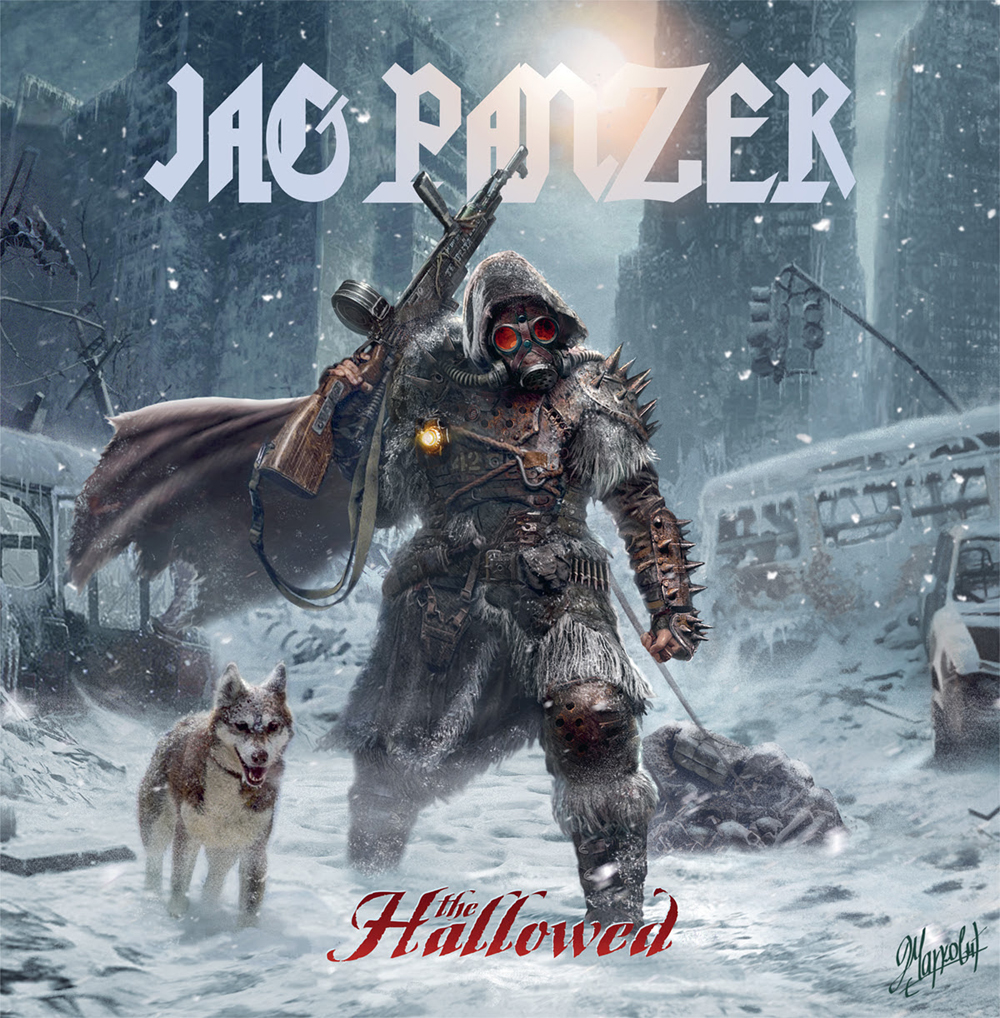 narrator again briefly, and the track is a real grinder that will have hands banging along with another epic chorus. I'll say this now: why Harry 'The Tyrant" Conklin isn't mentioned with the great Metal vocalists like Halford, Dickinson & Dio is still a mystery to me. He has the chops, the range, and the screams of power that made Halford a household name. I'm at a loss figuring that out. "Edge Of A Knife" asks the question "Is There Anybody Out There?" The song itself has that mid-tempo gallop that's made for air guitar along with some shredding lead work. "Dark Descent" brings the narrator to shed more light on the travels of our group while the song itself gets back to the uptempo riffing that I love. The lyrics really paint the picture of the travellers making their way down cables into darkness. "Weather The Storm" brings the sound of water and maybe the end of the journey. Or is it? The song is a mid-paced stomper that's a bit more subdued musically yet braces you for the final stories. "Renewed Flame" is the next to last track and like the song itself, builds towards the epic conclusion with plenty of musical twists and turns, and harmony guitars. "Last Rites" is the story's end, album closer and longest cut at almost 10 minutes long. As the narrator speaks, the music brings the story to its epic conclusion. A slow, tasteful dirge Ken has some blistering leadwork that truly impresses. The story ends as does the album.
JAG PANZER have, along with NIGHT DEMON earlier this year, boldly forged a path of weaving a story into the music, instead of a random collection of songs that have nothing in common. That in itself to me is brillant. Ultimately it's the music that will be the deciding factor, and JP has woven a tapestry of fine Power Metal that I hope will bring more people to the party so to speak. These guys can play with the best, seek them out if they get anywhere close to your neck of the woods. While I haven't seen the final product as of yet, do yourself a favor and get the comic and let your eyes see what your ears are feasting upon. End of story. Or is it?
And yes my children there will be glorious Vinyl unleashed along with the comic. I for one can't wait!
4.5 Out Of 5.0 Skulls

Please log in to view RANTS