SIGNS OF THE SWARM Set For New Album, Amongst The Low & Empty


By Larry Petro, News Monkey
Thursday, June 8, 2023 @ 8:10 AM


| | | |
| --- | --- | --- |
| | | Out July 28th; Video For "Tower Of Torsos" Unleashed |
Photo Credit: Andre Giovanni
After dropping standalone single "Amongst The Low & Empty" last month, Pittsburgh deathcore unit SIGNS OF THE SWARM is back today to reveal their upcoming fifth full-length of the same name: Amongst the Low & Empty will be unleashed via Century Media Records on July 28th! To coincide with this announcement, the band has dropped a new single from the record - "Tower Of Torsos". The video (directed by Joey Durango) can be seen on KNAC.COM HERE.
Drummer Bobby Crow comments about the single: "We wanted to bring the old school, in-your-face vibes of our favorite OG deathcore bands - with a fresh spin. We endearingly call it psycho-music. It's something of a continuation of what we started with The Collection, musically, while the lyrical core is about doing whatever you must to come out on top. If you caught us on the road with WHITECHAPEL recently, this one should be familiar to you!"
Vocalist David Simonich adds: "Mike and I were BINGING the hell out of the Hannibal show while writing lyrics. It definitely pulled out our inner psycho, especially for this one where we wanted to paint a repulsive picture of a person chasing the idea of becoming god. The path to ascend is only to kill and build a monument of misery: his tower of torsos."
Regarding Amongst the Low & Empty, Crow explains: "Amongst the Low & Empty is more than just a title; it's also a feeling or state of mind. The phrase first came up in the lyrics of our last album, Absolvere, and became a driving force for our band ever since. When it came time for us to enter the studio with Josh Schroeder last November, 'Low and Empty' resonated in a very special way with the band. We had just completed well-over a year of non-stop worldwide touring and had to finalize an album we barely had time to wrap our heads around. We were literally low (energy) and feeling empty (of ideas). I still marvel at what we pulled off primarily in under a month (with a few extra days later to add the album's penultimate closing duo).
If it weren't for the ideas flying around Josh's special studio, that time could have kept me feeling low and empty. I was very alone, locked away writing the music - we'd only come in with somewhere between 4-5 songs - with the only break from my strained and drained thoughts and ideas being visits from Schroeder to check in and add his genius.
David and Michael wrote lyrics in another room, with the prose spewed forth balancing the beauty/beast meter, with Dave's recognizably rabid voice bringing it back to Signs when I'd push our sound boundaries (soundaries?). I'd always ask myself, 'How can we make this moment feel beautiful and terrifying at the same time?' Fortunately, the lyrics' grace contrasted gnarly subject matter to achieve and elevate that goal. It's kind of like the art of the album - serenely calming yet brutally when you truly take it in - inverted; musically we're brutal up-front with the beauty underlying.
This album breathes a new sense of life into SIGNS OF THE SWARM that was much needed. We're grateful for and proud of our previous works and the platform that they have provided us over the last 10 years, but Amongst the Low & Empty is a true and pure representation of each member's current creative and performative abilities that elevates the passion and confidence of the band tenfold."
Pre-order Amongst the Low & Empty now here: https://signsoftheswarm.lnk.to/AmongstTheLowAndEmpty - where the album is available in the following versions:
Jewelcase CD
Gatefold black LP
Gatefold aqua colored LP - USA retail exclusive
Gatefold transp. light blue-black marbled LP - EU retail exclusive
Gatefold white-dark blue marbled LP - Signs Of The Swarm exclusive
Digital album
Album Artwork by: Gabor Toth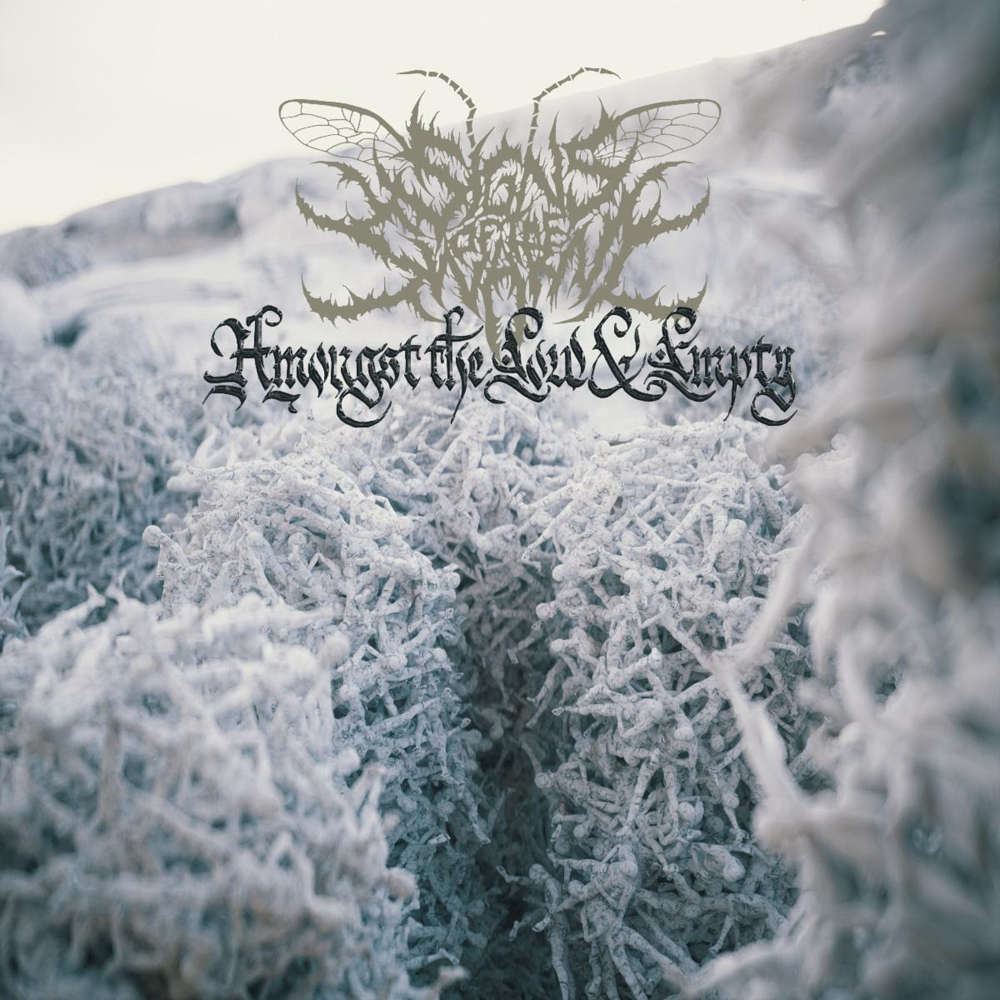 Produced by Josh Schroeder (Lorna Shore, King 810, Tallah, Varials), Amongst the Low & Empty is the first SIGNS OF THE SWARM album to feature an outside producer. Massive, unapologetic and unrelenting in its assault, this fifth full-length keeps listeners on the edge of their seat. Songs like the title track, "Pray For Death" and "Malady" put to shame the slamming "br00tality" of sophomore LP The Disfigurement of Existence, with vocalist David Simonich's animalistic growls and screeches outdoing any swarm, pack, or otherwise, found in the wild. Despite the savage brutality, the leader of this herd IS the structure that is simultaneously more rigid yet more explorative, complete with a catchy groove underneath - the likes of which hasn't been heard from SIGNS OF THE SWARM. It's the bedrock that allows "Tower of Torsos", "DREAMKILLER" and "Pray For Death" to be as catchy as they are. Songs like "Shackles Like Talons" and "Fire and Stone" split the difference incisively. On the more cacophonous side, industrial flirtations were added both in-studio by band and producer, and beyond, with Joshua Travis (Emmure, Glass Cloud, The Tony Danza Tapdance Extravaganza) and Cameron Losch (Born of Osiris) throwing riffs and ruckus into the mix ("At one point, Joshua Travis was recording a chainsaw in his backyard," the band reveals). TRIVIUM mastermind Matthew K. Heafy even sent over a guest shout for "The Witch Beckons".
The resulting 11 tracks are so destructively deafening, it blew out Josh Schroeder's subwoofer! "We've always been a deathcore band," states Bobby Crow, the quartet's longest-standing member, who serves as drummer and main songwriter. "But this record is a lot MORE - it's got death metal, metalcore, djent, some industrial stuff...We wanted to make something that was just heavy."
Amongst the Low & Empty track-listing
"Amongst the Low & Empty"
"Tower of Torsos"
"Pray for Death"
"Borrowed Time"
"Between Fire & Stone"
"Shackles Like Talons"
"DREAMKILLER"
"The Witch Beckons" (feat. Matthew K. Heafy)
"Echelon"
"Faces Without Names"
"Malady"

Please log in to view RANTS