OBITUARY, IMMOLATION, BLOOD INCANTATION, INGROWN In Los Angeles With Photos!


By Francisco Zamudio, Metal X Candy 2.0
Thursday, June 8, 2023 @ 10:07 AM


| | | |
| --- | --- | --- |
| | | At The Henry Fonda Theatre |
All Photos By Joshua Gonzales/@chickengood.productions
I have to admit, I think I've been sleeping on catching some of my favorite bands live. In my defense, I've been trying to catch a lot of bands I hadn't seen before plus a lot of new bands too. I do remember that the first time I caught Florida greats OBITUARY was in 1994 with headliners NAPALM DEATH at a venue called The Palace (now Avalon) in Hollywood. While that venue no longer has the balls to host some of the great Metal and Rock shows that have come through over the decades, The Henry Fonda Theatre is one of few good venues in Hollywood that steps up and welcomes the Metal legion. On this nite in May was the Los Angeles stop for OBITUARY's Barely Alive Tour accompanied by New York epicness IMMOLATION, new favorites BLOOD INCANTATION and INGROWN. In support of their new record DYING OF EVERYTHING (Relapse Records), I finally decided to catch up.
Opening the nite and tasked with a heavy responsibility was INGROWN from Boise, Idaho, some good old fashioned grind and hardcore that brought the energy to the house. They were well received by the crowd that filled a good third of the venue as many were still filtering in. While I can't totally say they didn't fit the bill of a Death Metal packed line-up, their guitar feedback-laden set by the power trio set them apart from the rest of the nite with an energetic Vocalist/Guitarist Ross Hansen getting down on some hardcore dancing in place and even the merch girl (I didn't catch her name) joined in on the fun and got on the mic at the end of their set, ripping out some great vocals.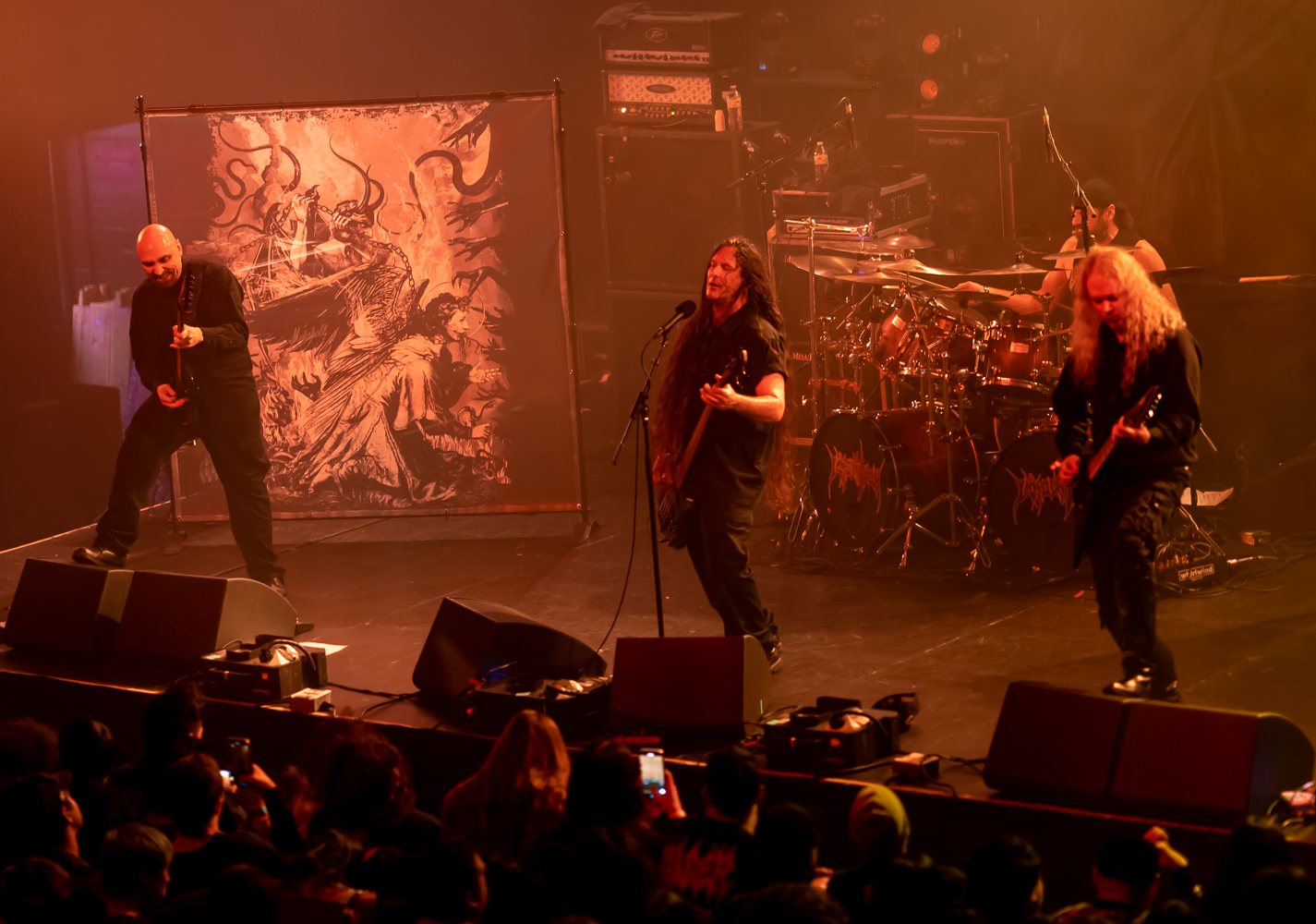 BLOOD INCANTATION has quickly gained momentum and a following. I've written about them before, hopping on tours with some great bands which has earned them a solid fanbase. A real good example of modern Death Metal. Their half-hour set of only 5 songs helped focus the mood of the crowd, reminding them that this was a Death Metal show. These guys are part DEATH, part NILE, part DECREPIT BIRTH and full-on trippy to hear. Who knows if the thin air in the Mile High City made their brains tap into that creative part to help create their sound, and having only heard them live and not at all their actual albums, these guys do very well in bringing their progressive approach to a live atmosphere.
For over 30 years, one of the leaders in New York Death Metal has stayed consistent and as of late become 1 of my top favorites in both that specific region and genre. IMMOLATION are dark and broody and so powerful to watch. Vocalist/Bassist Ross Dolan's crazy mane and (in some irony) the bald Robert Vigna's energy on guitar is outstanding just as their songs are epic. You want to talk about consistency and having a uniform "look"? The 2 plus the blonde curls of Alex Bouks dress in black button up shirts (the guitarists with full long-sleeve) and this subtly compliments their performance so we can all just focus on their crushing music. Pummeling us with 4 songs off their recent release from last year Acts of God, the rest of their set was single cuts from nearly all their epic history of great releases: Atonement, Dawn of Possession, Harnessing Ruin, Here in After, Providence and Shadows in The Light. Again, a highly impressive showing by New York's greats who funny enough, I ran into at Hollywood's Star Wars themed bar 'Scum and Villainy' Cantina before the show.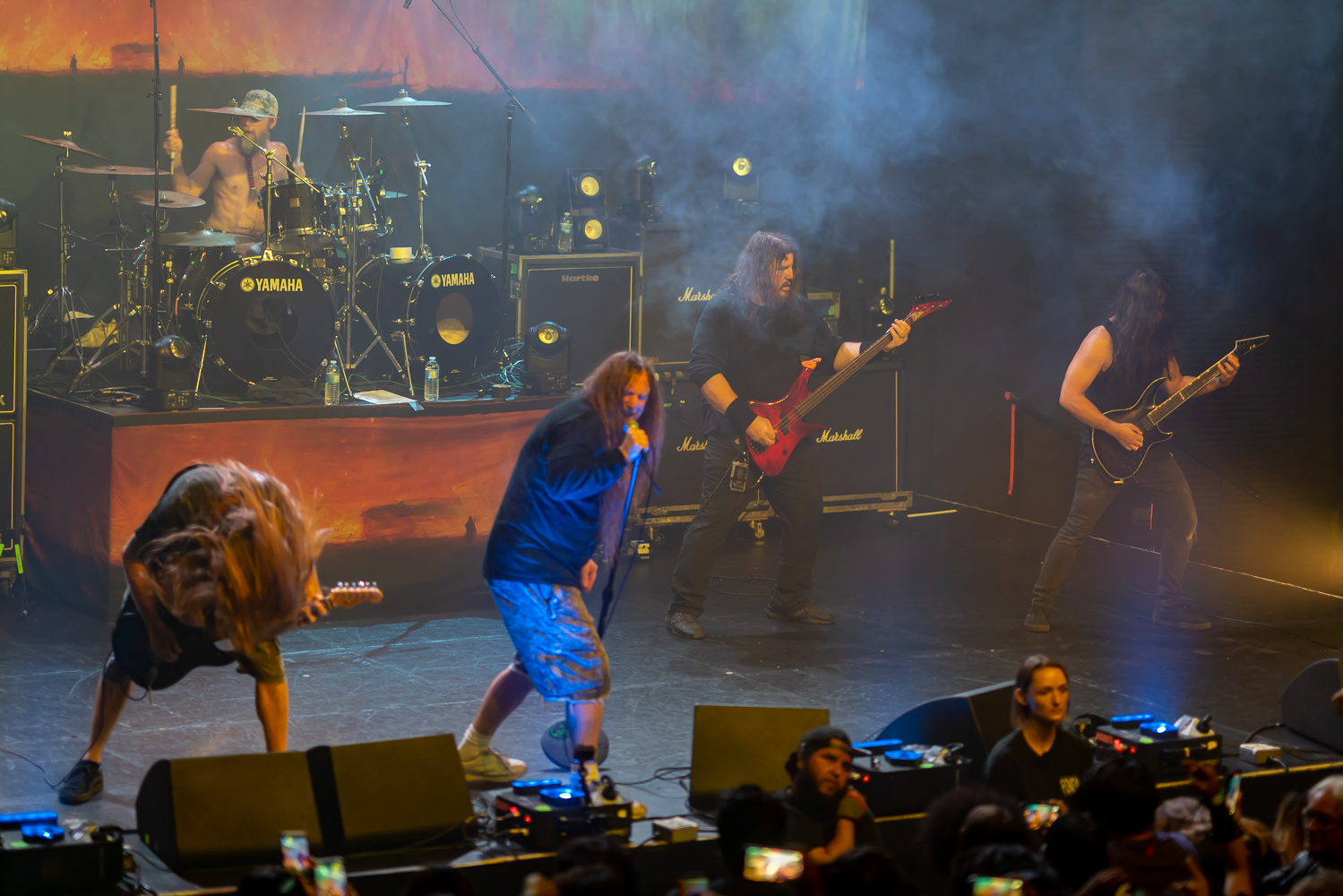 Now again, I honestly can't recall when I saw OBITUARY last but I know the first time was way back in 1994. They stole the show then and they totally capped off the nite in top-tier fashion. Drummer, 1 half of the brothers Tardy, Donald has the most sickest groove and feel in Metal. His "rests" between notes suck out the oxygen in the air then punch you in the lungs when the drums come back to one (pun intended). While John and his one-of-a-kind vocals are simply gut-wretching, making them a unique example of Floridian Death Metal. Starting out their set with "Redneck Stomp" has become a usual staple to their show and 1 of 2 songs from their 2005 comeback album Frozen In Time. They then ripped into "Sentence Day" then "A Lesson Of Vengeance", both from their 2017 self-titled effort. Their set was all over the place from there. From Inked In Blood, The End Complete and of course the closer, the title track from Slowly We Rot. Aside from 3 songs from the monumental record, my favorite, Cause Of Death and their set consisted of 6 songs in support of their new album Dying Of Everything, a Best of 2023 for sure. The first was "The Wrong Time" with added help on percussion for that powerful 3-stroke intro with a back to back punch with "Barely Alive". Other songs from the new album were "Dying of Everything", "My Will To Live", "War" and "Weaponize The Hate". While this set consisted of lesser favored albums, in my opinion, it highlights the fact that OBITUARY are still on a high and writing great albums that need more attention. I was thoroughly enjoying this concert along with my new concert buddy Karen as we stood by the pit to get the full experience. This show was so great and the crowd was totally having a good time and despite my glasses getting wrecked, this show from beginning to end was totally fun.
Check out some more photos from the show!
All Photos By Joshua Gonzales/@chickengood.productions

Please log in to view RANTS