KK'S PRIEST Drop New Video For "Reap The Whirlwind"

By Larry Petro, News Monkey
Wednesday, August 16, 2023 @ 11:52 AM

| | | |
| --- | --- | --- |
| | | New Album, The Sinner Rides Again, Out September 29 |
KK'S PRIEST - the iconic heavy metal amalgamation of iconic JUDAS PRIEST alum and GRAMMY Award winning/nominated musicians K.K. Downing (guitar) and Tim "Ripper" Owens (vocals), along with A.J. Mills (guitar), Tony Newton (bass) and Sean Elg (drums) - recently announced the upcoming release of their savage sophomore offering, The Sinner Rides Again, out September 29, 2023 via Napalm Records. On the heels of their highly-lauded 2021 debut album, Sermons Of The Sinner - which debuted within the Top 20 on charts in the United States, the UK, Germany, Sweden, Finland and more - KK'S PRIEST return to sin again!

Following up on the release of their blistering first single "One More Shot At Glory", today, KK'S PRIEST have unleashed another new track, this time entitled "Reap The Whirlwind", alongside another new music video! The electric opus is a classic heavy metal power thrust of soaring leads, hair-raising harmonics and earworm vocal hooks.

K.K. Downing says about "Reap The Whirlwind":

"'If you sow the wind, you will reap the whirlwind' - this is a common phrase that has been familiar with me from a very young age. Obviously it's very meaningful - it's a warning that if you mistreat people, or really whatever you do in life, you need to be very careful, because whatever sufferance you inflict on anyone, it could come back to haunt you, and your suffering could be even more severe. Everyone knowingly or unknowingly has made the mistake of thinking they can get away with small misdemeanors to suit their selfish pursuits, but if justice is to be served, you will reap exactly what you sow. That is the message of this song."

Watch the music video for "Reap The Whirlwind" on KNAC.COM HERE.

With The Sinner Rides Again, KK'S PRIEST double down on the ripping melodic force of their debut, Sermons Of The Sinner - which Metal Hammer UK dubbed "hugely enjoyable" and Metal Injection cited as boasting "catchy hooks and plenty of guitar wizardry". The Sinner Rides Again wields nine tracks of pure hellfire, produced and written by Downing and mixed/mastered by Jacob Hansen.

After stepping out of the JUDAS PRIEST spotlight, the return of K.K. Downing was uncertain. Nearly ten years after its onset, the genre-defining guitar icon returned from his hiatus with proof that he was nowhere ready to cease writing classic metal songs or to put away his famous Flying V guitars - taking part in acclaimed international comeback performances (including with his former JUDAS PRIEST bandmates when they were inducted into the Rock & Roll Hall of Fame in November 2022) that would act as harbingers of the formation of KK'S PRIEST.

Downing was recently quoted saying, "We've lost a lot of great people - Dio, Lemmy, for example - but this amazing and unique style of music must be preserved for as long as possible and I feel it within me to continue to play my role, as I always have, and to defend this metal genre, which we all know and love." The Sinner Rides Again is a testament to this call for the classics while speeding full force into the future, delivered by some of heavy metal's most essential performers.

Pre-Order The Sinner Rides Again HERE: https://lnk.to/KKsPriest-TheSinnerRidesAgain/napalmrecords

The immense and intricate art for The Sinner Rides Again was created by talented artist Andy Pilkington.

The Sinner Rides Again track listing:
"Sons Of The Sentinel"
"Strike Of The Viper"
"Reap The Whirlwind"
"One More Shot At Glory"
"Hymn 66"
"The Sinner Rides Again"
"Keeper Of The Graves"
"Pledge Your Souls"
"Wash Away Your Sins"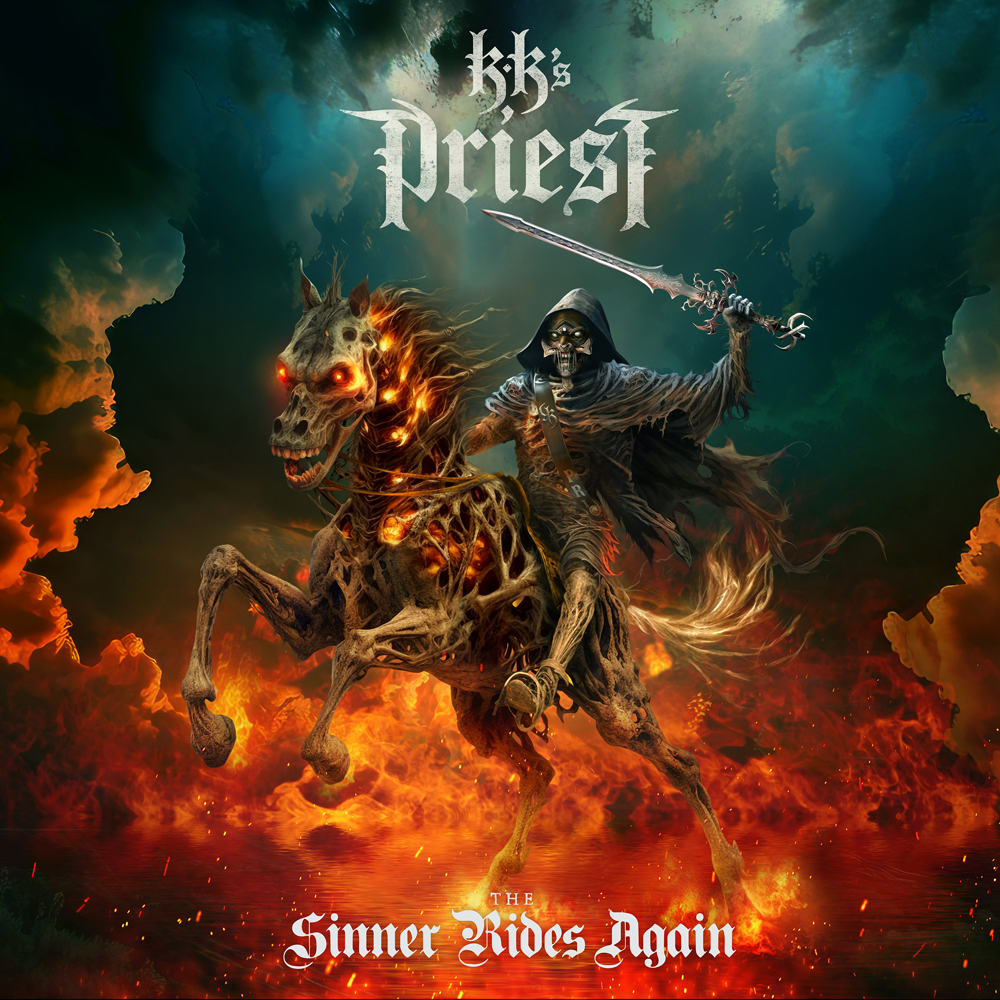 The Sinner Rides Again will be available in the following formats:
Digital Album
1CD Digipak Edition
1LP Gatefold in Black
Wooden Box Edition (incl. Digipak, Flag, Logo Wristband, Artprint, Patch) - Napalm Mail Order only, limited to 500
1LP Gatefold in Marbled Orange and Black - Napalm International (excl. North America) Mail Order only, limited to 300
1LP Gatefold in Transparent Orange - Napalm North American Mail Order only, limited to 300
1LP Gatefold in Orange, Blue and Black Inkspot - Napalm Mail Order only, limited to 500
Cassette Tape Edition in Red with White Print - Napalm Mail Order only, limited to 200
KK'S PRIEST live one-offs:
December 2, 2023 - Mexico City, MX @ Life After Death Horror Fest
March 2-7, 2024 - Monsters of Rock Cruise
KK'S PRIEST w/ Paul Di'Anno & BURNING WITCHES across the UK in October:
October 7, 2023 - Birmingham @ O2 Institute
October 8, 2023 - Glasgow @ SWG3
October 10, 2023 - Nottingham @ Rock City
October 11, 2023 - Manchester @ O2 Ritz
October 12, 2023 - London @ O2 Shepherd's Bush Empire