KK'S PRIEST Unleash "Strike Of The Viper" Video

By Larry Petro, News Monkey
Thursday, August 31, 2023 @ 12:45 AM

| | | |
| --- | --- | --- |
| | | New Album, The Sinner Rides Again, Out September 29 |
Photo Credit: Mind Art Visual
KK'S PRIEST - the iconic heavy metal group of iconic JUDAS PRIEST alum and GRAMMY Award winning/nominated musicians K.K. Downing (guitar) and Tim "Ripper" Owens (vocals), along with A.J. Mills (guitar), Tony Newton (bass) and Sean Elg (drums) - will proudly reveal their new sophomore offering, The Sinner Rides Again, on September 29, 2023 via Napalm Records!
Following up on the release of their blistering newest singles "One More Shot At Glory" and "Reap The Whirlwind", KK'S PRIEST have just unveiled a third new track - the unrelenting "Strike Of The Viper". The undeniable barnburner proves itself as one of the album's most unforgettable tracks - featuring a hooky chorus, dynamic rhythms and of course, a searing solo!
K.K. Downing says about "Strike Of The Viper":
"Beware - "Strike Of The Viper" is now here... These demons can sting and bite their way into your brain, what world are they from? I would very much like to see this one send all mosh pits spinning into a blur as KK'S PRIEST deliver up some fast and furious metal. Strike after Strike - just like the viper."
Watch the music video for "Strike Of The Viper" on KNAC.COM HERE
On the heels of their highly-lauded 2021 debut album, Sermons Of The Sinner - which debuted within the Top 20 on charts in the United States, the UK, Germany, Sweden, Finland and more - KK'S PRIEST return to sin again! With The Sinner Rides Again, KK'S PRIEST double down on the ripping melodic force of their debut, Sermons Of The Sinner - which Metal Hammer UK dubbed "hugely enjoyable" and Metal Injection cited as boasting "catchy hooks and plenty of guitar wizardry". The Sinner Rides Again wields nine tracks of pure hellfire, produced and written by Downing and mixed/mastered by Jacob Hansen.
After stepping out of the JUDAS PRIEST spotlight, the return of K.K. Downing was uncertain. Nearly ten years after its onset, the genre-defining guitar icon returned from his hiatus with proof that he was nowhere ready to cease writing classic metal songs or to put away his famous Flying V guitars - taking part in acclaimed international comeback performances (including with his former JUDAS PRIEST bandmates when they were inducted into the Rock & Roll Hall of Fame in November 2022) that would act as harbingers of the formation of KK'S PRIEST.
Downing was recently quoted saying, "We've lost a lot of great people - Dio, Lemmy, for example - but this amazing and unique style of music must be preserved for as long as possible and I feel it within me to continue to play my role, as I always have, and to defend this metal genre, which we all know and love." The Sinner Rides Again is a testament to this call for the classics while speeding full force into the future, delivered by some of heavy metal's most essential performers.
The immense and intricate art for The Sinner Rides Again was created by talented artist Andy Pilkington.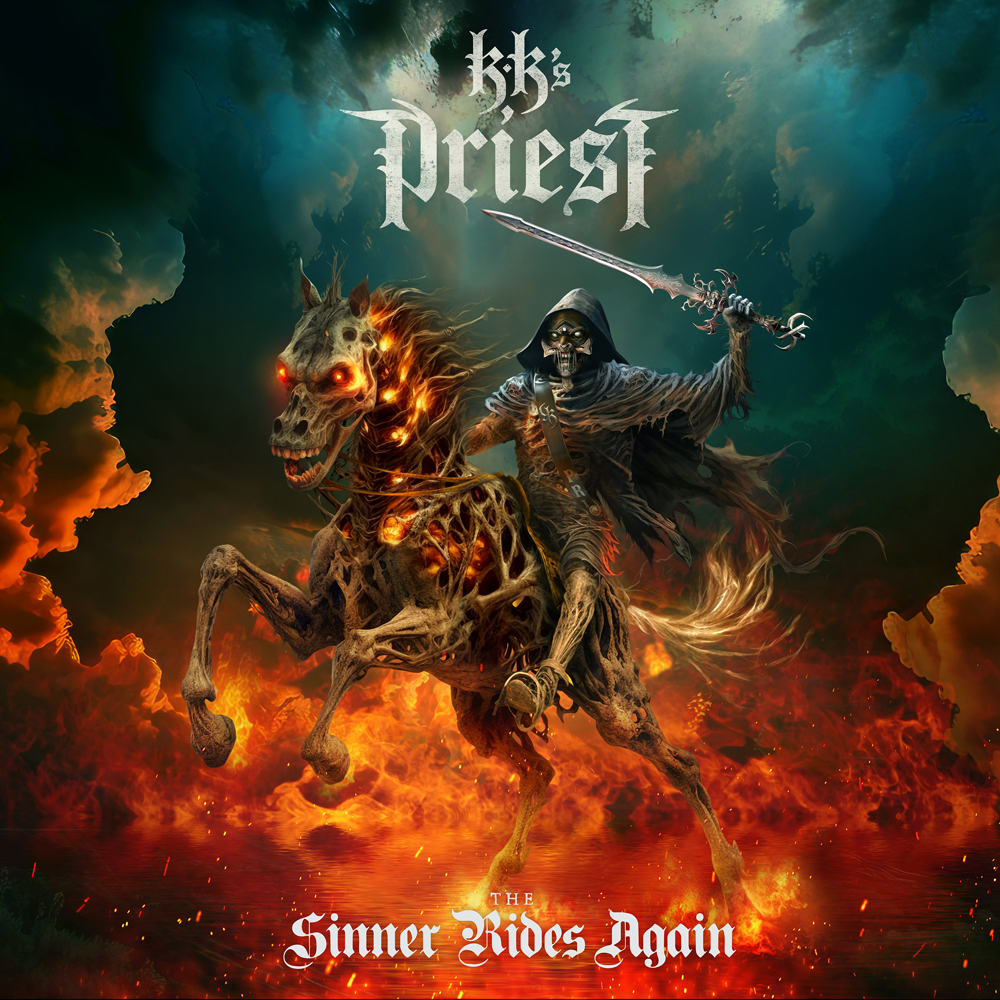 The Sinner Rides Again track listing:
"Sons Of The Sentinel"
"Strike Of The Viper"
"Reap The Whirlwind"
"One More Shot At Glory"
"Hymn 66"
"The Sinner Rides Again"
"Keeper Of The Graves"
"Pledge Your Souls"
"Wash Away Your Sins"
The Sinner Rides Again will be available in the following formats:
Digital Album
1CD Digipak Edition
1LP Gatefold in Black
Wooden Box Edition (incl. Digipak, Flag, Logo Wristband, Artprint, Patch) - Napalm Mail Order only, limited to 500
1LP Gatefold in Marbled Orange and Black - Napalm International (excl. North America) Mail Order only, limited to 300
1LP Gatefold in Transparent Orange - Napalm North American Mail Order only, limited to 300
1LP Gatefold in Orange, Blue and Black Inkspot - Napalm Mail Order only, limited to 500
Cassette Tape Edition in Red with White Print - Napalm Mail Order only, limited to 200