BEAST IN BLACK, DANCE WITH THE DEAD In Houston, TX With Photos!

By Larry Petro, News Monkey
Wednesday, October 11, 2023 @ 10:15 AM

| | | |
| --- | --- | --- |
| | | Finnish Power Metallers Make A Dark Connection With Bayou City At Whie Oak Music Hall October 8 |
All Photos By Larry Petro/Petrofyed Photography
As we enter October here in Texas the weather is finally starting to cool down and the concert season seems to be heating up definitely making for a literal Rocktober. There are a ton of shows coming through town and for this particular photographer and reviewer my own schedule of shows included 4 within a 6 day period beginning with the STATIC-X, SEVENDUST show last Friday. Show #2 found me capturing an elusive Beast, one that had not yet been sighted in Houston, Texas before, that being Finnish power metallers BEAST IN BLACK. And even though there was a competing show at the outdoor amphitheater north of town (SHINEDOWN, PAPA ROACH, SPIRITBOX), a couple hundred of the smartest fans chose this show instead.
Formed a mere 8 years ago when guitarist and songwriter Anton Kabanen departed his previous band, BATTLE BEAST, the band has quickly made a solid name for themselves, releasing three albums since their formation, Berserker (2017), From Hell With Love (2019) and Dark Connection (2021). And although the band had toured into Texas before in 2022 and were supposed to be the direct support for HAMMERFALL's trek through the U.S. in 2020 (we all know what happened that year), the band had yet to make it to Houston until now and boy did they make up for lost time!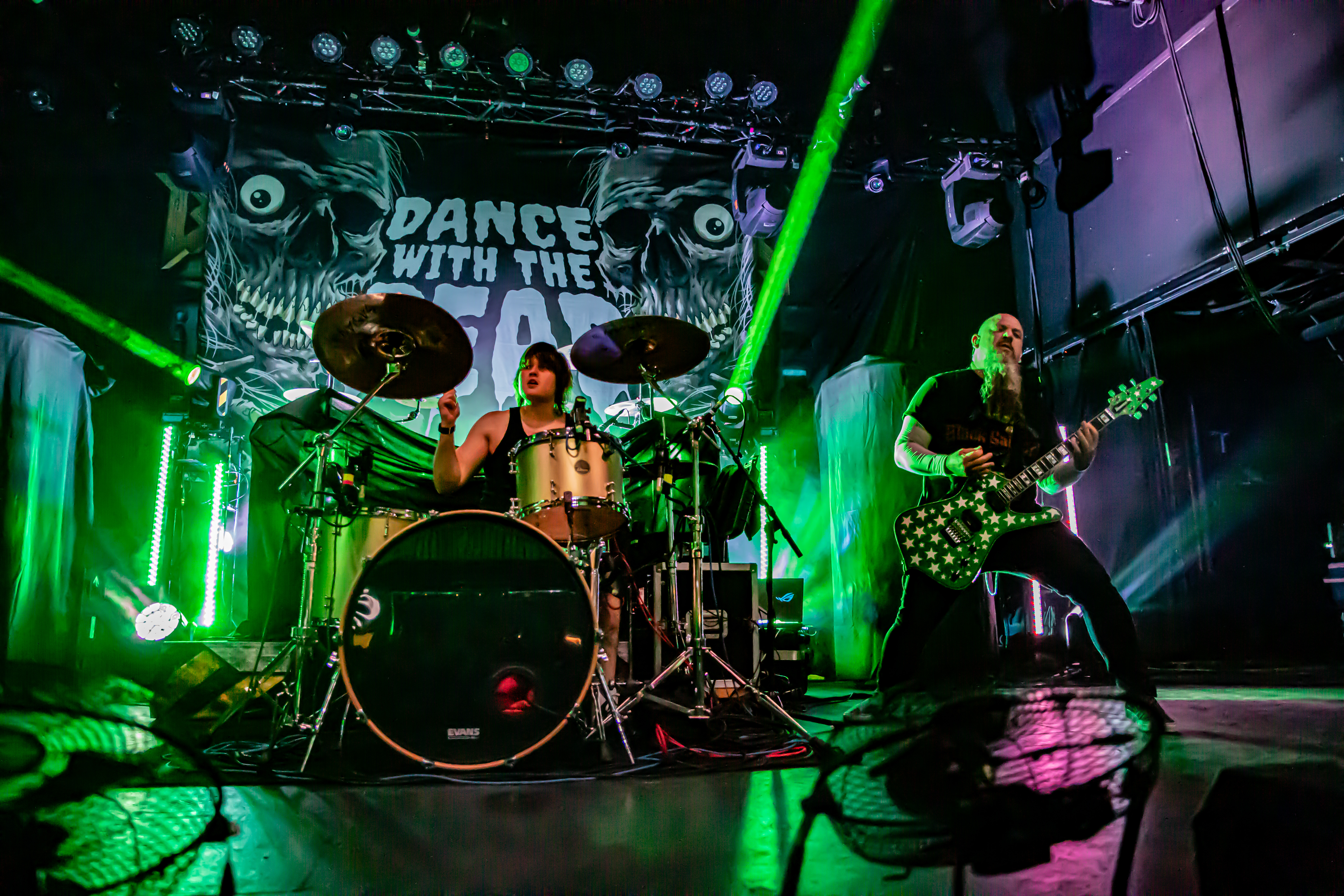 The opening act for this tour was DANCE WITH THE DEAD, another group I had not yet heard of and was a tad surprised by that given the fact that they had been around for about the last decade or so. Of course, that may be because they're described as 'synth-pop' or 'dark synthwave'. Whatever you call them, DANCE WITH THE DEAD is technically a duo of Justin Pointer (guitar and keyboards) and Tony Kim (guitar) but for the tour they brought along a drummer John Terry. The band's performance was completely instrumental with no vocals whatsoever but you know what, it worked. IT was almost as if I was watching a pop synthwave Joe Satriani show, albeit without the technical prowess that Satriani brings. But it was a great show and it didn't take long before I looked around the venue and saw every head bobbing in unison to the music being played. The band played a full 45 minutes as the opener and though I was not familiar with any of their songs it was impressive nonetheless, the second time in as many shows that I was impressed with an opener I had not yet heard of.
Setlist (From Setlist.fm):
"Go!"
"Sledge"
"Scar"
"Firebird"
"Andromeda"
"The Man Who Made a Monster"
"Riot"
"Into the Shadows"
"Hex"
"A New Fear"
"The Dawn"
"Become Wrath"
"Wyrm of Doom"
"Get Out"
BEAST IN BLACK came next and this group showed some of the more established, veteran acts how it's done! While most heavyweight acts play around a 15 song, hour and fifteen minute set what we got from BEAST IN BLACK was a whopping 19 song, hour and a half set that, save for the song "Oceandeep", was a solid sonic assault of epic proportions. Led by he of the iron lungs, vocalist Yannis Papadopoulos (try saying that 3 times fast), the group cranked things up to 11 right from the start with the lead off track to the latest album, Dark Connection, in "Blade Runner" and then straight into "Eternal Fire" and "Die By The Blade". The setlist was almost a perfect split of songs from their 3 albums with 6 from two of them and 7 from the other. We got all the hits from BEAST IN BLACK, "Unlimited Sin", "Sweet True Lies", "To The Last Drop Of Blood", "Born Again" and "Blind And Frozen" all before the 3-song encore of "Cry Out For A Hero", "One Night In Tokyo" and "End Of The World". The Tour Manager Sam Chilli even joined the band onstage toting a keytar during the performance of "Crazy, Mad Insane".

The band itself, guitarists Anton Kabanen, and Kasperi Heikkinen, bassist Mate Molnar and drummer Atte Palokangas (the only non-original member though he's been in the band since 2018) along with Papadopoulos were having more fun than any band I've seen in recent memory, so much so that it could be considered criminal in some states (not really but you get the picture). There was so much energy between the guys that you would have never known that they were just a few shows away from the end of the tour, they were as fresh as Day 1. There were plenty of choreographed movements between them and they were so engaging to me as the only photographer that numerous times they had me in stitches laughing from the faces they were making, especially Heikkinen, Papadopoulos and Molnar who actually came over to me at show's end to toss me a pick.
While there may be a shit ton of tours going on this year from megastars to small up-and-coming groups, BEAST IN BLACK put on hands down one of the best shows of the year on this tour and in this town! There's only a couple of shows left (as long as the vocalist's sickness departs) so check 'em out if you can!
Remaining shows:
Oct 11 - Nashville, TN - Exit/In
Oct 13 - West Palm Beach, FL - Respectable Street
Oct 14 - Tampa, FL - The Orpheum
Oct 15 - Winter Park, FL - The Conduit
Setlist:
"Blade Runner"
"Eternal Fire"
"Die By The Blade"
"Revengeance Machine"
"Unlimited Sin"
"True Believer"
"Moonlight Rendezvous"
"Crazy, Mad, Insane"
"Sweet True Lies"
"To The Last Drop of Blood"
"Oceandeep"
"Dark New World"
"Beast in Black"
"Hardcore"
"Born Again"
"Blind And Frozen"
Encore:
"Cry Out For a Hero"
"One Night In Tokyo"
"End of The World"
Check out some more photos from the show!
All Photos By Larry Petro/Petrofyed Photography