SVALBARD The Weight Of The Mask

By Peter Atkinson, Contributor
Thursday, October 12, 2023 @ 9:30 AM

| | | |
| --- | --- | --- |
| | | |
SVALBARD
The Weight Of The Mask
Nuclear Blast Records




The Norwegian archipelago of Svalbard in the high Arctic, one of the world's northernmost inhabited areas, is a portrait in contrasts. The northern lights and polar night of winter and the midnight sun of summer. Adorable puffins and potentially murderous polar bears. A largely inhospitable tundra where only the heartiest flora will grow and the Global Seed Vault that may someday be the saving grace of the world's food supply.

You could say the same - the contrasts, that is, not the puffins and stuff - about the Bristol, U.K.-born quartet that shares its name. SVALBARD, the band, plays hardcore/metal fury and bludgeon against a shrill wash of blackened trems, "post" expressionism and occasional emo/shoegazey dreaminess. It's a widely varied sound that brings to mind HELMET, AT THE GATES, DEAFHEAVEN, ASTRONOID, BOTCH and even - in the keening guitar motifs - BIG COUNTRY.

Amid the caterwaul and clangor of SVALBARD's music are some of the most unflinching, unsparingly grim yet vulnerable anddeeply personal lyrics you're apt to hear. "Faking It" opens the band's fourth album The Weight Of The Mask - whose title is meant to be taken literally - on a particularly gut-wrenching note, with guitarist/frontwoman Serena Cherry screaming "I don't feel joy / I just fake it /I don't feel hope / I just fake it /I don't feel love / I just fake it /I don't feel real /Nothing is sacred," as guitarist Liam Phelan hollers along.

Where the band's earlier albums blended scathing, world view political/social themes with painfully earnest self-reflection, Mask turns the focus almost exclusively inward with stark, first-hand examinations of mental health, anxiety, depression and love. Or at least as that relates to longing or loss - or both - as on the violin-tinged, clean-sung "How To Swim Down" that finds Cherry's love for another going unrequited, the heartbreak echoing in the "I will heal you" refrain as the song fades. There's lots more where that came from here.

Even the uplifting moments are tempered by melancholia, as on "Eternal Spirits", where the band salutes its idols - without naming names - who died too young: "Ash to ashes / Dust to fucking dust / You will always be alive in us." But thanks to its persistently emphatic, cathartic soundtrack, Mask - SVALBARD's debut with Nuclear Blast and first album with bassist Matt Francis - hardly comes off as dreary, self-pitying or mewling.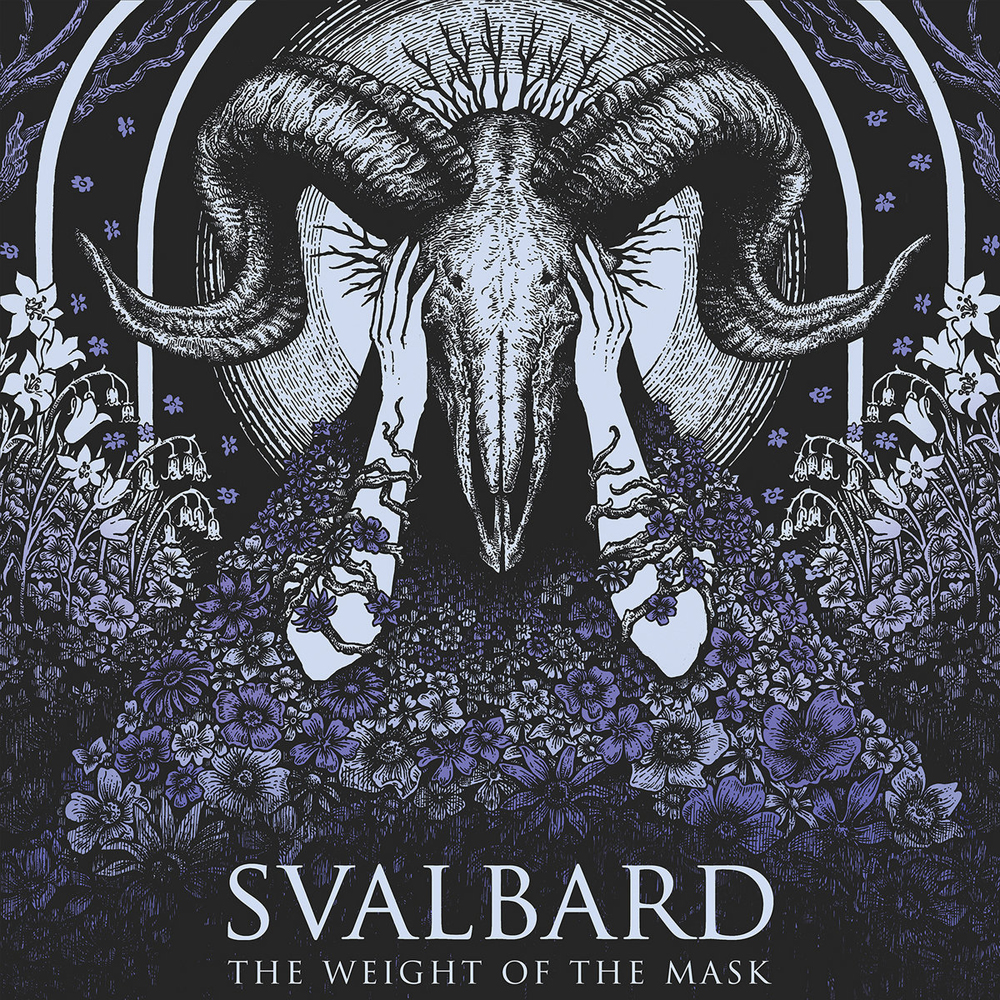 With "Faking It", "Eternal Spirits" and "Defiance", Mask opens with a trio of all-out ragers, punctuated in some cases by brief wispy cleans - which, in this context, sound a little outof, well, context. "Lights Out", "Be My Tomb" and album closer "To Wilt Beneath The Weight" are equally ferocious, driven by Mark Lilley's pounding drums and the din of Cherry and Phelan's guitar work matched by their attack dog dual vocals. The quieter moments here turn out to be just that - moments. There is less of the back-and-forth dynamics than there was on 2020's When I Die, Will I Get Better? as SVALBARD favors more of a blunt object delivery for its equally blunt subject matter.
"November" offers somber, breathy vocals - which sound more at home in this setting-and sparse guitars over its first half before launching toward its breakneck, shouty finale. The piercing, BIG COUNTRY-like Celtic air in the guitar lines is especially prominent here, though without the "bagpipiness". "Pillar In The Sand" takes much the same approach, but while the almost new agey calm of "How To Swim Down" gradually gives way to a more resounding back half, the velocity and tenacity are tempered for more of an emo than screamo finish.
But that's about all you're going to get in terms of subtlety on The Weight Of The Mask. The album is heavy in every sense of the word, and the emotional weight of Cherry's soul-baring, sometimes uncomfortably vivid lyrics make you feel like you're listening in on a therapy session. And despite the "All I can do is keep on fighting" spunk of "Defiance" - and the similarly "defiant" tone of the music overall - admissions like "I am too depressed to show you how depressed I really am" from "Lights Out" are a more common theme here and show the issues are far from resolved. So no happy endings to bring things full circle, at least not this time.
4.0 Out Of 5.0