ROCK THE LOCKS Festival In Umatilla, OR With Photos!

By Krishta Abruzzini, Pacific Northwest Writer
Sunday, October 15, 2023 @ 8:55 AM

| | | |
| --- | --- | --- |
| | | October 6 - 8 At Big River Golf Course |
All Photos By Krishta Photography
Build it, and they shall come.
I just spent 3-days at the inaugural ROCK THE LOCKS festival held in Umatilla, OR. For many reasons, this was hands down the best festival I've ever attended. The attention to so many details was unparalleled and certainly didn't go unnoticed by everyone there.
Phantizzy Productions, along with the city of Umatilla, OR have been working on this gathering for quite some time. They organized it with such passion, it's clearly the difference between doing it and getting it done well. The vision of this festival is to have the name, ROCK THE LOCKS branded as an annual gathering along with other big festivals that are well recognized. The next Coachella of Oregon perhaps?
The city has funded and has approved a 3-year contract for the annual event so far. Of course there were oppositions by some of the community to having a large music show in nearly everyone's backyard. Umatilla, OR, which is a very small, rural community (population: nearly 4900), there was the concern about drug use and the question of how many deaths might occur at such a large music gathering. By the festival's end however, there were no deaths and by comparison, had far less issues with any drug issues than their own county fair. Small communities tend to have a fear of change, but the boost to the economy alone with such a successful outcome should leave most in this area feeling safe if not excited for the annual event.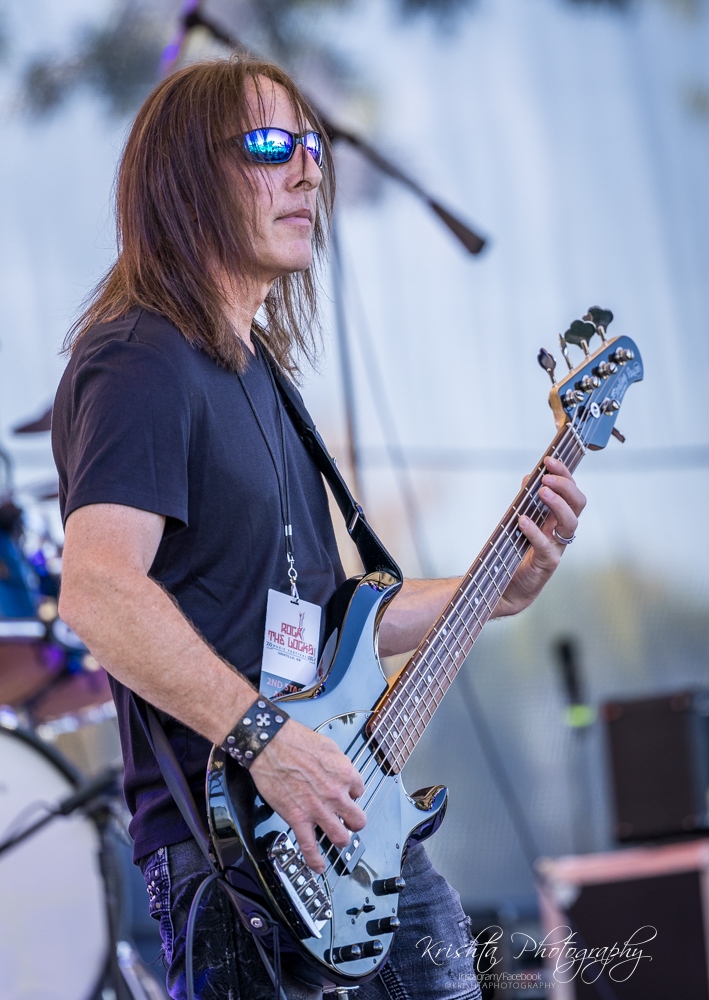 There was a heavy police presence along with several security officers providing a very safe environment for all. So many people from miles around wanted to volunteer for this event. I was told by so many who have been to events promoted by the Tweedys that they would sign up for anything they put forth. Nearly everyone I talked to had a like opinion and felt they were always treated so well by them they'd happily offer their time. I saw at least 5 people asking at the main gate if there was any position open that day for volunteering.
The festival was set up on a beautifully manicured lawn (part of the Big River Golf course). It was perfectly laid out with two large stages, an area with food trucks, a covered area with picnic tables, as well as a few other covered areas to get out of the sun. There was a ping pong table, foosball tables and several other activities throughout the festival that added even more to this unique setup. The food trucks offered a wide variety of choices, from BBQ, Vietnamese, to Mexican cuisine. Shoutout to the bomb vegan mac & cheese egg rolls and the street tacos! Again, those small details made a huge difference, taking this event from average to extraordinary and fun.
VIP tickets could be bought, which gave access to a large, partly covered area with comfortable seating and front of stage access, with drinks (soft drinks, beer, wine) included in the ticket price. Truly a value and I would highly recommend purchasing this package for future shows. There are camping spots available and hotels are only a 10-minute drive from the venue, making it a convenient show to attend. I would love to see an added package perhaps of VIP meet & greets in the future.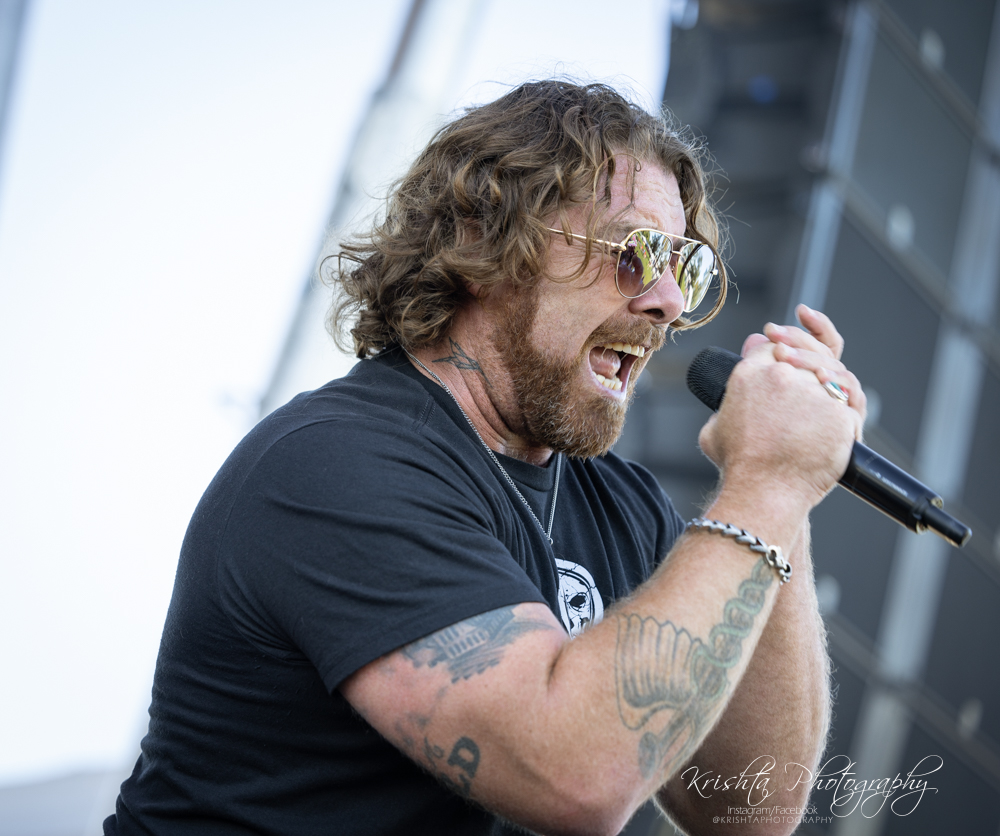 The musical acts were diverse, and provided genres for all to enjoy each day. In the planning, there was a suggestion that there be a country day, rock day, etc. Tammy Tweedy explained to me that would limit guests coming in potentially to only attending one day, and not the intended inclusivity of such a diverse festival for all to join each day. I personally loved the variations of genres, also separating this festival from any I've attended. I'm now a fan of a few new bands playing this festival that I might have not ever heard of or seen before, and I know quite a few that it had the same impact upon as well.
The lineup:
Day 1, Oct. 6th
From the Ashes
Wade Aylett
Dead Fervor
Royal Bliss
Bombshell Molly
Everclear
Milonga
Ozomatli
NOT.GREENDAY
Collective Soul
Highlights: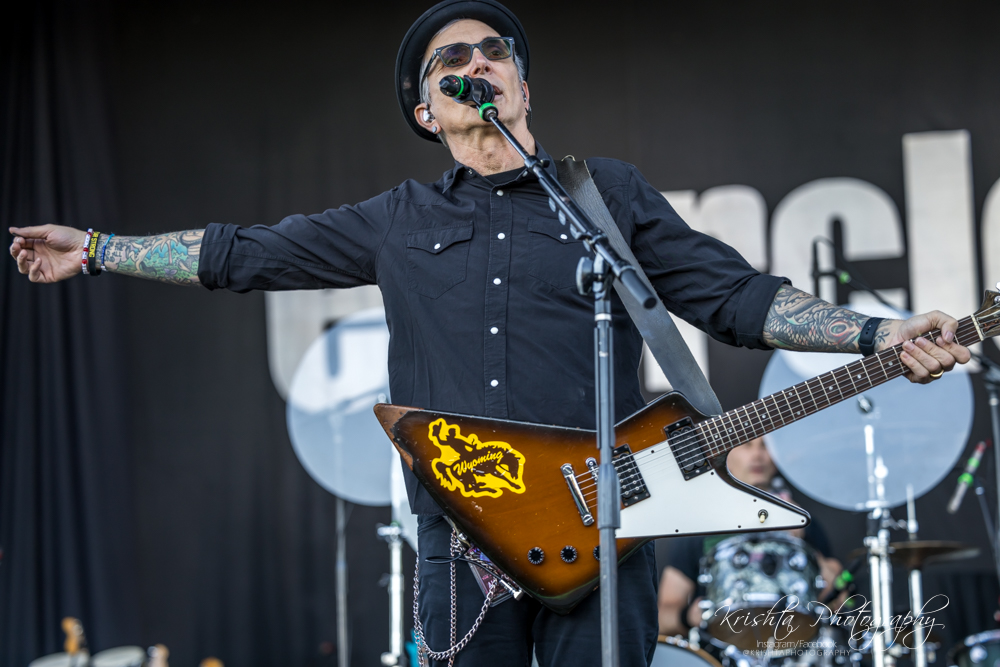 FROM THE ASHES, being dear friends, opened this day and gave their best hello and welcome with their set of rock tunes to warm up the attendees. They can now say that they are the first band to ever play ROCK THE LOCKS. Congratulations friends. Well deserved. Wade Aylett followed, bringing a country flair to the big stage. DEAD FERVOR on second stage played a heavy rock set. There was much excitement about the band ROYAL BLISS. Hailing from Salt Lake City (only one is a jack mormon and another sort of I'm told by the members), these boys brought the crowd to the mainstage playing their post-grunge, southern rock songs. It was fun to hang out with these guys during the festival. They were up front for most of the bands playing the festival showing their support and taking pictures with fans. BOMBSHELL MOLLY provided a metal set to the second stage. The crowd had grown considerably by this time, and the anticipation was evident while waiting for EVERCLEAR to take the main stage. Art Alexakis, Dave French and Freddy Herrera played all the familiar songs and the audience loved them. MILONGA followed. They're a heavily latino flavored, somewhat salsa band that had several people dancing at the second stage. Umatilla has a very large Hispanic culture, and it was nice to see this genre represented. The highlight, and hands down, one of my favorite bands of the entire festival was the band OZOMATLI. I had never heard of this band before and they are now in my top ten of all time performers. They're a mix of latin with a heavy mix of percussions, rap, and dare I say some mariachi in the mix. Each member plays several instruments and switches around during their set. It ended with them climbing off the stage with their instruments and getting into the middle of the large audience to finish a song with the crowd all in participation, dancing. They headed backstage in a New
Orleans Second Line fashion, leaving everyone with their jaws dropped to the ground reeling with joy. I certainly wouldn't want to be the band that had to follow their performance. NOT.GREENDAY did follow them however on the second stage, and they had a huge crowd gathered despite that stellar performance by OZOMATLI. The crowd loved hearing GREEN DAY songs, and the tribute band titles themselves, THE WORLD'S MOST DANGEROUS TRIBUTE TO THE BAND WE ARE NOT. Headlining the night was COLLECTIVE SOUL. Singer Ed Roland swaggered out on the stage with a funky hat that rivaled and resembled the quirkiness of fellow Georgia native Chris Robinson's (BLACK CROWES) style. He, along with Dean Roland (rhythm guitar), Will Turpin (bass), Johnny Rabb (drums) and Jesse Triplett (lead guitar) belted out fan favorites such as "Shine", "Where The River Flows" and "The World I Know". The crowd was happy. Day One was a huge success and everyone left with huge smiles on their faces, looking forward to two more days of this ridiculously epic gathering.
Day 2, Oct. 7th
Half Step Down
The Loyal Order
Sweet Rebel D
Rail
Bombshell Molly
Jack Russell's Great White
Nixon Rodeo
Hinder
Blistered Earth
ZZ Top
Highlights: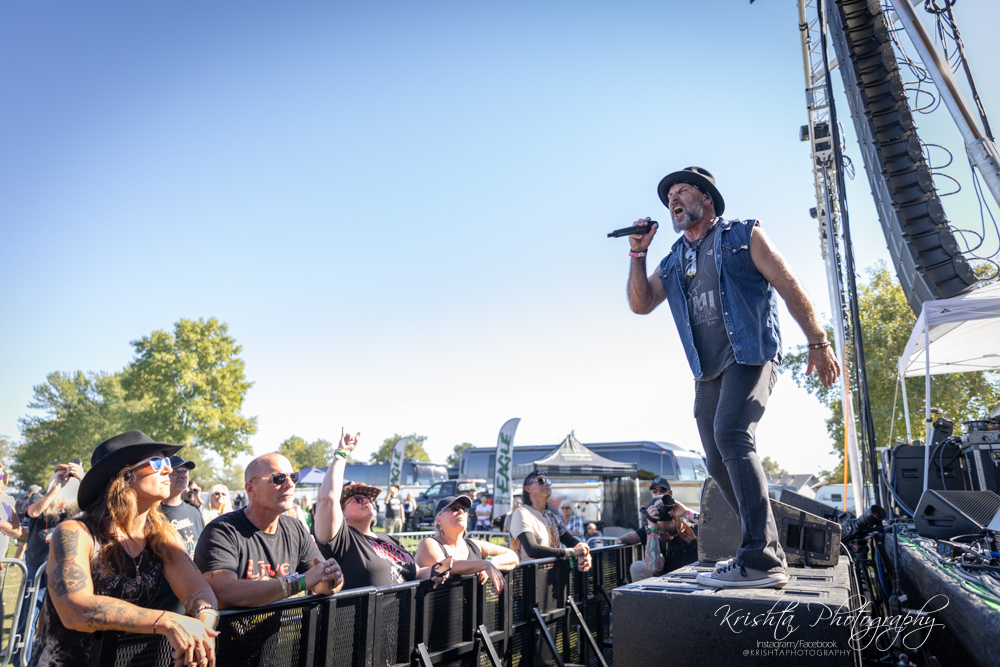 HALF STEP DOWN opened this day's show. They're a local cover band that plays alternative and rock music from the 90's. It was a cool opportunity for so many local acts to get to participate in this festival and the excitement and gratitude from all of them to be there was insurmountable. Speaking of excitement, the next band up was THE LOYAL ORDER. The members and crew are some of our closest friends that I consider family. I've watched this band progress from its inception and I couldn't be more proud of them all. I remember singer Jeff Buehner strumming an acoustic guitar, singing a couple of songs, being a lifelong badass bass player, unsure if he could comfortably step into being a front man. Obviously he can do both. He along with guitarist Brandon Cook got together and created this band, writing and recording the songs for what would become TLO. The band, Jeff Buehner (vocals), Brandon Cook (lead guitar), Patrick Young (bass), Tim Deq (rhythm guitar) and Kyle Baltus (drums-one of the heaviest hitting mofos I've ever seen and a pure joy to watch him play) round out this powerhouse lineup. Having these guys on the bill and being able to spend time with them during this festival, seeing them larger than life on that stage is a moment in my life I will always cherish. Sidenote, Billy Gibbons (ZZ Top) was sidestage watching their entire set. File that under things that don't suck. SWEET REBEL D was up next with a super fun rockabilly set. I love standup bass and these guys were fantastic. Next up was the much anticipated RAIL. This band achieved national fame having won MTV's Basement Tapes competition in 1983, and they toured with many bands, including VAN HALEN, HEART, TED NUGENT, BLUE OYSTER CULT, THREE DOG NIGHT, THE BEACH BOYS, NAZARETH and many others. Ronnie Montrose joined their band in 1985 and it was billed as RAIL Featuring Ronnie Montrose, or RONNIE AND RAIL. All four original members are still together. Terry James Young (lead vocals), Andy Baldwin (guitar), Rick Knotts (guitar) and Kelly Nobles (drums) came up on the stage and kicked everyone's ass. Terry's vocals were ridiculous and he hit every high note with razor precision leaving everyone in attendance looking around saying, "WTF?!" It was an absolute pleasure to see them play and we spent quite a bit of time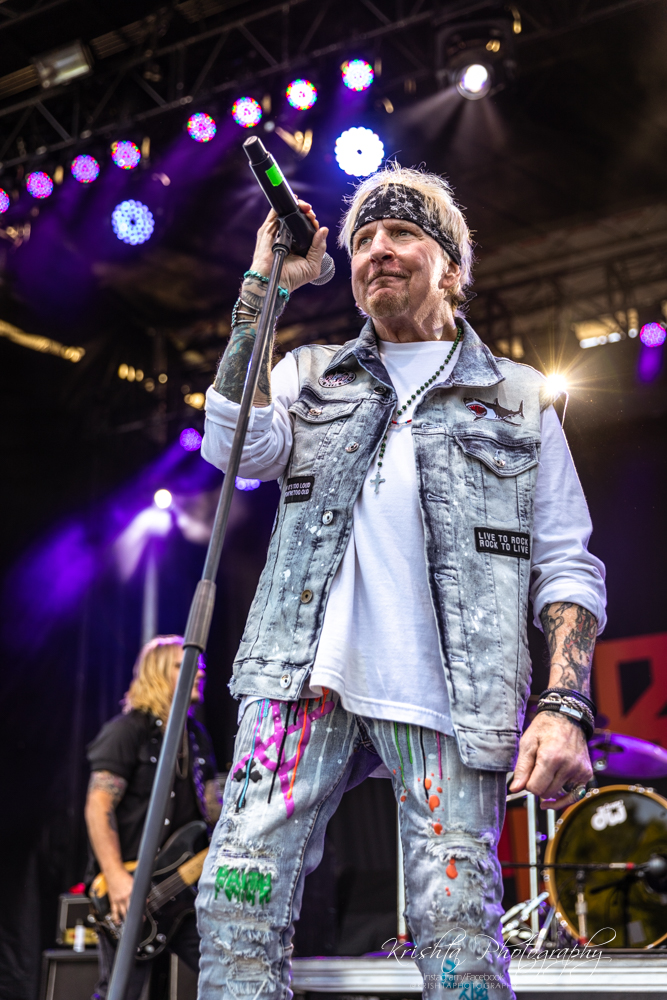 hanging out with these very kind guys. So many fun stories and a lot of laughter. Metal band, BOMBSHELL MOLLY followed on the second stage, giving them two days on this festival, which the crowd loved. Next up was originally supposed to be WINGER, that unfortunately canceled, but was replaced by JACK RUSSELL'S GREAT WHITE. Being very close friends with most of the original members of GREAT WHITE for many years, I just have to say I absolutely hate it when a rift between band members creates a divide. It's uncomfortable for all, especially the fans that most of the time feel like they have to choose sides or a team. This is one of those bands that this unfortunately happened with. Jack Russell has struggled with health issues for a long time. I understand both sides in this situation, and I'm empathetic to each. The last time (several years ago) I saw Jack's version play, I went away from it feeling really bad for him. This time however, albeit I was a bit worried watching him come out with a cane and obvious physical limitations, he aced the songs. His vocals were back in force as he nailed each of the songs with that amazing original voice that made GREAT WHITE. I'm really grateful he played this show and that I am now coming away from his set with a new view. Next up was NIXON RODEO. Somewhat of a power-punk band in the likes of BLINK 182, I LOVE the name of this band. Next to the big stage was post-grunge hard rock band HINDER, playing fan favorite songs such as "Lips of An Angel" with the audience singing along to each of their songs. BLISTERED EARTH was up next, and honestly, they are one of the most authentic sounding METALLICA tributes I've ever heard. Singer Jared Kiess shreds his guitar and nails James Hetfield's vocals to a tee. The headliner of the night was this little ol' band out of Texas. You might have heard of them...ZZ TOP! Are you even kidding me? I'm not sure if there is any one single band that exists EVER that exudes so much cool. This band has been around for 51-years. Billy Gibbons, Frank Beard and the band's longtime guitar tech, Elwood Francis who bittersweetly with grace has been filling in for Dusty Hill after his tragic passing in 2021, are just iconic pieces of americana and truly our national treasures. The band's choice to carry on the legacy and obvious choice of Elwood Francis filling in for Dusty, remains forever connected to that "Blues Shuffle in C" with Dusty's legacy. Francis, with his 17-string bass is a natural fit with this band. They were, of course, off the charts that night and not one person wasn't singing along to every song. I saw Billy Gibbons earlier in the day,
wandering around the festival in his pajama pants, and even with that, he exuded cool. If I did that, folks would look at me funny. I was happy to see that people weren't accosting him asking him for pictures, or autographs. He was just out enjoying this fantastic festival with a walkaround given the respect to do so freely. The night ended on a high for everyone with such a phenomenal event of music. The camaraderie and joy from the day still etched in everyone's mind that will last a lifetime for so many.
Day 3, Oct. 8th
Dallin Puzey
David Cook
Jagged Edge
Tonic
Blue Tattoo
Geoff Tate
Blue Tattoo
Night Ranger
Highlights:

Sunday. Our last day of the festival. I walked into the venue with the mellow singer/songwriter songs of DALLIN PUZEY playing. It was a perfect way to start a Sunday after such a massive show the previous day. David Cook was up first to the mainstage. Yes, the same David Cook that was Season Seven's winner on American Idol! His power-pop songs got the festival revved up and folks were ready to take on day 3. JAGGED EDGE out of Kennewick, WA played next. Bluesy, gravelly-voiced Anita Layman and gang gave their best metal covers of bands like DIO and JUDAS PRIEST. TONIC hit the big stage with their Alt-Rock fan favorite songs "If You Could Only See Me"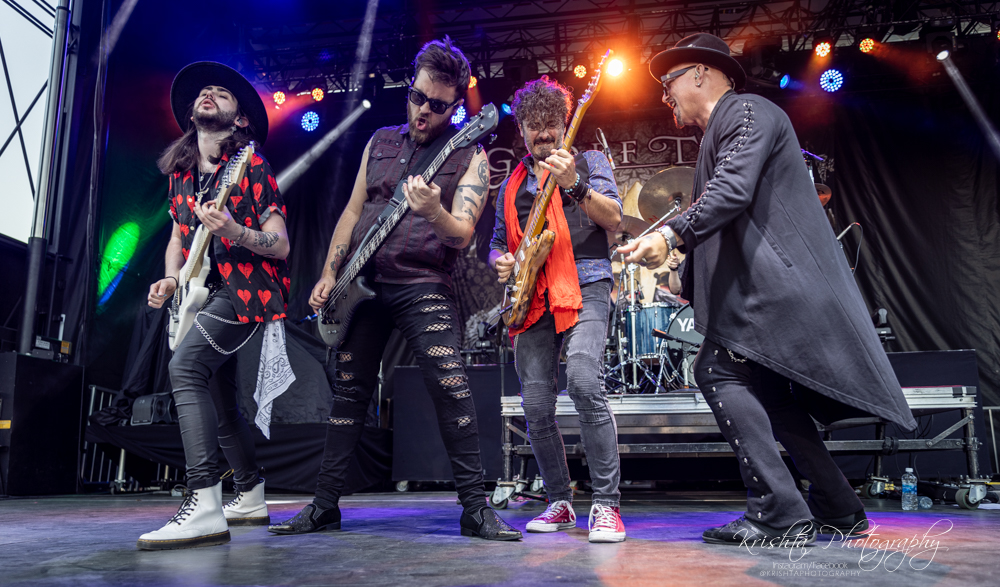 and "Open Up Your Eyes" flawlessly. BLUE TATTOO rounded off the evening for second stage events and ultimately saved the day. This cover band deems themselves as simple, but playing the rock songs that everybody knows, but ones that you won't hear most other classic rock bands trying to cover. From JOURNEY to BOSTON and all points between, their setlist is expansive. How did they save the day? Geoff Tate was up next on the mainstage. The fans roared as he came out. Unfortunately, his microphone did not. As the band played the song, "Can't You Hear It Calling", the sad answer was no. So a restart was necessary and BLUE TATTOO stepped up and played for half-an-hour more while the technical issues were worked out. I was so impressed by how this festival kept nearly perfect timing with so many bands. All weekend long. This was the only technical issue that was apparent the entire festival, a feat I know is difficult to keep with even a 3-day event. Quick thinking, the event managers switched around some times, and despite Geoff Tate going on a later time slot, the band still got to play their entire set and the rest of the evening was on time. Geoff and the band sounded great. His vocals are top tier as always and so many QUEENSRYCHE/Tate fans were beyond themselves listening to songs from Empire and Operation Mindcrime. This is another one of the bands that have made an uncomfortable public split, but the consensus that night I heard most was how Geoff is clearly the voice of QUEENSRYCHE and how loved he is by the fans. NIGHT RANGER was the headliner and closer to the 3-day event. Jack Blades (original member, lead vocals, bass, rhythm and acoustic guitars), Kelly Keagy (original member, drums, percussion, lead and backing vocals), Brad Gillis (original member lead and rhythm guitars, backing vocals), Keri Kelli (lead and rhythm guitars, backing vocals) and Eric Levy (keyboards, synthesizers, piano,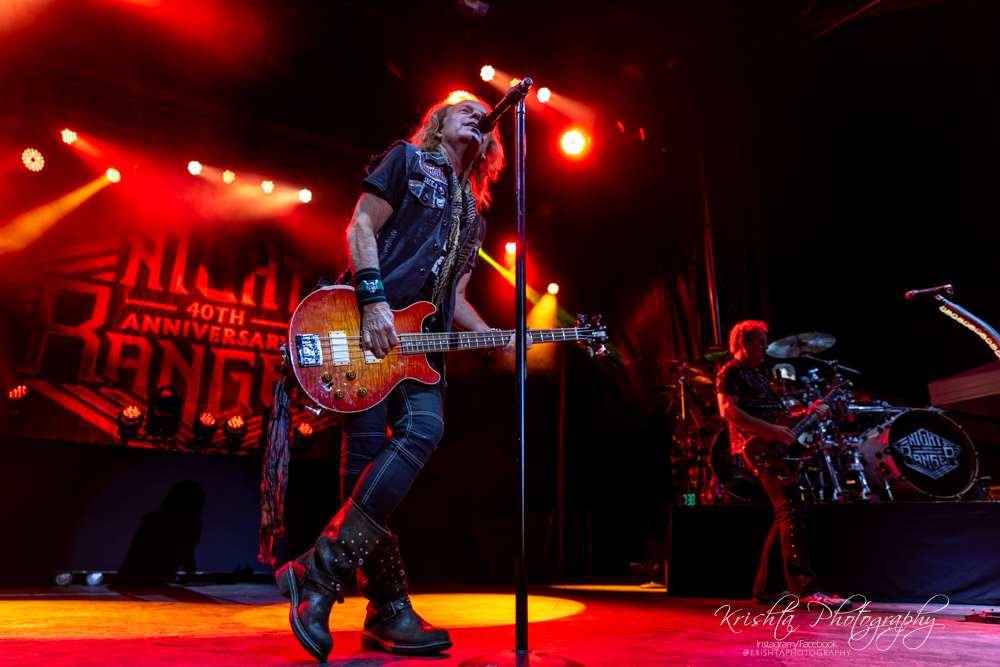 backing vocals) make up the current lineup. This band has always put on a great show. The energy is still there, Jack is on fire and every song played is still a slice of fond memories for the fans. I've known Brad for many years, and honestly, he hasn't changed a bit. I question whether he has a Dorian Grey in his basement. All the original members looked and sounded fantastic and it was a great way to cap off this festival.
Thank you so much Erik and Tammy Tweedy, and much gratitude to the City of Umatilla, OR. This was honestly the best festival I've ever attended (I've been to MANY) and I hope for an abundance of success for ROCK THE LOCKS' future! There was a tiny rumor circulating that WHEEZER may be on the bill next year? Were there ANY negatives from the weekend? Well, the only thing missing for me personally, and perhaps I could put in a request in for next year is to have a cabana boy following me around fanning me whilst I take photos? Not too much to ask, right?
WEBSITE/INTERNET LINKS in order of appearance:
Rock the Locks: https://rockthelocks.org/
From The Ashes: www.facebook.com/fromtheashesnorthwest
Wade Aylett: https://www.facebook.com/AylettBand
Dead Fervor: https://www.deadfervor.com/
Royal Bliss: http://www.royalbliss.com/
Bombshell Molly: https://www.bombshellmolly.com/
Everclear: https://www.everclearmusic.com/
Ozomatli: https://ozomatli.com/
NOT.GREENDAY: https://www.facebook.com/not.greenday
Collective Soul: https://collectivesoul.com/
Half Step Down: https://www.facebook.com/tricitiesbluesrock
The Loyal Order: https://www.theloyalorder.com/
Sweet Rebel D: https://www.facebook.com/SweetRebelD
Rail: https://www.facebook.com/RailTheBand
Bombshell Molly: https://www.bombshellmolly.com/
Jack Russell's Great White: https://www.jackrussellsgreatwhiteband.com/
The Nixon Rodeo: https://www.nixonrodeo.com/
Hinder: https://www.hindermusic.com/
Blistered Earth: http://www.blisteredearthtribute.com/
ZZ Top: https://www.zztop.com/
Dallin Puzey: https://dallinpuzey.bandcamp.com/
David Cook: https://www.davidcookofficial.com/
Jagged Edge: https://www.facebook.com/TheOfficialJE
Tonic: https://www.toniconline.com/
Blue Tattoo: https://www.bluetattoo.live/
Geoff Tate: https://www.geofftate.com/
Night Ranger: https://nightranger.com/
Check out some more photos from the festival!
All Photos By Krishta Photography