AVENGED SEVENFOLD, FALLING IN REVERSE, KIM DRACULA In The Woodlands, TX With Photos!

By Larry Petro, News Monkey
Wednesday, October 18, 2023 @ 9:07 AM

| | | |
| --- | --- | --- |
| | | Life Is But A Dream For Fans At The Woodlands Pavilion On October 12th |
All Photos By Larry Petro/Petrofyed Photography
Armed with their first full length album since 2016's The Stage, veteran hard rockers AVENGED SEVENFOLD has been out on the road since early July supporting the record with the first leg having ALEXISONFIRE and KIM DRACULA as support and the second leg having FALLING IN REVERSE and KIM DRACULA once again. And while we were treated to outstanding performances to wrap up a string of 3 shows in 6 days for me and as the band put the wraps on this leg of the tour with 3 shows in Texas there were still some moments of head scratching and bewilderment to be had but more On that later.
Opening this leg of the tour, as with the last was KIM DRACULA which, despite the name, contains no female members. The name instead refers to Samuel Wellings, and indie/alternative artist hailing from Australia, and for the third time in as many shows was a band I had not ever heard of as an opener. Samuel and his crew gave a very spirited performance and even though I was completely unfamiliar with them or their music and it really didn't impress me all that much, it did seem that at least some of the crowd enjoyed their set and that's all that matters.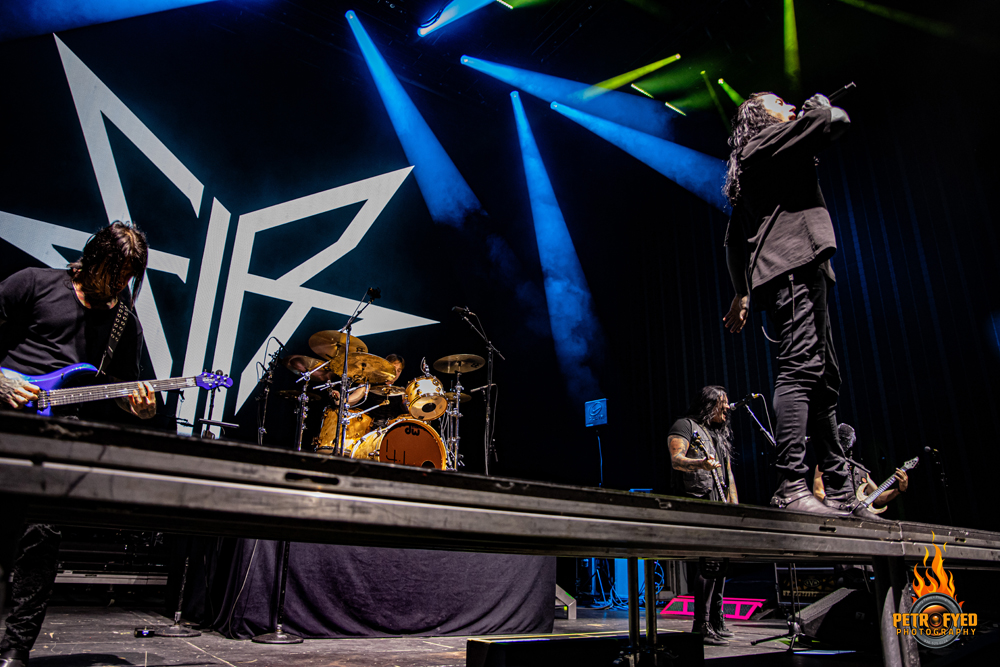 Following that up was post-hardcore, metalcore rockers FALLING IN REVERSE led by charismatic and ever controversial frontman Ronnie Radke. Formed after Radke departed his previous band ESCAPE THE FATE, FALLING IN REVERSE has been chugging along for the past 15 years or so and they delivered a fantastic set before a nearly packed house at the Woodlands Pavilion. They were a perfect opener for this leg of the tour and delivered in spades. Opening with the fantastic title track to last year's album, "Zombified", they performed a 10 song set high on energy with tracks "I'm Not A Vampire", "The Drug In Me Is You" and even the non-subtle "Fuck You And All Your Friends" which had everyone in the crowd singing along to the chorus, middle fingers raised in the air. The band finished things up with a one-two punch of "Voices In My Head" and the smash single "Popular Monster", a great way to end their portion of the show. I don't care what anyone says, Ronnie Radke IS FALLING IN REVERSE! Change my mind.
Setlist:
"Zombified"
"I'm Not A Vampire"
"Losing My Mind"
"Fuck You And All Your Friends"
"The Drug In Me Is You"
"All Star" (SMASH MOUTH cover)
"Just Like You"
"Watch The World Burn"
"Voices In My Head"
"Popular Monster"
Now for AVENGED SEVENFOLD. This band is no stranger to bold moves and the release of their latest album, Life Is But A Dream..., was certainly the boldest of moves from the band, departing somewhat from their classic metal style sound to something a bit more.....different. The album's music styles are all over the place and has certainly created some division amongst their fans with some hating it, some loving it and still others thinking it's a 50/50 split of good and bad. Hell, even the band had stated in interviews that it was okay to hate the record. Ok then.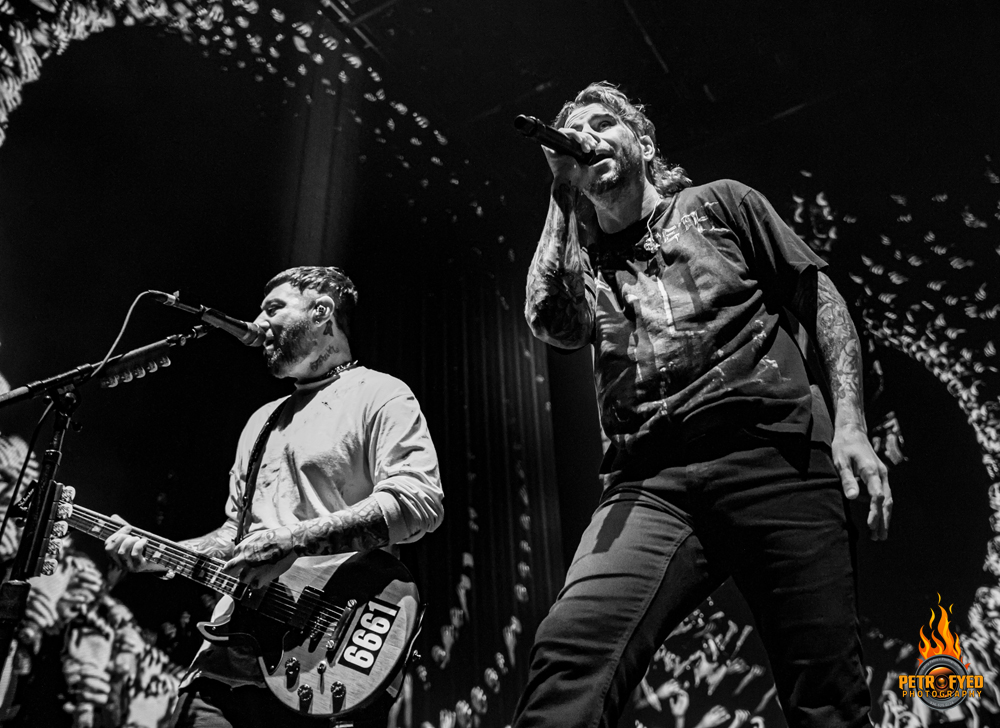 With any established act the most material that I have ever seen performed on a tour supporting a new album was maybe 3 or 4 tracks. AVENGED SEVENFOLD went bold once again with the decision to perform a whopping SEVEN songs from LIBAD, which would no doubt add fuel to the fire for the fan base with an equal amount loving and hating this decision. The stage layout was a simple affair save for the two sides and rear being adorned with large (and I do mean large), top-to-bottom and side-to-side LED panels that would display a variety of different images throughut the evening. Opening with 2 from the new album, "Game Over", which saw vocalist M. Shadows beginning the show seated in a low-sitting chair center stage while wearing a black ski mask, which he would remove for the following "Mattel" before taking us back for some classic A7X material in "Afterlife" and the awesome sing-along, "Hail To The King". The new material was interspersed nicely during the main part of the show, mixing new with older tunes "The Stage", "Nightmare", "Bat Country" and "Unholy Confessions" (complete with a nice mosh pit) before ending the pre-encore set with "A Little Piece Of Heaven". Early on in the set Shadows addressed the crowd saying that we would perform as long as he could, a reference to an illness that caused the band to postpone/cancel one of its dates just a few days prior to our show. Had he not made mention of it I don't think anyone in the crowd would have been the wiser as he performed flawlessly throughout.
But the boldest move was yet to come. The encore portion of any rock show I've had the pleasure of attending is a time for the band to bring out and perform a couple of their biggest hits and while I have seen a band or two actually play a new song during said encores and with a few more notables numbers like "Shepherd Of Fire" and "This Means War" having not yet been played, AVENGED SEVENFOLD chose to devote their entire encore to 3 songs from the new album,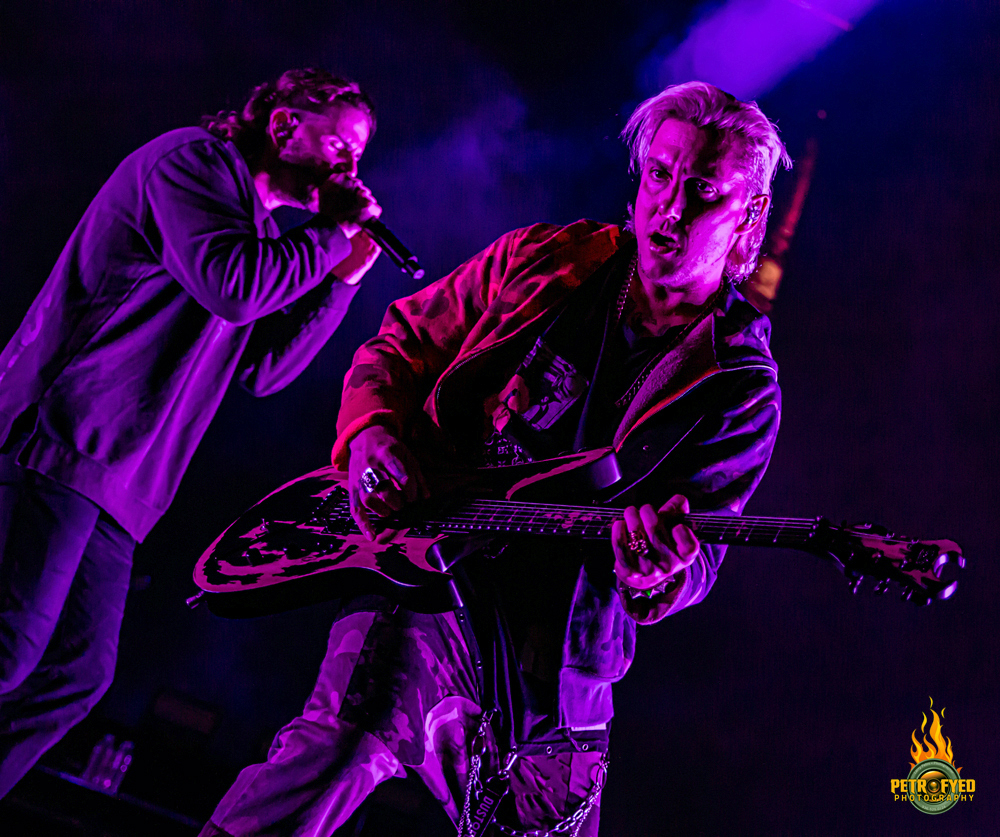 "G", "(O)rdinary" and "(D)eath)" (which spell GOD if you weren't paying attention), a move that was most puzzling to me as instead of bringing the concert to a crescendo and draining the fans of any energy they had left, the whole ending felt anti-climactic. That said, in the times I've seen A7X live I can say that they have never mailed it in, whether they're at the beginning, middle or ending of a tour, they always give 110% for the fans and this night was no exception. Huge props to Shadows for digging down and giving just a little bit more to ensure we got the best performance possible. While lesser artists may have given less or even cancelled/postponed a show he stuck it out like a trooper and that fact was not lost on the crowd.
Setlist:
"Game Over"
"Mattel"
"Afterlife"
"Hail To The King"
"We Love You"
"Buried Alive"
"The Stage"
"So Far Away"
"Nobody"
"Nightmare"
"Bat Country"
"Unholy Confessions"
"A Little Piece Of Heaven"
Encore:
"G"
"(O)rdinary"
"(D)eath"
Check out some more photos from the show!
All Photos By Larry Petro/Petrofyed Photography