NITA STRAUSS The Call Of The Void

By Halo, Heavenly Contributor
Monday, October 23, 2023 @ 7:16 AM

| | | |
| --- | --- | --- |
| | | |
NITA STRAUSS
The Call Of The Void
Sumerian Records




I don't know how this woman does all she does, she's truly one of the busiest, badass women in music today. How did she find the time to complete her sophomore album The Call of The Void? She also assembled a list of guest musicians for this album that are all Rock stars and Rock Royalty in their own rights. Just to name a few are Marty Friedman, Alice Cooper and Lzzy Hale. Nita has of course been touring with Alice Cooper steadily since 2014 and also started touring with Demi Lovato in 2022. This new album is nothing short of prodigious. We of course had a sense for its success gauging from her first album in 2018, Controlled Chaos which debuted on the Billboard charts at No. 1, Top New Artist No. 3, Label Independent No. 4, Top Hard Music No. 8, Top Rock No. 8, Top Internet, No. 20 Top Albums and No. 7 on the iTunes Rock chart. The Call of The Void album has already charted well and one Huge achievement thus far, Nita became the first female solo artist to hit #1 on Billboard Rock Airplay chart with her single "Dead Inside" featuring David Draiman of DISTURBED. Her single "Victorious" featuring Dorothy hit #16 on Billboard charts. Needless to say this album and award winning musicians collaborate to make some phenomenal rock music all the while allowing Nita to keep her identity as a guitarist. This was important to her and her label.

The Call of The Void has artfully mixed genres of music. There are so many versatile artists and styles of music. I have a few favorite tracks on this album. #4, "Through The Noise" featuring featuring Lzzy Hale is definitely on my favorite list. You can't fail with Lzzy lending her pipes. This song screams Hale style. The chords and riffs are bit more phlegmatic than other tracks on the album. Track #6 is another one I can listen to on repeat. I absolutely love Dorothy. Dorothy's vocals have sexy grit to them. I was more than thrilled when this single was released. "Victorious" is just a good ol' rock concert staple song. Seeing them together in an arena setting would be kickass. Monster track #12 feat. LILITH CZAR (Juliet Simms) is a more modern rock, soulful but fast paced. The intro is just in your face. Lilith's voice is one of those unique voices that goes from soft folk to ripping your face off. This entire motley of sounds hooked me. Of course a fan favorite will be track # 11, "Winner Takes All" feat.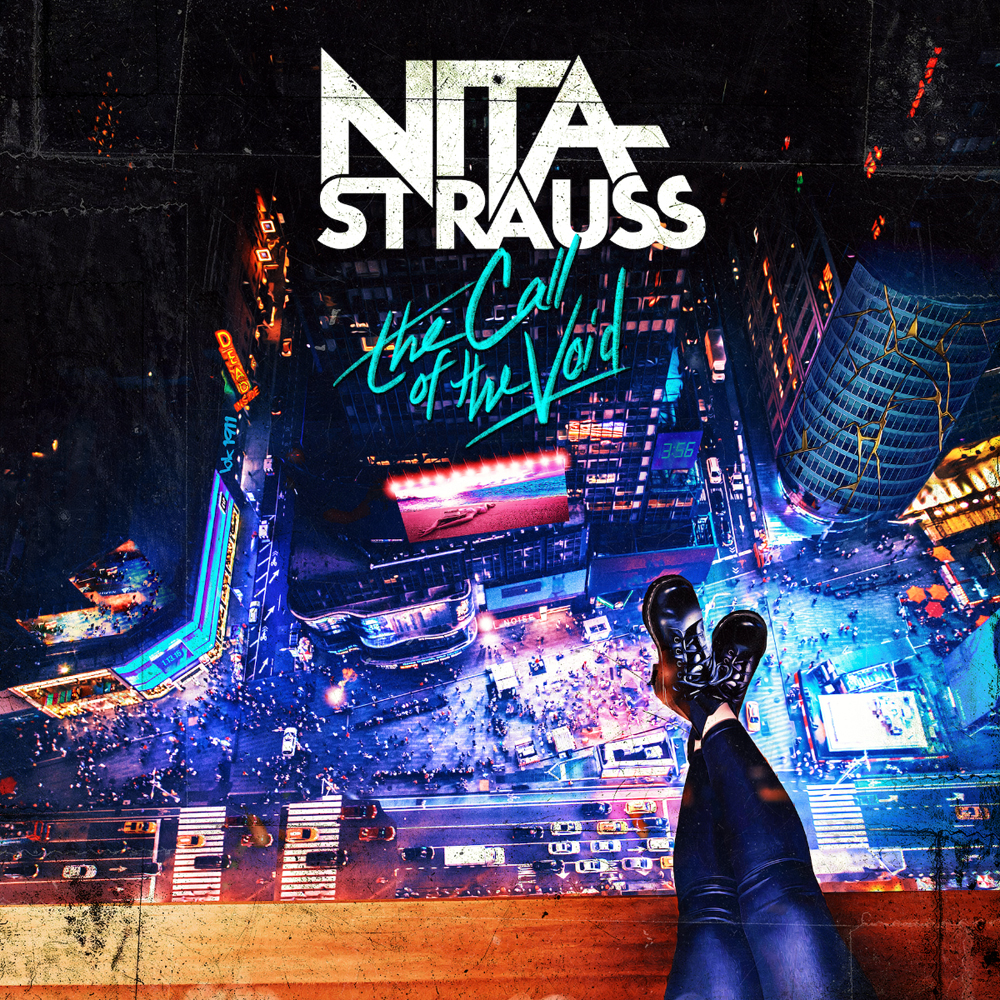 Alice Cooper. This is a heavy track, it wasn't the typical "No More Mr. Nice Guy" sound. It was mixed synth rock and melodic industrial rock. I can definitely visualize a sea of fists in the air to this one. Track # 10, "The Golden Trail" is one for the melodic metal featuring Anders Friden of IN FLAMES. This one is for the fans of hard vocals mixed with the soft vocals. I can't get out of my head the sound in this which reminds me of GHOST's vocalist Tobias Forge. I'm a fan of this one.
Track #14 featuring Marty Friedman, "Surfacing", is a dueling duet between Nita and Marty. I can't say this one is my favorite on the album but I can tell you seeing the two of them going back and forth with the two part harmonies would be one for the record books. I mean come on. You can't argue with me over the fact that Marty is one of the best guitarists on this planet. I am a vocals girl. I love all the different vocalists on this album but I'm also a sucker for a fantastic guitar solo. IYKYK!! I could seriously be locked in a room with Nita for a day and just listen to her shred on her Ibanez. The instrumental tracks on this album are just incredible. Track #8, "Scorched" is the softer of them. The intro sounds like a city in trouble. I can't explain the imagery to give it the credit it deserves but you can feel the journey Nita is taking us on. Track #1, "Summer Storm" sets the mood for the album, foreshadowing what's to come. The rain storm mixed with Nita's unbelievable guitar is something I can listen to often. Quite honestly it and Track #13 "Kintsugi" are my favorite 2 tracks on this entire album. "Kintsugi" is just a beautiful song. Metaphorically it's about life and growth. If you truly love the guitar and how this instrument can make you feel throughout your entire body you will understand why this track is a favorite. Sometimes adding vocals to a piece of music takes away from the beauty of what was written. There are 14 tracks, 8 with vocals and 6 instrumentals. There are also 8 more instrumentals as a bonus on digital editions. 22 tracks in total. This album and its alumni will blow you away. It is easily one of the best albums I have had the privilege to listen to.
"Some pieces of music come into the world gracefully and easily. This album is not one of them," Strauss admitted. "The Call of The Void was born kicking and screaming, a labor of love for sure, but also of blood, sweat, and plenty of tears.
I couldn't be more proud of the end result. Making this album helped me learn and grow so much as a musician and songwriter and I'm excited to finally unleash it on the world." - Nita Strauss
5.0 Out Of 5.0