CRADLE OF FILTH, DEVILDRIVER, ILL NINO, BLACK SATELLITE, SAVAGE EXISTENCE In Los Angeles With Photos!

By Francisco Zamudio, Metal X Candy 2.0
Thursday, October 26, 2023 @ 8:48 AM

| | | |
| --- | --- | --- |
| | | |
All Photos By Luna Ferreira/@YouForgotLuna
Photo by Anthony Ponce I don't have much of a palate for Goth and gimmick bands. Especially modern 'Gawth' (not true Goth). It's saved for bands like CRADLE OF FILTH who are truly entertaining. Their dedicated fans are a reflection of how great the music is, especially those longtime fans who are into their classic songs where they had more of a Black Metal influence. As a latino growing up, I noticed a lot of my gente (people) into COF especially this night in Los Angeles on the first stop of their second leg of the Double Trouble Tour. As time went on in their 30 years that they've been around, Dani Filth kept it going with many great talented players who shaped their sound towards Symphonic Goth and continued to put out great albums. Having recently caught round 1 of the tour in Santa Ana, on a much smaller stage, I had to catch round 2 in a significantly larger venue, the vintage Belasco in Downtown Los Angeles. The tour Co-Headlined by DEVILDRIVER and joined again by BLACK SATELLITE, the tour this time joined by 90's Nu-Metallers ILL NINO and a band from Costa Rica known as SAVAGE EXISTENCE. On bass duties for them was Producer/Engineer, Guitarist and Bassist Logan Mader (SOULFLY, MACHINEHEAD, ONCE HUMAN). Even though they're what I call post nu-metal, I did enjoy their groove-oriented style. They pulled a great show despite having little-to-no room on a stage full of amps and cabs. I really felt like their last hard hitting song in their set should have been their first one because it really showed in the crowd as a pit ensued. I immediately followed the band on IG and I'll be keeping an eye on these guys from Costa Rica.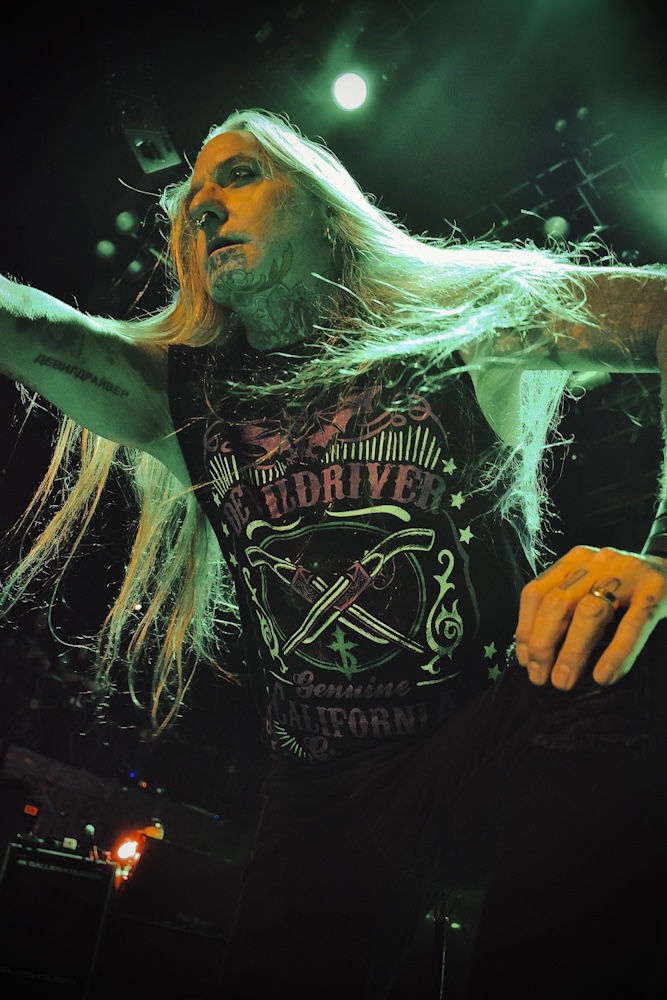 Next up was ILL NINO featuring, along with trademark backpack in-tow, guitarist Marc Rizzo (also SOULFLY) who was getting in his aerobic kicks in returning as one of the bands original members along with percussionist Dave Chavarri de Peru. The epitome of that 90's Nu-Metal look and sound with 2 additional percussionists on each side of the drum set, the sound wasn't in their favor as one couldn't really hear the added percussion, which is a shame because as a drummer myself, I certainly enjoy some added percussion, even during a short drum and percussion solo. Be that as it may, like it or not, the nostalgia of that 90's Nu-Metal is a topic of conversation and ILL NINO's return takes advantage of that as there was certainly a crowd to support them. They put on an entertaining and energetic show.
BLACK SATELLITE who was on the first leg of this tour was up next. The female-fronted gawth-industrial pair had an impressive showing the first time but this time wasn't as impactful. Their set gives evidence of how bands rely too much on their look and 'backing tracks' (programmed samples in-lieu of a keyboardist) and is more of a hindrance than it is of any added benefit, distracting from what may be lacking from the band itself. I'll state again, singer Larissa Vale's voice has a good future ahead of it. That said, they're a young band and are likely still in the process of developing their style and sound. Good second go around but I enjoyed the previous show better.
Next up was co-headliner DEVILDRIVER. A combination of a larger stage and different set up gave these guys more room to rage. Drums were up on a riser with a screen above them, projecting images from their music video collection. It's awesome and amazing how far vocalist Dez Fafara has come, the charismatic frontman that he is has always been a hit with the crowd. On the topic of Nu-Metal, the nostalgia from his other group COAL CHAMBER carries over to a more Metal-laden style in that of DD. For me the first 2 albums still hit home. And with the return of Bassist Jon Miller, along with guitarist Michael Spreitzer, plus a couple of new recruits on drums and 2nd guitar - Dez and troupe highly energized the packed crowd. One minor change in their setlist from the previous, "Hold Back The Day" was unfortunately held off this list this time and replaced with "Through The Depths".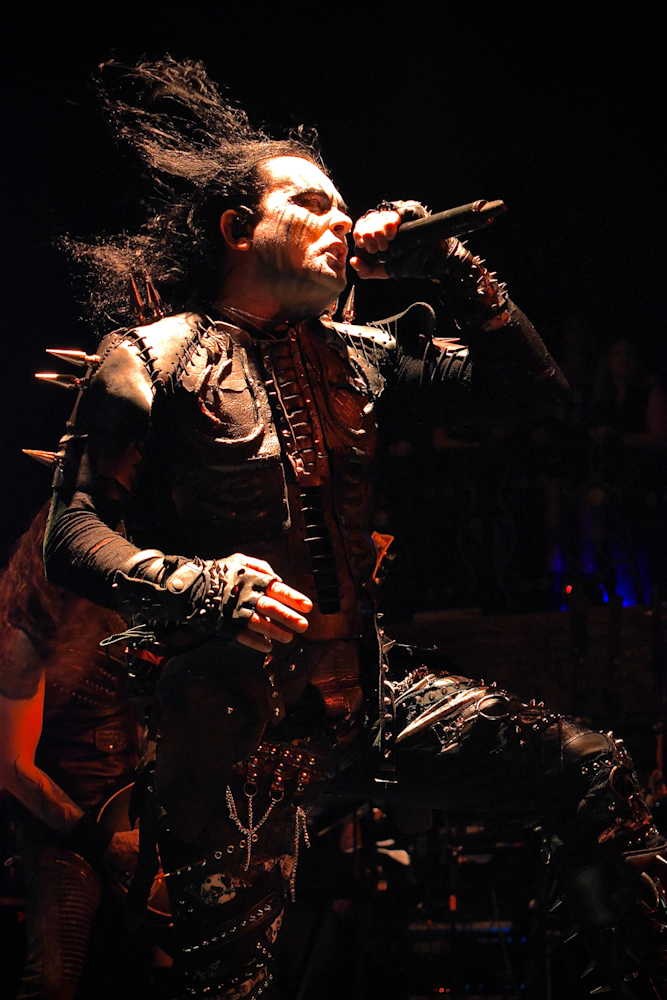 I think this is my 3rd time in the last 4 years catching CRADLE OF FILTH coming through SoCal. Thay are so enthralling and entertaining to watch. Dani Filth's commanding yet awkward stage presence along with his skeletal mic-stand keeps your eyes locked on him. His piercing wails are as sharp as the spikes on his outfit. Then again, the beautiful Zoe Federoff on keyboards keeps us pleasantly distracted with her windmilling headbanging and enchanting voice and talented touch of symphonic harmonies. If you need proof of this, simply hearing and seeing them perform crowd favorite "Nymphetamine" will truly cradle your spirit. Their stage set up wasn't all that different from the previous one. The drummer still sat stage-left and behind the sneeze-guard (plexiglass wall to isolate sound), while videos from their archives played on the large screen suspended above, allowing Dani and the rest of the band room to roam on stage. Their setlist was also changed to include "Existential Terror", "Dusk And Her Embrace", and "The Twisted Nails Of Faith". Even though their last show was amazing, this one brought things to a new level as the sound in the Belasco was in their favor. A larger and more intense crowd added to the fun. Simply awesome but no surprise that Dani can still hit those screams and control a crowd who was there singing along to nearly every song.
Check out some more photos from the show!
All Photos By Luna Ferreira/@YouForgotLuna