THE CULT In Portland, OR With Photos!

By Krishta Abruzzini, Pacific Northwest Writer
Thursday, October 26, 2023 @ 10:16 AM

| | | |
| --- | --- | --- |
| | | At The Roseland Theater October 15th |
All Photos By Krishta Photography
I've seen THE CULT multiple times over several years. Their shows are always amongst my favorites to see, and I've gone away each time as a fan. Each show is a bit different, depending on what seems like singer Ian Astbury's mood. I've seen the somewhat reserved Astbury, serenely playing through the songs, practicing buddhism postures, without much audience interaction, giving an ethereal, if not mysterious presence. I've seen him with a human rights agenda (Darfur), in which he seemed much edgier, lending the night to being a much more angsty show. Followed by another show in which I would expect some political agenda, only to be greeted with a funny, interactive Astbury, telling stories about his songs and the road, telling the audience defiantly to move closer to the stage as it was a, "fucking rock show", going against what was clearly the norm for a casino show to keep folks in their seats.
Less than a year after visiting the Portland area, THE CULT returned, supporting their Under The Midnight Sun Tour at The Roseland Theater on Oct 15th, 2023.
Opening the show was the Los Angeles based band, COLD CAVE. Described as a collage of darkwave, noise and synthpop, they've been compared to bands as JOY DIVISION and NEW ORDER. I would compare them more as a cross between ADAM ANT and DEPECHE MODE however. Similar genres either way. The band, Wesley Eisold, Amy Lee, Ryan McMahon and Anthony Anzaldo, provided a throwback to the dark feels of the New Wave/New Romantic era.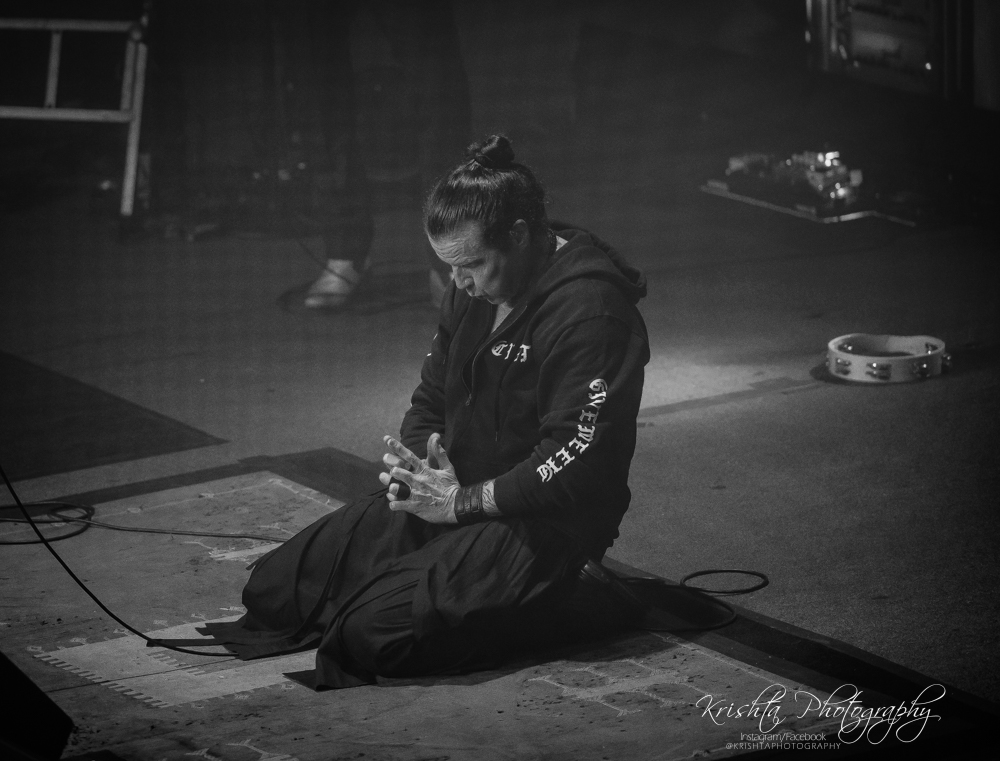 As THE CULT was about to take the stage, stagehands were lighting large sticks of incense, then walked around waving a handheld bushel of the smoky substance, creating a thick cloud of Nag Champa wafting throughout the venue. It was a literal incense soup.
Astbury, dressed in a kilt, and his hair pulled into a tight topknot, looked a bit like a cross between a ninja and a local Portland, OR lesbian bookstore owner. Fortunately, his vocals were more ninja than the latter as he started the show with "Rise", always one of my favorite songs from the band. Duffy seemed to be having some minor technical issues on the first couple of songs, but the band went on to play most of their hits without any further issues. I was a bit surprised they left out "Fire Woman", but made up for it with some deeper cuts like "The Witch" and "Peace Dog".
There seemed to be a bit of a disconnect with this show this time as there wasn't much interaction with Astbury and the audience. Again, circling back, this was yet another show that seemed to fit in with his mood at the moment.
From a photographer's point of view, it was a tough show to shoot. Photographers were informed once getting to the venue that there would be no shooting from the...photo pit. I always come prepared and was fortunately able to snag a few shots from the balcony, albeit a foggy, dimly lit venue. I'm always confused as to why bands choose to have photographers shoot from anywhere other than...the photo pit. My rant could go on and on with this one, but I would think the bands would want only the best photos and allow photographers to get the best spot to do so. Rant over.
THE CULT can do no wrong in my opinion, and every show I've ever seen from them has always been epic, this one included.
THE CULT Touring Band:
Ian Astbury - Vocals, Tambourine, Maracas
Billy Duffy - Guitar
Charlie Jones - Bass Guitar & Backing Vocals
John Tempesta - Drums
Mike Mangaen - Keyboards & Backing Vocals
Setlist:
"Rise"
"Sun King"
"King Contrary Man"
"Sweet Soul Sister"
"The Witch"
"Lil' Devil"
"Aphrodisiac Jacket"
"Vendetta X"
"The Phoenix"
"Wild Flower"
"Mirror"
"Rain"
"Spiritwalker"
"She Sells Sanctuary"
"Peace Dog"
"Love Removal Machine"
Check out some more photos from the show!
All Photos By Krishta Photography